Inspired Interiors
One of the most exciting and interactive aspects of buying a new home is the ability to design it! From the countertops to carpet, upgrades, cabinets, and more—it's all up to you. This is great but can also be intimidating.
How do you know what to choose? What's in style right now? What will remain in style for years to come? If you're asking yourself these questions, there's no need to worry. The design professionals at Taylor Morrison are here to help! Rest assured, they'll help you design a beautiful home that reflects your unique personality and style.
In this blog, we'll cover the flow of your design studio appointment, including how to prepare and what to expect when you arrive. Let's get into it!
How to Prepare for your Design Studio Appointment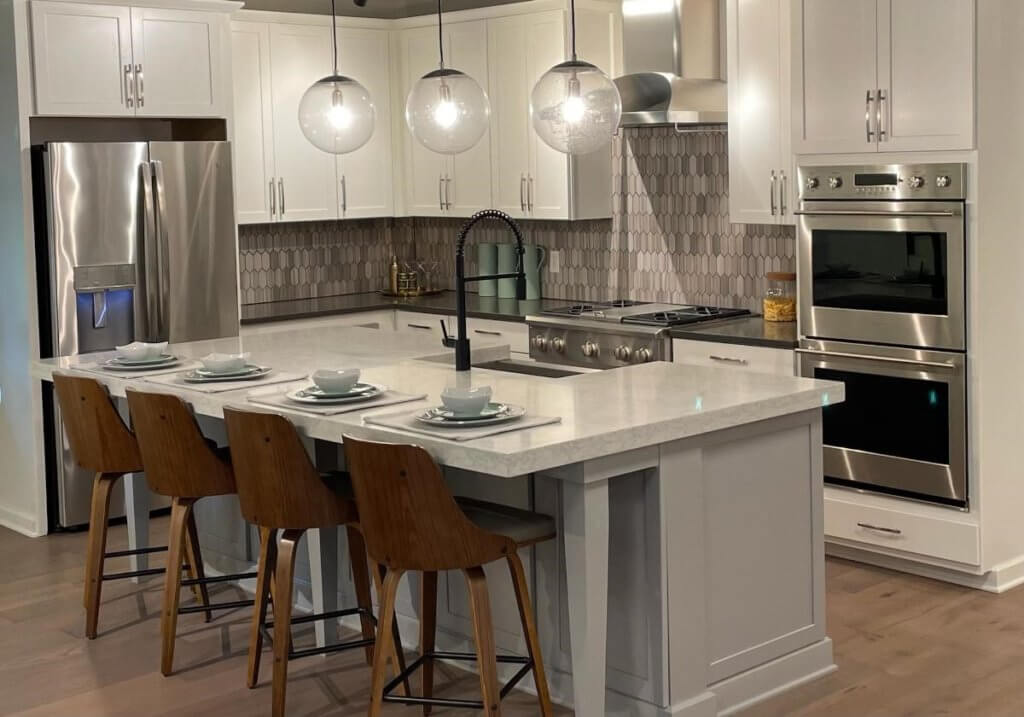 There are a few key things you can do before the big day arrives to ensure your appointment runs as smoothly as possible.
Get Inspired
Think of it this way—your home is a blank canvas, and you are the artist! Come prepared with Pinterest photos you love, magazine cut-outs, and photos you've found online as your design inspiration. This way, our designers can get a good idea of what you want your new home to look like.
Visit Taylor Morrison Model Homes
One of the best places to source inspiration from is our model homes! Take pictures of what you like. Chances are, we'll have it at the design studio, along with other stunning options to choose from.
Only Bring the Decision Makers
Leave any kids, pets, and opinionated friends and family members behind. By only bringing the decision makers, you'll save time during your appointment and be completely confident that what you picked out is 100% you.
It's Time for Design: What to Expect During Your Appointment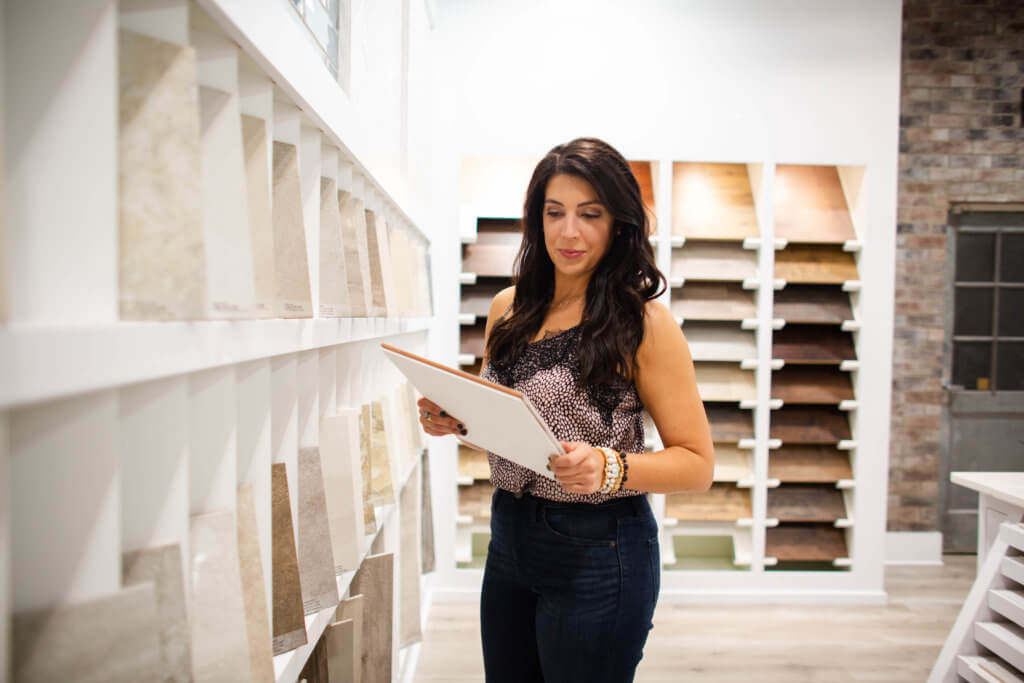 Now is the fun part! If you're feeling nervous about your appointment, we understand and are here to ease your nerves by explaining exactly what to expect at the design studio. Our goal is to make this process joyful, exciting, on-budget, and on-trend.
Experience Bar
You'll start your design journey at our experience bar, where you can sip on light refreshments and snack on light bites.
Let's Get to Know Each Other
Then, you and your design expert will get to know each other. Your designer can get a feel for your personality and help you select styles to match. You'll also review other key factors, including:
Floor plan
Structural options
Included features
Wish list
Budget
Phase 1 at the Design Studio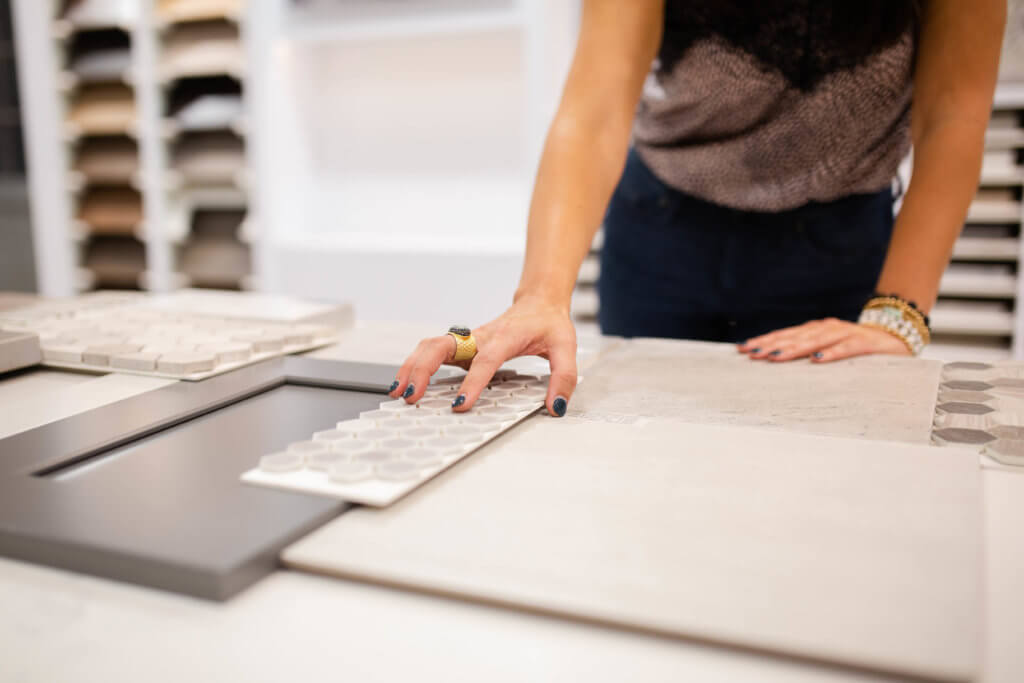 Phase 1 is where you will lock down your home's look and feel. You'll choose the absolute essentials—appliances, cabinets, countertops, flooring, and wall tile.
Appliance Selection
The first choice you'll make is your appliances. Luckily for you, every Taylor Morrison home comes standard with top-of-the-line GE appliances, which feature continuous upgrades, QR code manuals, and more! Read more about our GE appliances here.
Your appliances will affect your budget significantly. What you choose here will set the stage for the rest of your home.
Cabinet Selection
Cabinets are a reflection of your personality and overall home aesthetic. At first, you will only select the cabinet style, finish, and upgrade options. The goal here is to continue cementing the overall feel of your home in place. Don't worry; you'll review the cabinet layout and additional upgrades later in your appointment.
Countertop Selection
At this point, you'll choose countertops for all rooms. Countertops are a huge decision—they help to pull the entire house together. Once your countertop selection is established, you'll begin to see your vision come to life.
Flooring Design Ideas and Wall Tile Selection
The floors you've always wanted are within your reach! The first goal of this section is to decide where your flooring zones will start and stop. Your design expert will pull choices for you to consider, and then you'll price one room to get an idea of the overall cost. Selections for all flooring and wall choices in the home include the following:
Overall flooring zones
Backsplash
Powder bath
Primary bath tile
Secondary baths
Laundry room
Primary bed flooring
Secondary bed flooring
Phase 2 at the Design Studio
Congratulations—the big decisions are all made at this point! Now that you've established the overall look and feel of your home, the rest of your appointment will be smooth sailing.
Final Selections
It's time to select the beautiful finishing touches. These small details truly pull your entire home together and are another chance to showcase your personality and design aesthetic. At this point, you'll have a good idea of the overall price point for your selections. Plus, most of the items below are pre-priced for extra convenience. Here's what you'll get to choose!
Cabinet accessories, hardware, and upgrades
Stair parts
Fireplace
Plumbing fixtures and upgrades
Sinks
Mirrors
Lighting and electrical
Interior doors
Door hardware
Window coverings
Interior paint
Welcome Home to Taylor Morrison
Take a sigh of relief in three, two, one… you did it! You designed the home you've always aspired to have, and we couldn't be happier for you. If you're still in the market, search for homes, check out our design page, and save big in 3,2,1, here! If there's one thing we know to be true at Taylor Morrison—it's good to be home.