Welcome to the Taylor Morrison Blog! Today, we'll outline how to buy a home in today's real estate market. Topics discussed in this article include:
Current Housing Market Condition
Learn about today's real estate market, current market conditions, home finance rates, and interest rates from a historical context in this section.
How Credit Score Affects Buying a Home
When was the last time you checked your credit score? We'll show you how to check your score, plus supply a low-down on score rankings and what they mean for you.
Financing for a Home
Home financing is complicated. We'll review the basic process and provide helpful tips to know at each step.
Current Market
Well, if you were to pose the question "How would you describe the current housing market" to five different people, you would probably get five different answers. It's complicated, and requires historical insight, up-to-date facts, and consideration of your unique situation.
We understand you may be feeling discouraged. However, if you're having a challenging time getting into a home you love, we have good news. The current housing market is now providing you with more opportunities to make your move.
Want to know more? Read on! We've created an overview of what's new in the real estate market, what's recently changed, how to make a move, and why it could still be the right time for you to become a happy homeowner.
How is the Housing Market Right Now?
The market is settling down. Here's what you should know.
No, We Are Not in a Housing Bubble
To start, many experts agree that we are not in a housing bubble. Economists have said it is unlikely that prices will "pop" and deflate significantly downwards. In fact, demand for homes is still higher than the supply. And historically speaking, having a greater demand than supply will not lead to prices lowering.
Balanced Markets vs. Unbalanced Markets
A balanced market means there is approximately a six-month supply of homes available on the market. If you dreaded math class in school, don't worry—this calculation is a simple one. The month's supply is determined by taking the number of homes sold and dividing it by the number of homes for sale.
When Will the Market Go Back Down?
Currently, we've been in a market with a two-month and less supply, meaning the sellers have the upper hand. For this to completely balance out, the answer is simple and complicated at the same time: we need more houses. Most likely, it will be another 10 to 15 years before we see this come to fruition.
What are House Interest Rates Right Now?
In the current housing market, the U.S. weekly averages for house interest rates are at 6.33% for a 30-year fixed mortgage rate and 5.67% for a 15-year fixed mortgage rate, as of December 8th, 2022. While this may seem high, taking a walk down memory lane might beg to differ. For example, in the 1980's, interest rates reached an astonishing 18.63%.
How do Mortgage Interest Rates Work?
Mortgage rates are directly impacted by interest rates. If interest rates rise, so will mortgage rates, and vice versa. When interest rates are higher, the amount of money people can borrow tends to decrease. And again, the opposite is also true. When interest rates are lower, people can generally borrow a larger amount of money.
Historically, Interest Rates are Still Low
The rumors are flying about how high today's interest rates are. But, when you look at the facts, this is a false comparison. The historically low interest rates of 2020 and 2021 were largely influenced by the global pandemic; policies implemented by the Federal Reserve to reduce rates were never meant to last. When you look at interest rates throughout the decades, they are still historically low.
How to Buy a Home in Today's Market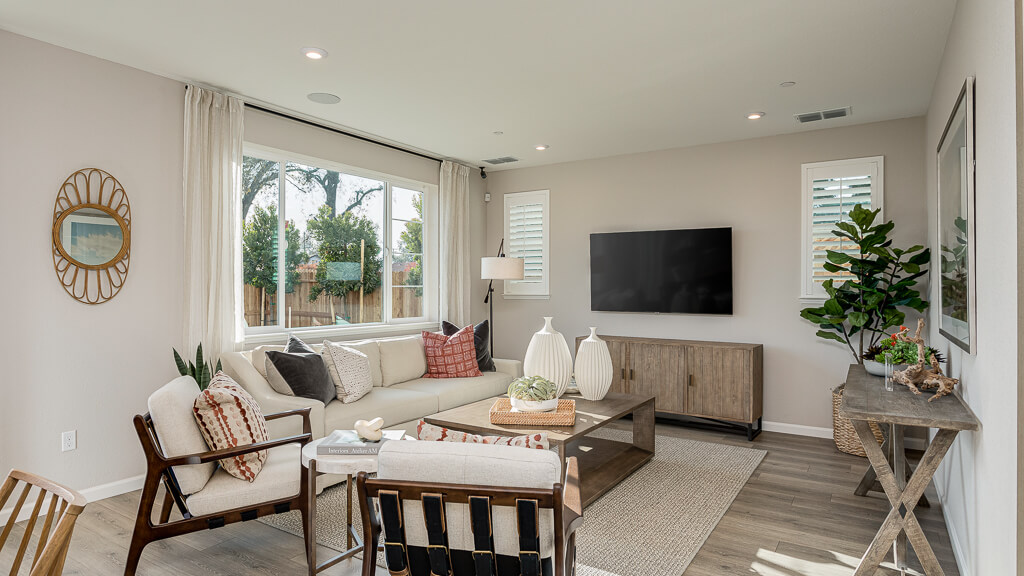 Let's get into it! Here's our best tips and tricks for how to buy a home in today's market. Follow this list, and you'll be in your new home in no time.
Consider the Pros and Cons of Buying a Home
It's no secret that buying a house is a huge life decision. When you're in the process of deciding, we suggest breaking out a pen and paper and making a good old-fashioned pros and cons list. Ask yourself important questions like:
Where am I financially/ jobwise?
What do I want in a home and community? (Amenities, location, parks, HOA, etc.)
Am I ready to take on the responsibilities that come with owning versus renting?
How much money can I put towards a down payment?
How long will I need to save for a down payment?
What are the current home finance rates?
Why do I want to buy a house?
How will owning a home improve my life?
What's Your Credit Score?
You can check your credit score for free once a year by requesting a report from Equifax, Experian, and TransUnion. Your bank or credit card company may also offer this service for free.
How Does Credit Affect Buying a Home?
Having a high credit score indicates to lenders that you are a borrower who can be trusted to meet their financial obligations. Your credit score can affect what financing options are available to you. If you have a great credit score, you have a better chance of locking down the best terms and rates.
What Credit Score is Needed to Buy a Home?
You may be wondering what credit score is needed to buy a home. Most experts agree that a credit score of 620 or higher is needed to secure a conventional home loan, although it is not impossible with a lower score.
Looking for more information on loan programs available to you? Check out our blog here.
Credit Score Rankings
While these ranges vary slightly, here is a general look at credit score rankings.
300-579: Poor
580-669: Fair
670-739: Good
740-799: Very good
800-850: Excellent
Budgeting for a Home is Key
Investing in your future is an exciting thing to do! If you've always dreamed of owning your own house, we have a few tips to help you get there. You got this.
Understand Your Finances
Understanding exactly how much money you bring in every month, your bills, and what you generally spend is essential. We can't stress this enough—knowing precisely what you can afford will save you many headaches in the future.
Forego Unnecessary Expenses
Try eating out less and cooking more as an easy way to save money. Minimizing unnecessary expenses can really add up and is a fantastic way to start saving for a house down payment and other moving expenses.
Additional Fees
It is also important to remember that the purchase price of a home is not all-inclusive. Additional fees like closing costs, mortgage insurance, homeowners fees, and more need to be factored in
Looking for an in-depth overview of the types of closing costs you may need to pay? Read our article here.
Set a Percentage of Money Aside Per Month
Create a goal and commit to it. Figuring out what percentage of your income you can save per month and putting it in a high yield savings account is a fantastic way to save towards a down payment.
Today is a Great Day to Save (and Tomorrow and the Next Day)
The more you can save during the months leading up to your home financing, the better. If you cannot put 20% down, you'll pay mortgage insurance each month.
For more information on the types of loan programs available, check out our article here!
A Real Estate Agent Can Help You
While you don't necessarily need to hire a real estate agent to find your new home, doing so can be helpful. Real estate agents have extensive knowledge about the area you are hoping to buy in and can find homes that fit your needs and budget.
Location, Community, and Home
It's okay to take your time and find the home you'll love the most. As you already know, homes are so much more than four walls and a roof. Loving where you live is a combination of a location that fits your lifestyle, a community of kind people around you, and a home tailored to fit your wishes.
Offer Away
It's the home you've been waiting for! Once you find "the one," it's time to make an offer. If you hire a real estate agent, they'll put together your offer price, pre-approval, terms, contingencies, proof of down payment funds, and anything else you may need.
When your offer is accepted (yay!), you will sign a purchase agreement and pay earnest money.
Next comes the appraisal and home inspection.
New Home Appraisal
If you're financing your home, a third-party appraiser will assess its value based on various factors, including the current state of the market, recently closed comparable sales, the surrounding area, curb appeal, home features, and more.
Lock Down Your Financing
What you should not do is get pre-approved and then promptly run up your credit cards or take out more loans. You still need a final loan approval, which can be hindered by job changes, a downturn in credit, and other financial circumstances.
Finally, the Final Home Walk-Through
All your hard work has paid off! When it's time for the final walk-through of your new home, be sure to ask any questions or address any concerns you may have. Plus, when you buy with Taylor Morrison, you'll get a home warranty to ensure your peace of mind.
*Cue Dramatic Music* Close on Your New Home
This is so exciting! But there's still some work left to do that's super important.
You Guessed it: Paperwork
Go over the closing disclosure and loan estimate extremely carefully. Make sure all the closing terms and loan amounts match on both documents. Also, check over your name and personal information to ensure it is 100% correct.
Closing Day
Don't be afraid to ask questions! Buying a home comes with many documents you'll need to sign, and it's important you understand exactly what you agree to.
Triple-Check You Have Everything You Need
When you wrap up on closing day, you should have copies of all the paperwork, entry codes, and garage door openers. And, of course, you need the keys to unlock your new home and future!
The Day is Finally Here—Move in!
Now you can take a huge sigh of relief (and excitement)! Finally, the house is officially yours, and it's time to make it your own. A home is a place of memories, laughter, and light; where you can truly be you.
Come Home to Taylor Morrison
At Taylor Morrison, we're committed to building homes that take care of you. Don't forget to check out our biggest sale yet in 3,2,1, to get into a home you love.
From all of us at Taylor Morrison, welcome home!
* Blog is intended for general informational purposes only and not as an exhaustive comparison of all factors applicable to your personal financial situation. Data used was derived from third-party sources and deemed reliable as of the date obtained, but not guaranteed, offered as investment or tax advice, or independently verified by Taylor Morrison; all information remains subject to change outside of Taylor Morrison's control. Financed Buyers are encouraged to independently determine which loan programs are best for them.
For further details on our Terms of Use and its section on Forward-Looking Statements, in particular, visit https://www.taylormorrison.com/terms-of-use.