For eight exceptional, consecutive years, the team at Taylor Morrison has won the esteemed title of America's Most Trusted® Home Builder by Lifestory Research. The ability to earn the hearts and trust of today's home shoppers is an honor we don't take lightly and are beyond proud to share.
How did we do it? Above all else, we believe in the power of people. Each year, we strive to create a transparent, friendly, and communicative experience for every person who puts their trust in us to find, build, and finance their next home.
In today's blog, we'll cover how Lifestory Research collects data and decides on the homebuilder to receive this award. We'll touch on why we believe we keep winning. But most of all, today's blog is thank you to you. Thank you for continuing to believe in and build with us. Here's to 8 years and counting!
Taylor Morrison's Incredible CEO, Sheryl Palmer, Reflects on Our Eighth Consecutive Win
This year was a particularly moving win. Palmer reflects,
"Of any year to be named America's Most Trusted® Home Builder, this time feels especially meaningful. It illustrates that no matter what economic conditions we're operating under and the hardships those have created for consumers—from the pandemic, to historically high demand, to supply-chain constraints, to mortgage rate volatility, to affordability and inflationary pressures—our constant is how we treat people."
About Lifestory Research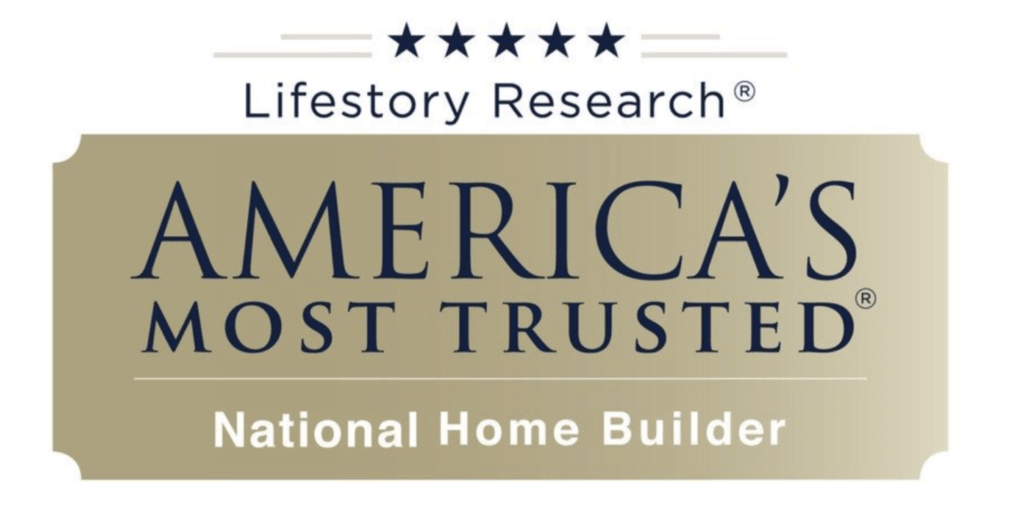 Lifestory Research is a research and strategy firm with a focus on social and behavioral sciences to solve business complications. In other words, they unearth key questions like, why do people make decisions? Why do people move forward? This information is invaluable, especially for us at Taylor Morrison—we are always searching for the "why" in order to create the best products for our home shoppers.
How America's Most Trusted Home Builder is Decided
The America's Most Trusted® Home Builder study has been conducted for over 10 years and is described as "the most extensive and longest-running research program seeking to understand the opinions of home shoppers," according to Lifestory Research.
Data Collection
To collect data for the study, Lifestory Research sends out an annual survey in which more than 50,000 home shoppers give their opinions on homebuilders' trust, quality, word-of-mouth, and other brand equity questions. The survey explores how the home shopping experience and brand interactions impact customers' perceptions of homebuilders.

Looking for more details on LIfestory's methodology? Research away here!
What the President of Lifestory Research, Eric Snider, Has to Say About Taylor Morrison
"Despite market challenges, Taylor Morrison has again captured the top ranking in trust among consumers with its devotion, consistency and passion. Taylor Morrison's continued success in placing homebuyers first is a testament to the entire team's dedication and we applaud their relentless ability to create and hold the trust of so many people."
Earning Your Trust, One Day at a Time
Trust is an elusive word, difficult to earn yet so easy to lose. We understand that building trust takes time. It doesn't happen overnight; it's gained through consistent and quality effort each and every day.
Revolutionizing Homebuying at Taylor Morrison
At Taylor Morrison, we strive to earn trust not just through our words, but through our actions. Here are a few ways we are paving the way and revolutionizing the home shopping journey.
Online tools for home shopping create greater transparency and optionality.
Constant evaluation and updates to our home designs reflect the latest and greatest trends.
Affordability is always top-of-mind, with competitive finance incentives heading your way.
But most of all, it's the way we treat people that truly defines Taylor Morrison. When you shop for a Taylor Morrison home, we guarantee to give you our authentic selves. We promise to always be honest, to always communicate through good and bad news, and to own our mistakes. We promise to provide a fair journey for every person who walks through our doors.
Thank you for believing in us. We love what we do, because of you.