Flex rooms are a fantastic addition to newly built homes, especially at Taylor Morrison. Whether you're a first-time homebuyer or looking to retire and find your forever home, a flex room is a great space to explore your passions or enhance the functionality of your home.
What is a Flex Room?
First things first, you may be wondering about the definition of a flex room. At Taylor Morrison, flex spaces are any rooms that are not a bedroom, bathroom, kitchen, dining room, or great room. These rooms are "flexible," as they can be transformed into anything you wish!
Read on! Here's ten flex room ideas that are sure to level up your new home.
Most Common Uses
Below are five of the most common ideas for your flex room. You can't go wrong with any of these functional inspirations.
Home Office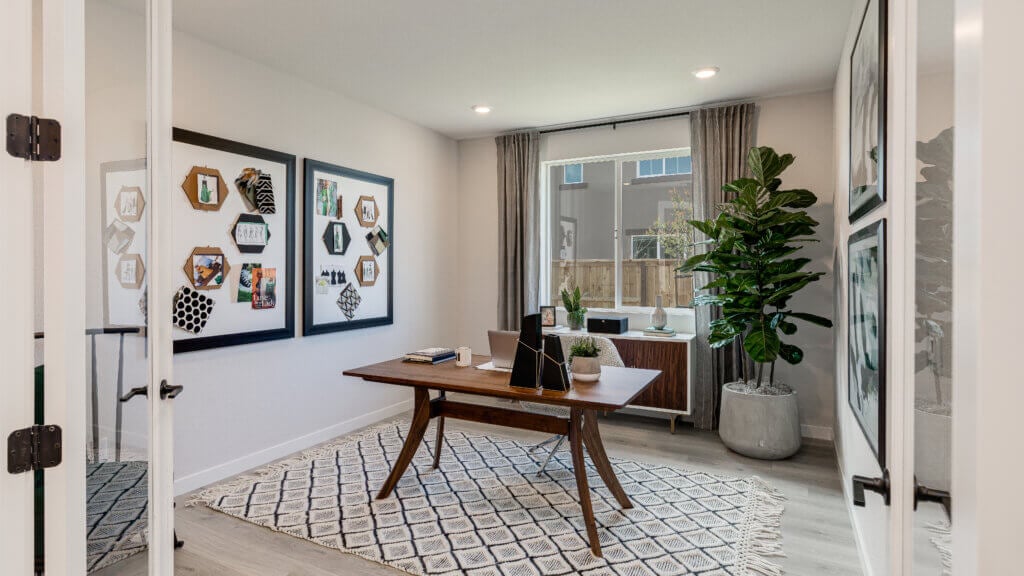 Residence 3 at Carmello at Roberts Ranch, Bay Area

When you turn your flex room into a home office, work from home in style (and in peace). You can truly personalize your space with room for extra screens, notepads, sticky notes, comfortable office furniture, and more.
Looking for more ideas to get organized and optimize your productivity? Check out some organizational wisdom from the famed HGTV.
Playroom or Study Room
Are your kids full of energy? Create a bright and happy playroom they're sure to love. Set up a craft table, pile blocks and Legos into bins, create a stuffed animal tea party, the list goes on!
If you're looking for something more studious, make your flex room a study room. Stock your space with healthy snacks, water, pens, highlighters, calculators, and more to stay focused.
Check out more awe-inspiring playroom ideas here.
Media Room
This one's for all the movie enthusiasts out there—invest in some blackout curtains and comfortable couches for the ultimate movie or media room. Hang movie posters on the walls for a fun twist, and if you're holding on to old DVDs, display them on shelves near your entertainment center—the perfect media room decorations.
Guest Room
Transforming your flex room into a guest room is sure to save you many headaches when friends and family visit! Keep it simple and minimalistic, or let your creativity soar and decorate to your heart's content.
Looking for more design ideas? Give our blog on 2023 design trends a read.
Nursery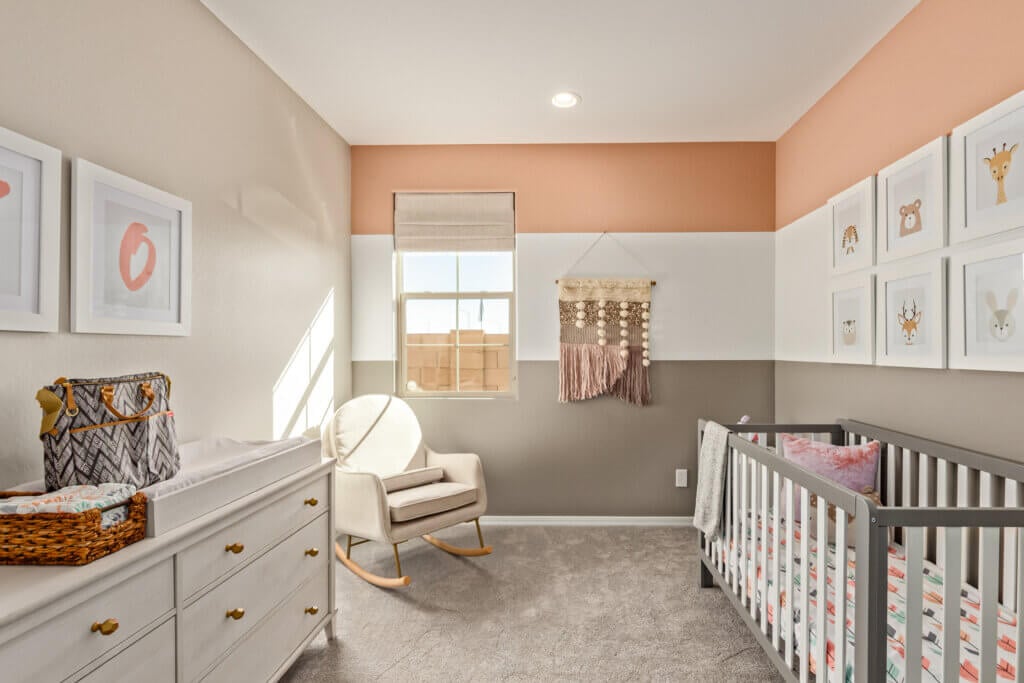 Harlow Model at La Mira Discovery, Phoenix, AZ
Expecting a little one? Create a calm nursery for your newest (and littlest) family member. Go for classic pink or blue hues, or opt for a fun alternative like yellow, soft orange, or spring green.
Artsy Ideas
Embrace your creative spirit and try out one of these artsy ideas for your flex room design.
Craft Room
It's time to get crafty! Stock your flex space with every supply you may need: hot glue guns, Elmer's, resin, paints, canvases, and whatever else calls to you.
Reading Room
If the library in "Beauty and the Beast" with the ladder always called out to you, this idea is for you. Create your very own at-home library and read the day away.
Music Room
Driftwood Model at Bonterra Woodforest 50s, Houston, TX
Learn to play an instrument or continue honing your craft in a music room. You'll have plenty of space for any instrument, whether you're an avid pianist, a stylish guitarist, a head-banging drummer, or anything in between.
Wellness Ideas
Take a deep breath and get ready to seize the day when you transform your flex room into a wellness space.
Exercise Room
Get fit or stay active in your very own fitness room. The equipment is up to you—keep it simple with dumbbells and exercise balls, or invest in treadmills, bikes, and more. Creating an exercise room is a fantastic way to stay in shape. Forget driving to the gym—simply head to your flex room and lift away!
Meditation Room
Zen out in an ultra-calm meditation room oasis. Hello, shades of calming blue and lavender-scented candles.
Welcome to Taylor Morrison
Thanks for reading! We hope you're inspired to create the flex room perfect for your needs and lifestyle. If you're in the market for a new home, hurry and save BIG with our limited-time offers. Until next time!