Here at Taylor Morrison, we believe your new home should perfectly reflect your personal taste and style. When you walk through the front door, every detail that greets you should make you smile from within! Today on the blog, we'll explore our two options available to you when it comes to 2023 kitchen design ideas: Canvas and the Taylor Morrison Design Studio. Each offers unique advantages for your lifestyle, whether you're looking to pick out every last detail or choose from curated collections hand-selected by our team of design professionals. Ready to embark on a new home adventure? Let's get to designing!
The Difference Between Canvas and the Design Studio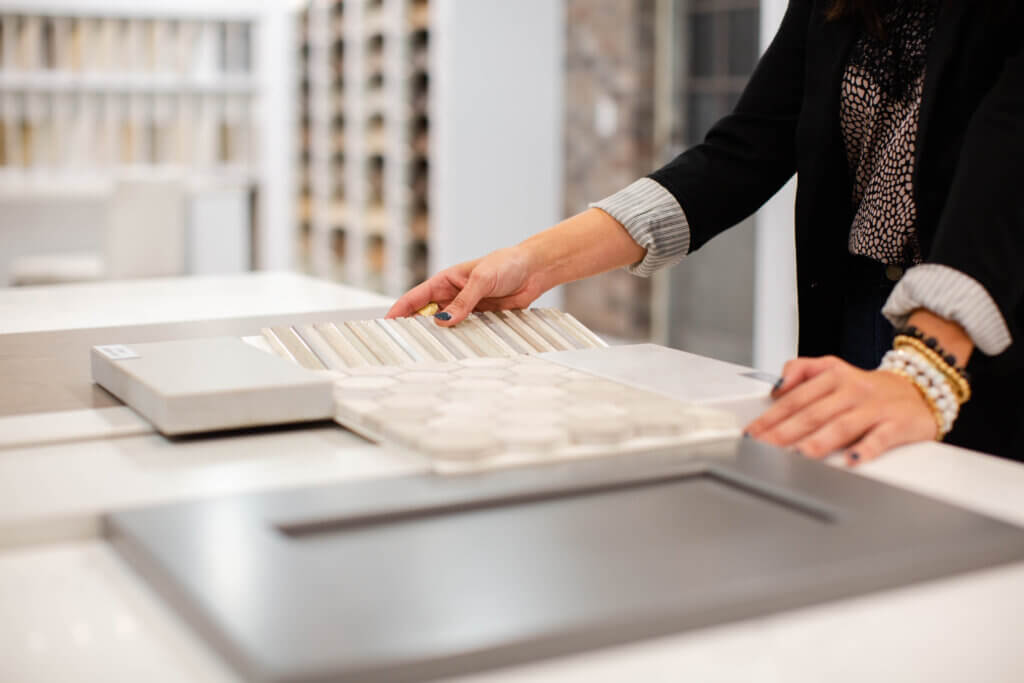 Depending on the Taylor Morrison community you choose, Canvas or the Design Studio will be available. These programs are created with you in mind and will seamlessly pull your home together. The difference finishing touches can make cannot be overstated!
What is Canvas?
Take the guesswork and stress out of design with Canvas, our innovative design program that simplifies the selection process by offering curated styles with hand-selected finishes. Our interior design professionals have thoughtfully crafted each option to ensure that everything in your new home is perfectly paired to express your unique style.
Advantages of Canvas
Canvas is immensely popular for good reason. Our professional designers have selected durable and beautiful materials, ensuring your place stays gorgeous and up-to-date for years to come. Unlike traditional wood products that are susceptible to water and wear, Canvas materials consider the lifestyle in most homes. Think tile and the sought-after revwood instead of fragile wood (muddy soccer cleats are no match for our floors)!
What is the Design Studio?
The Taylor Morrison Design Studio provides a collaborative space where you and your design consultant can work together to match your personal style with the newest products available in homebuilding. This collaboration is essential to your journey, ensuring that your Taylor Morrison home truly reflects your individuality.
Advantages of the Design Studio
If you love all things design, the Design Studio will be your personalized paradise. With an array of breathtaking options and greater customization, this experience offers a hands-on approach to the possibilities in your new home. When you step into the Design Studio, you will work one-on-one with our experienced design consultants. Room by room, you'll select the finishes that will turn a house into the home you've always searched for.
Wondering what exactly goes down at the Design Studio? Check out the process, plus what to expect in our blog post, What to Expect at the Taylor Morrison Design Studio.
2023's Most Popular Kitchen Color Schemes
Twelve Bridges in Sarasota, FL
For those who love a cool-toned oasis, we have great news. This year, it's all about the greens and blues! If your kitchen is already designed, adding pops of green and blue is super easy and will make your kitchen the envy of the season. Add blue or green cookbooks, decorative towels, glass bowls, and more for a quick, trendy touch.
2023's Most Popular Kitchen Materials
It's in style to mix textures when it comes to countertops and backsplashes. Our partner, Daltile, has created handcrafted Artigano tiles with a rich, antique, and old-world look, giving your home character and charm. Another popular textural element is to take the countertops and extend that material up onto the backsplash, making for a clean and seamless appearance. If you're looking to add a unique touch to your kitchen, try out waterproof wallpaper as a backsplash alternative! Change it out every season, and don't be afraid to get creative with funky prints.
Bring Your Kitchen to Life with Lighting and Ambiance Design Options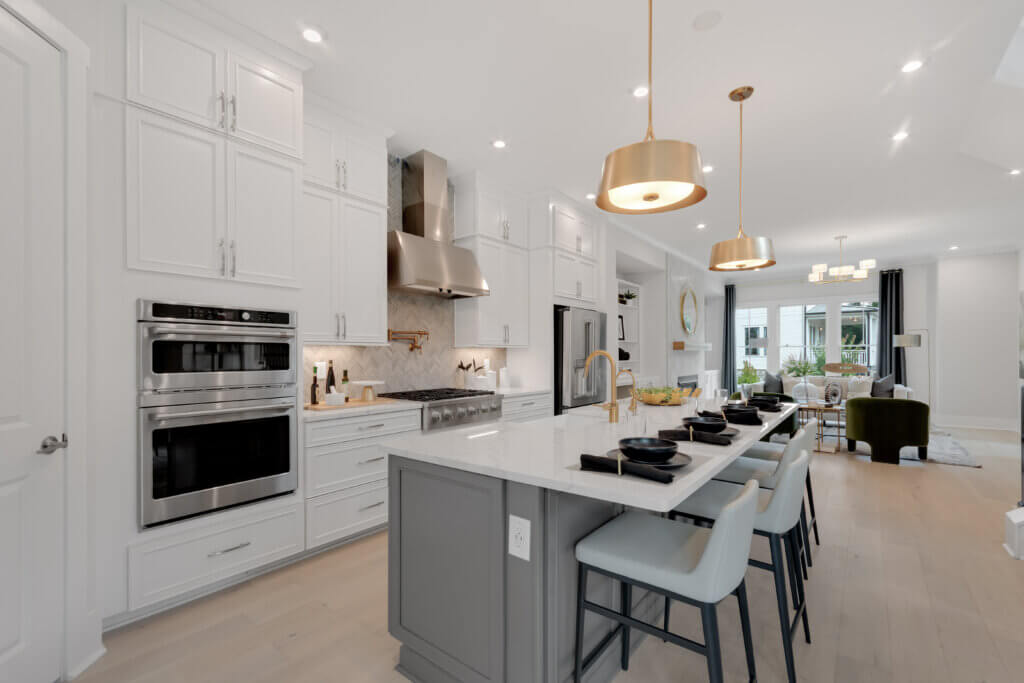 Lakeside at Crabapple in Milton, GA
Gorgeous natural light is a key aspect of our design philosophy. Our use of large windows to maximize natural light creates bright and inviting spaces where you'll love to try out new recipes and chat with friends and family. When it comes to lighting fixtures, large black or gold pendants are currently trending. While Canvas offers glass globe lighting that suits a variety of homes and lifestyles, the Design Studio has a wide selection to choose from, allowing you to brighten your space however you choose!
2023 Appliance Kitchen Trends
High-quality appliances take your home from nice to irresistible. At Taylor Morrison, we're proud to supply top-of-the-line GE appliances with smarter, cleaner, and healthier features. We also offer induction cooking, an innovative heat-controlled stoveware option where the pot is heated instead of the surface. For households with pets or kids, this is a must-have safety feature!
The Lovely Finishing Touches in your Taylor Morrison Kitchen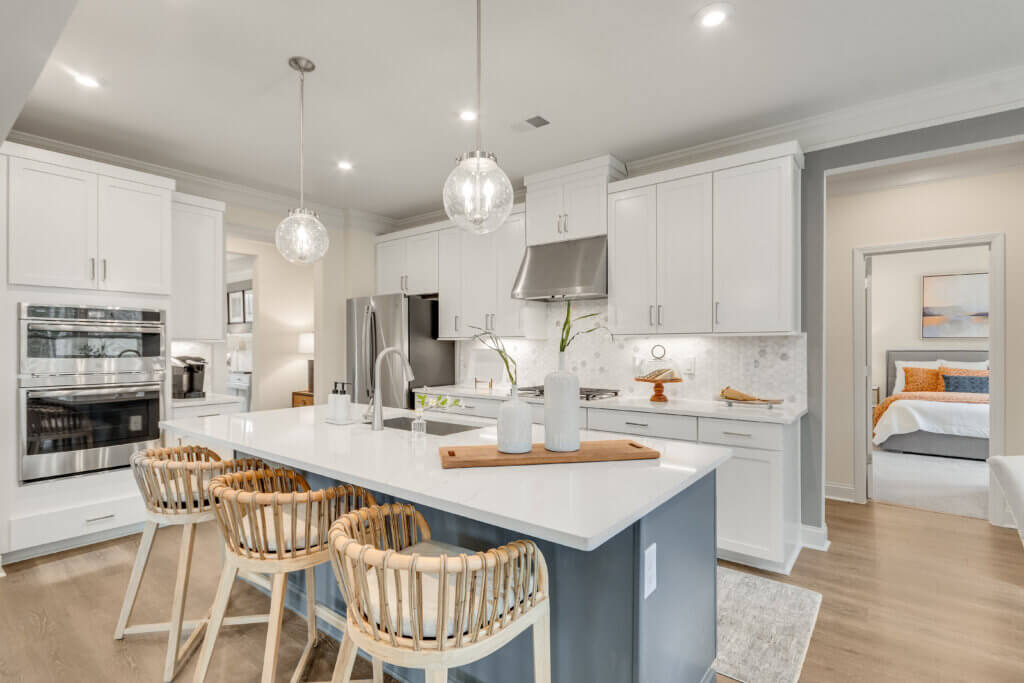 Hadley Estates in Cumming, GA
When it comes to 2023 kitchen design ideas, the finishing touches in your home are what truly pull everything together. At Taylor Morrison, we offer a variety of options to add both functionality and style to your space. From cabinet pulls to door handles, our selection of finishing touches allows you to customize your home to your liking. Here's what you get to choose from:
Cabinet accessories, hardware, and upgrades
Stair parts
Fireplace
Plumbing fixtures and upgrades
Sinks
Mirrors
Lighting and electrical
Interior doors
Door hardware
Window coverings
Interior paint
Let's keep the inspiration going! We've partnered with organizing queens Clea and Joanna of The Home Edit, and they've cooked up a kitchen organization video with their best tips and tricks. For a sneak peek, try out turntables, arrange in rainbow order, use clear containers, and create ZONES.
Add Personal Touches and Décor to your Taylor Morrison Kitchen
Bluffview in Austin, TX
Kitchen design doesn't have to stop at the options; decorating can level up the look of your brand-new space! Here's our best ideas for adding pops of personality to your kitchen.
Display unique kitchenware collections in glass cabinets or floating shelves.
Incorporate plants and herbs in the windowsill for a charming look.
Set out colorful cookbooks and glassware to add a fun pop to a classic kitchen.
Rounded Shapes are in Style for 2023
Using rounded shapes in your furniture and design elements is an easy way to incorporate a hot 2023 trend. Barstools, dining tables, chairs, cutting boards, and even cabinets are moving away from squared edges and shifting into softer shapes.
To keep exploring the latest trends, check out MINE to shop all the furniture from our stunning model homes.
As Always, Thank You for Reading!
Building your home is an exciting and personal journey. With our Canvas and Design Studio options, you have the freedom and power to create a home that is perfect for you. From color schemes and materials to lighting and appliances, we offer an array of choices for every design style. Create a space where you truly love every last detail when you come home to Taylor Morrison!