Welcome back to Second House on the Right, and happy October! Ready to get into the spooky spirit of Halloween? In this blog, we'll delve into the fantastical world of Halloween home design. From eerie decorations to ambient lighting, we're excited to give you creative ways to transform your home into a haunted haven. Whether you're a fan of classic Halloween motifs or prefer a more modern approach, we've got you covered with tips, tricks, and inspiration to make your home the talk of the neighborhood this Halloween season. So, grab your broomstick and let's dive into the enchanting (or chilling, depending on your vibe) world of Halloween home design! 
Set the Spooky Scene this Halloween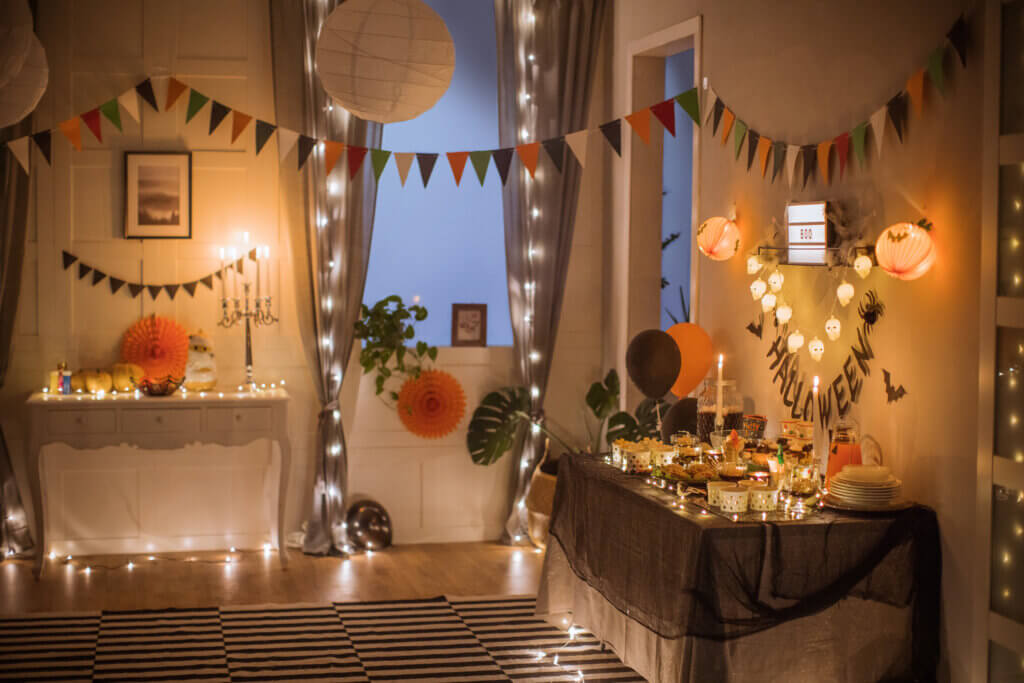 When decorating for Halloween, creating the right ambiance can level up your space. By carefully selecting impactful lighting techniques, you can achieve an atmosphere that will send shivers down your guests' spines.
Candles, Dimmers, and String Lights Create a Magical Hangout 
Repeat after us: Overhead lights are not your friend this Halloween season! Consider using candles, string lights, and dimmers to set the mood and create a dark yet welcoming room you'll love to hang out in, watch movies, play games, and entertain guests.  
Invest in Smart Lightbulbs 
For a modern twist, you can even incorporate smart light bulbs that can be controlled with a simple voice command or through a smartphone app. Think: Turning bright white light into a yellow glow reminiscent of flickering candlesticks.
Haunted Wall Décor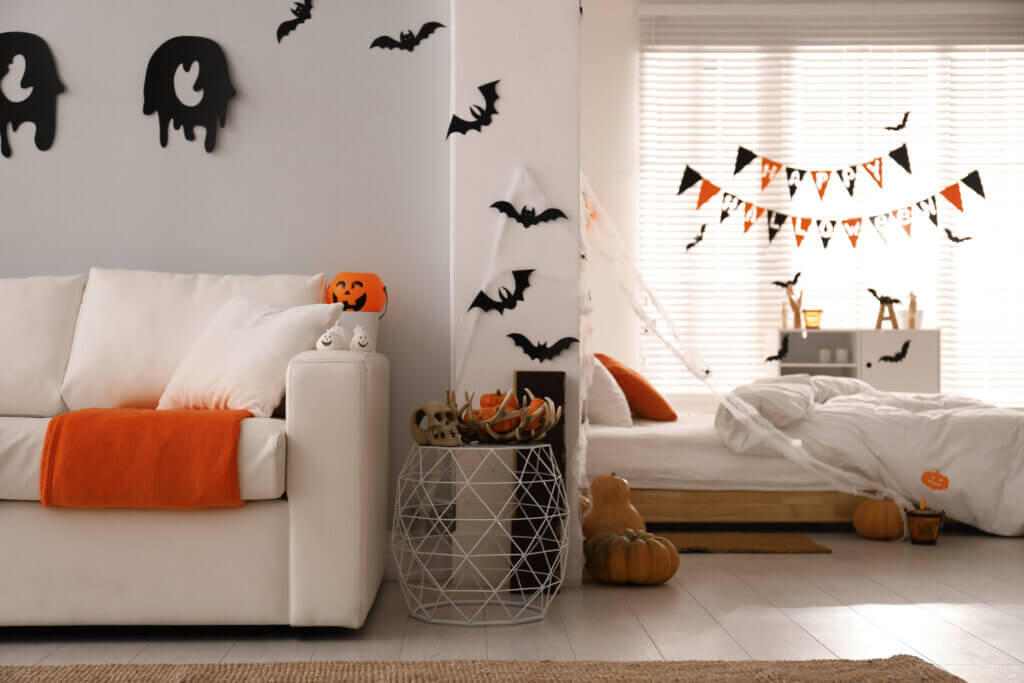 Whether it's a ghostly silhouette, a creepy spiderweb, or a beautiful moonlit scene, Halloween wall decorations can instantly set the mood for a frightful night. Hang them in your living room, hallway, or even in your bedroom for an extra touch of Halloween magic.
Level Up Halloween Décor with Spooky Wallpaper 


From eerie graveyard scenes to creepy haunted house motifs, wallpapers or temporary wall coverings can completely transform a room and transport you to a different world. Whether you cover an entire wall or create an accent wall, the effect will be spine-chillingly stunning. 
Add a Touch of Vintage Charm 

What's the best part of Halloween? Arguably, the old scary movies we all know and love. Incorporate this nostalgia and aesthetic into your home by framing vintage Halloween posters or artwork. These timeless pieces are sure to add a sense of whimsy to your Halloween decor.  
We hope you love holiday content as much as we do! Be sure to save this blog and come back in December to check out 10 delicious holiday dessert recipes.
Eerie Furniture and Textiles 
Okay—this tip might be exclusively for the biggest of Halloween fans. If you're uber-committed to the holiday, swap out everyday furniture for gothic-inspired or dark pieces to create an eerie space. Plus, consider incorporating a variety of textures into your rooms! In the photo above, the unfinished wood coffee table and the wreath of dark sticks add pops of texture that make the space more interesting to look at.
Halloween Throw Pillows and Blankets 
For those excited to get into the spirit but not committed to buying all new furniture, spruce up your spooky space by adding Halloween-themed throw pillows and blankets adorned with pumpkins, bats, ghosts, cats, or witches to add a touch of festive charm. Not only will they add a pop of color and personality to your space, but they'll also make it cozy and inviting for the Halloween season.
Wicked Window Treatments 
Don't underestimate the power of your windows when it comes to impactful Halloween décor. Here's a few ideas to get into the spirit this Halloween:
Find some (hopefully fake) cobwebs and string them along your windows for an ominous decorative twist.
Try out window decals of haunted houses, spiders (to add to the cobwebs, of course), witches, and more—the eerie possibilities are endless.
Not into the motifs? Go for a more subtle approach with sheer black curtains to replace your regular drapes.
Creepy Collectibles and Decorative Accents 
Halloween décor is one thing above all else—fun! Don't be afraid to incorporate your personality into the festivities, whether you're a fan of adorable, friendly ghosts or can't get enough of the genuinely scary elements.
Thrift Halloween-Themed Collectibles or Figurines 
Depending on your style, these can range from cute and whimsical to creepy and eerie. Whether it's a collection of miniature witches, pumpkins, or black cats, small decorations can instantly transform any space into a Halloween wonderland.
Set Up a Haunting Halloween Tablescape with Spooky Centerpieces 

Break out more fake spider webs, black candles, pointy witches' hats, or even a cauldron filled with candy to create the ultimate Halloween tablescape. Don't forget to add eerie elements like skulls, spiders, and bats. Then, take it a step further with black silverware and plates to pull it all together! 
After October comes November! Check out our blog on Thanksgiving-themed interior decorating ideas for next month.
DIY Halloween Crafts 
Halloween is a time for creativity and imagination, and what better way to showcase that than through homemade decorations? From spooky paper bats hanging from the ceiling to intricately carved pumpkins, these DIY projects allow you to personalize your Halloween décor.
Paper Bats 

As a homebuilder, we can't help but love Martha Stewart's incredible whimsy. Check out her tutorial on creating DIY paper bats for a DIY Halloween decorating idea. 
Jack-O-Lanterns Galore 

Pumpkin carving can be fun, but also a little tricky. Check out this how-to guide to get festive with Halloween home design this October. 
Make an Impact with a DIY Halloween Wreath 

Interior Halloween decorations start at the door! Check out 25 unique Halloween wreaths sure to set the scene for the rest of your home. 
Thanks for Reading and Happy Halloween! 
As always, thank you for being here! Whether you choose to carve pumpkins, hang Halloween-themed curtains, or add spooky touches to your windows, the key is to let your imagination run wild and have fun with Halloween décor. In the market for a new home to decorate this Halloween? Turn over a new leaf with our fall finance savings and save big on a new place today!