Why settle for another blah bag of fast food or the same-o, same-o corner café? your next lunch date with your BFFs a #nomnom worthy experience! With a dash of imagination and dollop of creativity, it's easy to turn lunch with your girlfriends into a fun, memorable event. The gourmets here at Taylor Morrison put their heads together and came up with some delicious ideas to whet your appetite! If you have your own recipe for creative lunching, please share.
Switch Up Your Location
Everything tastes better in a beautiful setting, but it doesn't have to be a fancy restaurant. Grab some boxed lunches from your favorite deli and head to a resort community like one of Taylor Morrison's Esplanade or Heritage communities listed here. You can enjoy lunch poolside while experiencing our brand of resort-style living. Make sure to call ahead and schedule your VIP visit.
Picnic Potluck
Pick a pretty spot at a nearby park and pack a basket with your favorite outdoor dish! Ask your friends to bring a dish to share. Read this blog for some great picnic locations in the Bay Area and Phoenix.
Eat Your Way Around the World
Explore a selection of ethnic restaurants in your community. Try something new like Korean BBQ,  Moroccan cous cous or Ethiopian wat. Get some hints for eating out ethnic here.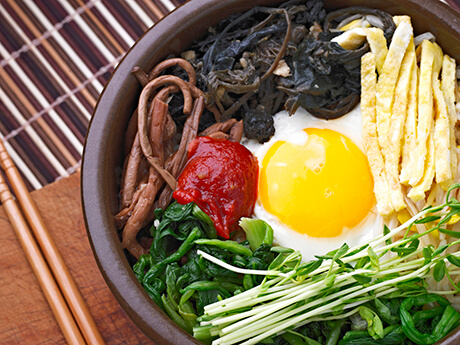 Take Our Foodie Tours
Check out our blog series, The Great Taylor Morrison Foodie Tour, for a list of restaurants across the U.S. that come highly recommended by our resident gourmands.
Part 1 – Arizona, California & Denver
Part 3 – Illinois, North Carolina & Texas
Bon appetit!