Hi! My name is Nico and this is my story about the day I found my fur-ever home thanks to Taylor Morrison Sacramento and their partnership with the Sacramento SPCA. It all started back in July. I was featured on the news with some of my furry adoptable friends. I may be 6-years-old, but I can keep up with the youngins. Cameras didn't bother me. I am always friendly, social and put my best paw forward! Little did I know, a week later my life was about to change forever.
First, let me tell you what it was like being a shelter dog. It's a rough life to say the least! Don't get me wrong, the shelter provided me with love, comfort, food and a place to lay my head. But I always felt like I was missing something. You see people come into the shelter day in and day out looking at the available dogs and cats for adoption. Whenever the door would open and a potential new family would walk down the aisles of kennels in the shelter, all the pets would perk up, look their best and hope today would be the day that we would be chosen. The days are long and the weeks are even longer as we hoped that one day we would have a cozy home and loving family of our own. That was until one fateful day.
The day started out just like any other at the shelter. We started with our usual playtime; we ate; it seemed like a typical day. But this day was unlike the ones before. There were a lot of people at the shelter that day. And one very large, comfy dog bed to boot. Suddenly, I was brought out of my kennel to a family who had been waiting to see me. I was trying to look my cutest! After all, this could be the day I found my fur-ever home! And just like that, I heard the magic words I had been waiting months to hear:
Yep, that's him! He is perfect! We'll take 'em!
I jumped up with glee! It was me, Nico the German Shepherd!
My new family had seen me on the news and were first in line at the Save the Seniors event because they wanted me! For those not familiar with this event, it's when dogs older than five (like me) and cats older than one have a chance to be adopted! Back to my story…this was my family's first time adopting through the SPCA and it was the best experience they've ever had. My family had rescued other German Shepherds in the past and I am proud to be their newest best friend. On this special day alone, over 30 animals were adopted and taken to their fur-ever home. While I did find my family that day, many of my furry friends are still waiting at the shelter hoping to bring joy and companionship to your family.
Now through the end of the year, Taylor Morrison's Sacramento Division is supporting the Sacramento SPCA's efforts to find all shelter animals a home by participating in local Sacramento SPCA events and by matching donations made to the shelter. It is the purr-fect time to find your family a furry friend and help dogs and cats in need of homes. Will you be the next family to make a shelter dog or cat's dreams come true and provide them with a fur-ever home?
With over 79 million U.S. households owning pets, Taylor Morrison is committed to building homes that provide comfort for all family members, even the furry ones. They've even crafted a fun, GIANT dog bed that is touring their Sacramento Area sales offices and events, which you can follow here. See where the giant dog bed is heading to next. We hope to see you there!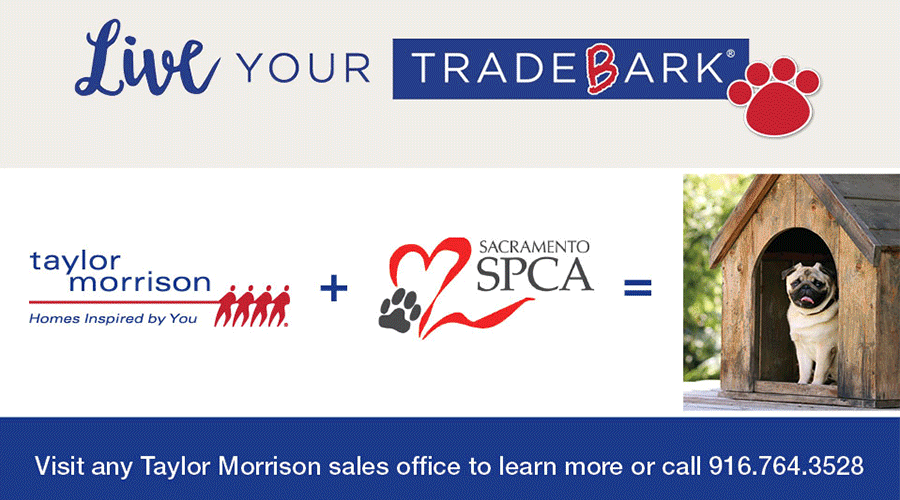 ---
Additional Pet Friendly Information