Gulf waves, soft sandy beaches, and everything west Florida has to offer – is it any wonder that people can't wait to move into our Sarasota homes? Between the breathtaking beauty of the beaches, easy access to golfing, shopping, dining, and the sights of Sarasota County, this Florida region is the perfect place to settle down.
A great way to get to know your new home is by experiencing the town's many amazing entertainment! It can be difficult to know which events are must-visits, but don't worry: Taylor Morrison has you covered. Whether you're in a community near Sarasota or tucked away in one of the neighboring towns, there are amazing experiences just waiting for you!
Events in Sarasota
Taylor Morrison Homes in Sarasota provide a fantastic base for taking in the many events in the area. From Arbor Lakes on Palmer Ranch,  and Esplanade on Palmer Ranch to our  stunning Legacy Estates at Esplanade on Palmer Ranch, you're much closer to fun and adventure than you think.
Whatever your taste in music, there's something special waiting for you in Sarasota. The Sarasota Jazz Festival populates the town's restaurants and clubs with musicians from all over the world every spring. Also in spring is the Suncoast Blues Festival, with performances by some of the genre's most acclaimed modern musicians. If you'd like something a little more raucous, you'll want to check out Thunder by the Bay in February. The festival celebrates everything great about bike culture, with a lively atmosphere, delicious food, and of course live music.
If you're looking for some visual stimulation, don't miss Sarasota's performances and exhibitions. The Sarasota Film Festival runs in April with powerful independent filmmaking and community service that shows everyone the magic of the theater. For fans of live performances, the Circus Arts Conservatory sponsors several shows in winter and early spring. Enjoy high-flying acrobats and talented musicians, fire-dancers, and more! If you see one of the February shows, make sure to save some energy. You don't want to miss the sculpture, painting, and charming wares of the Sarasota Festival of the Arts downtown.
 Aside from thumping music and exhilarating performances, Sarasota has plenty of fun odds and ends to explore with your loved ones. The Atomic Holiday Bazaar graces the city's streets every December, with handmade arts and crafts alongside a fun, family-friendly atmosphere. Watching Major League Baseball teams train during the spring is a beloved southern tradition, and we have all the pointers you need to have a fun experience. In the summer months, test your fishing skills at the Sarasota Slam. You'll get delicious snapper and trout, and even cash prizes for larger catches!
Events in Lakewood Ranch
Located northeast of Sarasota, Lakewood Ranch enjoys easy access to the nearby town's events, with a nice, peaceful atmosphere – it's truly the best of both worlds. Our Taylor Morrison floor plans in Esplanade Golf and Country Club at Lakewood Ranch  offer upscale accommodations and access to amazing resort-style amenities including golf, pools, and mile after mile of breath-taking views. On top of music, movies, and art in Sarasota, Lakewood Ranch even has its own exhibitions for visitors to enjoy! In the fall, visitors can tour dozens of model homes and get a glimpse of what life would be like in the community. In January, the Devereaux-Kaiser Collector Car Meet provides a jaw-dropping exhibition of vintage automobiles.  On the first Friday of the every month, head to Lakewood Ranch Main Street and join the fun from 6-9pm for Music on Main, a free concert series and block party.
Events in Nokomis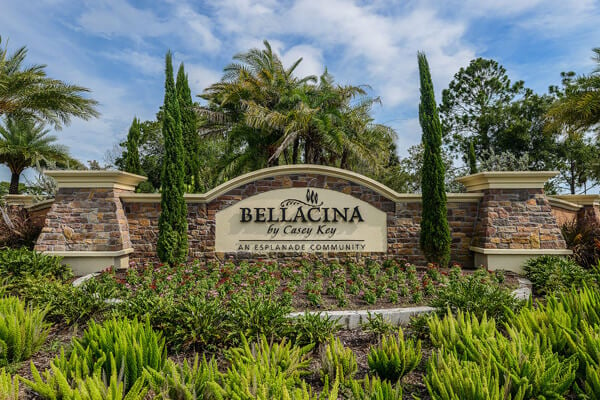 Only 17 miles to the south, Nokomis is a peaceful town with stunning scenery thanks to the warm waters of Roberts Bay. Our homes at Bellacina by Casey Key make the most of the restful atmosphere with resort amenities, nature preserves to explore, and of course an incredible level of personalization. As with Lakewood Ranch, residents of Nokomis can simply drive to Sarasota for exciting events, but there are a few things closer to home. The Chalk Festival every November in nearby Venice offers a unique take on an art exhibition, with incredible works of all styles that everyone in the family can enjoy.
Events in Osprey
About halfway between Nokomis and Sarasota, Osprey offers a wonderful balance of shopping, dining, and natural beauty with the marsh to the west. When you're not relaxing in our elegant Bayside Community, you can venture out to the Osprey Fishing Pier.
In the springtime, take part in the area's biggest block party with the Siesta Fiesta! The street fair combines ocean air and food, art, souvenirs, and even live music to create a celebration you won't forget.
Another springtime favorite is the Sarasota Folk Festival. The event has attracted guests like James Hawkins, Bing Futch, and Roy Schneider & Kim Mayfield. Spend a March weekend with a warm gulf breeze, a cool drink, and plenty of fantastic music.
Events in Palmetto
Nestled off the banks of the Manatee River, Palmetto lies between Sarasota and the bustling city of Tampa. Thanks to a wide selection of shops, restaurants, and vantage points to take in boats bobbing in the river, the town is a treat to explore – especially with our master-planned Esplanade at Artisan Lakes community to come back to!
Start the year off right with the excitement of the Manatee County Fair! A midway packed with rides, plenty of food and live music, and fun livestock showcases for the kids all come together to make for a warm welcome to the community.
Stop by the Palmetto Festival during the Fourth of July to add a little something extra to your Independence Day celebration! Family-friendly activities, along with lots of food and drink, start as early as 11 AM, but the must-see part of the event begins at nightfall. Cap off your day with a firework display by the riverfront!
There's more to living in Sarasota than simply occupying a house (though that's certainly one of the exciting parts of it!) The parties, festivals, and other events the community throws are a vital part of the local culture. Sarasota's shindigs show off the best parts of living in western  Florida, and provide a great way to get to know your neighbors. Take a look at your calendar and start planning for a fun-filled year!
Additional Helpful Information