Yippee! Winter is over, spring is in full swing and summer fun is on the way. Time to make the most of warmer weather by maximizing and beautifying every inch of available outdoor space in your home. Here's a bright bouquet of ideas picked from our previous posts and gathered from Somewhat Simple blogger Stephanie. Just the thing to update, decorate and enjoy your patio, yard, balcony or deck.
Six Links to Patio Inspiration
Many new Taylor Morrison homes are designed to blur the borders between indoors and out. In these contemporary open-concept floor plans, often all you need to do is slide open a door to extend your living and entertaining space.
Get more ideas for creating a visually pleasing flow and connectivity between your inside and outside spaces.
Tight on time and short on funds? Check out these ideas for creating inviting outdoor spaces where you can dine al fresco, visit with friends or wish on a star.
Even if all you have is a sunny window sill, you can grow something beautiful–even edible–in a container. Container gardening is a lot easier on the knees and back. And today's seed catalogs and nurseries are full of an amazing array of plants that do well, often better, growing out of the ground. Hey, there's even a hybrid dwarf corn plant designed to thrive in a pot! Be aware, though, that container plants often need to be watered more frequently than their in-ground relatives. See how easy it is to put down roots in a pot and harvest fruits, veggies and blooms.
Got a passion of the unique and whimsical? This blog post is devoted to off-beat, kid-friendly and eco-smart gardening ideas that will make you smack your forehead and wonder how come you hadn't thought of them before.
You've created your own little patch of paradise. Here are 10 ways to enjoy your backyard — from lawn games to family gardens to classic BBQs.
Stephanie Shares Her Best Somewhat Simple Outdoor Living Tips
If you're a frequent follower of Second House on the Right you know that we've been tracking the progress of Somewhat Simple blogger and Taylor Morrison Phoenix homeowner Stephanie as she and her family transform their new home. We appreciate her generosity in sharing her progress and we love these Somewhat Simple suggestions for carefree, kid- and budget-friendly outdoor living.
The best laid plans of parents and grandparents oft times get turned upside down when kids or grandkids are involved. That's certainly true when it comes to keeping outdoor areas organized. Never fear. Stephanie shows you how to create a fun outdoor play station that encourages children to get unplugged in the fresh air and make it easy for them to put their stuff away when their done. Hey, talk about starting them on the road to a lifetime of good habits!
Speaking of getting unplugged, here are 5 tips for enjoying no-screens-allowed outdoor family time. Think of it: half an hour when nobody's eyes or ears are glued to a device! It's something you and your children will remember long after everyone has forgotten the last episode of This is Us or Sponge Bob.
Short on seating and money? Here's a genius solution that requires no tools. If you have 20 minutes and the ability to stack cinder blocks, you can make this bench. Stephanie estimates it'll run you about $30, but you may already have everything you need to pull this off on a dime.
Want more wonderful ideas like these? Visit Somewhat Simple and follow Stephanie across social media with these hashtags: #SomewhatSimpleHome and #SSBuildsWithTM.
Find a New Home Designed for Outdoor Living
You can start your search for the perfect patio, coolest courtyard or divine deck at Taylor Morrison, or just get inspiration from the photos, floor plans and video tours. To get your started, here are three new homes that offer a variety of outdoor living spaces. One of them just might be exactly what you're looking for.
Coalmont Floor Plan, Heritage at Vizcaya, Round Rock, TX
The covered patio of this single-story, 2-bedroom beauty off the family room. Move the dinner party outdoors to enjoy meals al fresco all spring and summer. See the options offered on this floor plan by visiting the model home. In the photograph shared, you will see an extended covered patio, a corner fireplace and an outdoor kitchen.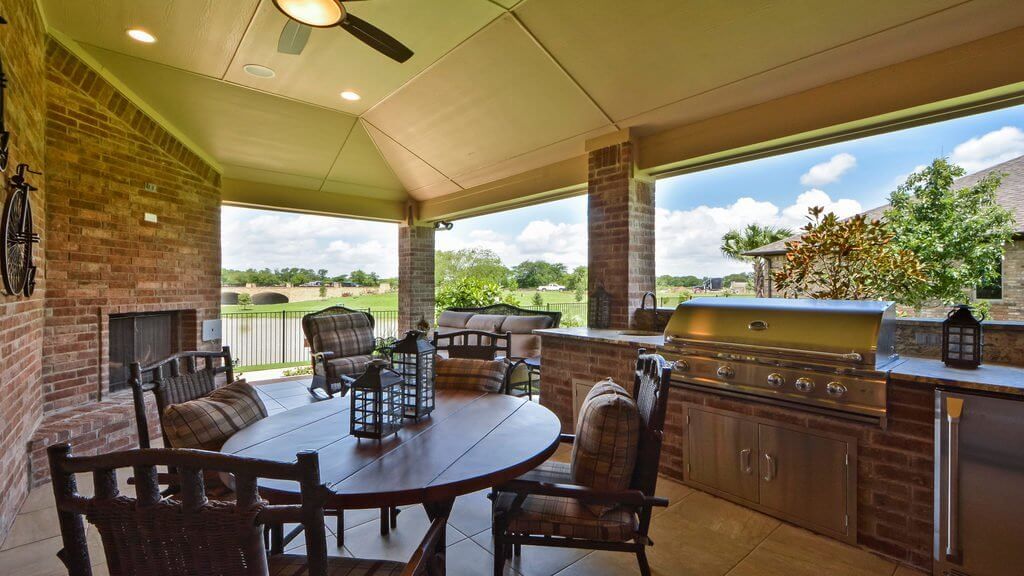 Portofino Floor Plan, Avalon at Riverstone 80s, Sugar Land, TX
This 2-story, 5-bedroom plan offers an abundance of spaces for outdoor living, entertaining and relaxing. The covered patio blends effortlessly from the open-concept conservatory, and the open courtyard off the front entry is garden-party perfect. Upstairs, a covered balcony with extension option gives you even more space to stretch out and cool off on warm summer evenings.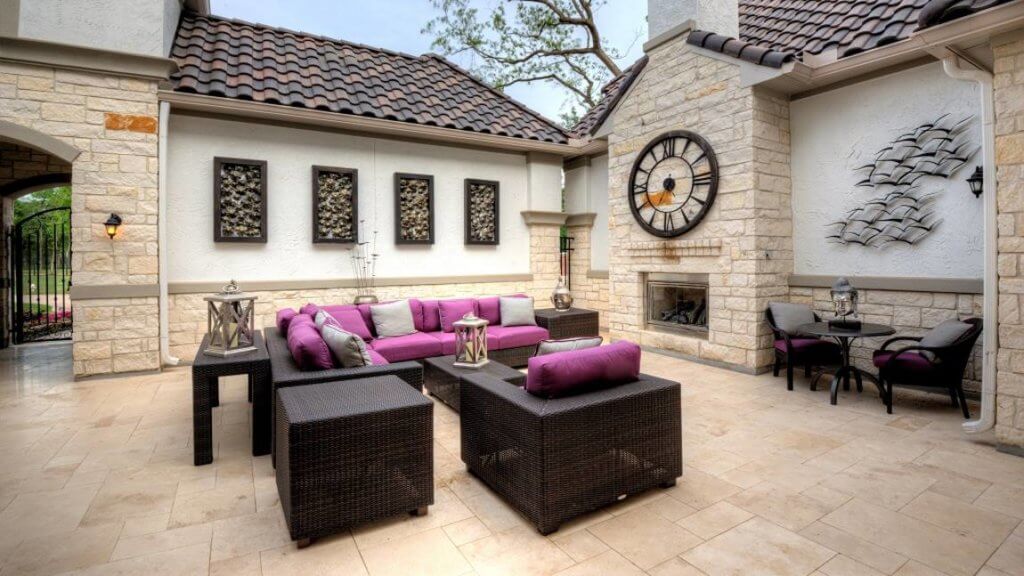 Manning Floor Plan, The Preserve at Secret Ravine, Rocklin, CA
This single-story, 3-bedroom home has an optional covered patio. Or you might want to keep it open and create easy-care, water-sparing xeriscape spaces for dining and conversation spots. The photo shows how to pull it together with coordinating furniture and colorful pillows.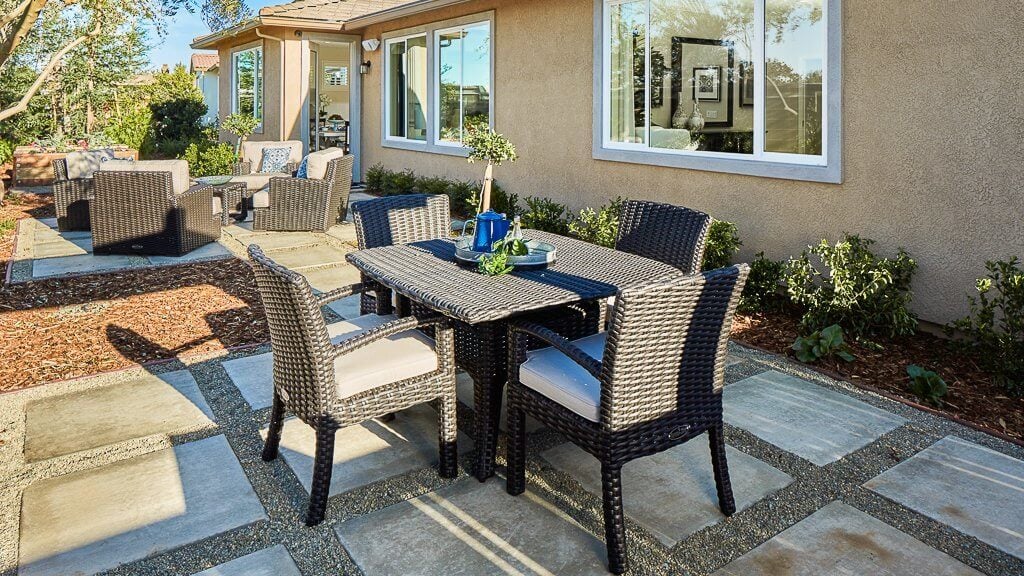 What Are You Waiting For?
No matter how big or small your patio, backyard, balcony or deck is, all you need to turn it into a welcoming outdoor oasis in imagination and inspiration. Go on out there and discover a world of fresh air, sunshine and good times waiting for you and your family.