Guest Contributor: Aubrey Renaker, Corporate Communications Specialist for Taylor Morrison and Darling Homes 
First impressions matter— and they're lasting. As a homebuilder, what first impression matters more than the moment when a potential buyer steps into one of our sales offices for the first time? (A: Probably none)
That's why we gathered a team of our marketing pros (Sarah Starr from Houston, Shari Fobel from SOCAL, Christina Grayson from SWFL, Valerie Varney from Denver, Brianna Broxson from Dallas, Andrea Murphy and Deanna Cameron from Phoenix) led by National Marketing Director Stormy Rasmussen to help give our current sales offices a face-lift in both look and functionality. It's been almost 10 years since the last redesign, and we all know design trends change often.
The team started by surveying our team members on the front line—folks who will be spending every day in these offices—and asked them what they'd like to see in the redesign. The answers they received were varied. Some insisted that they need ample seating while others would rather have more office space, some even requested a designated space for drinks and snacks or more digital features. Keeping all of these requests in mind, the team created a vision board of concepts and design looks that they would like to see in the new space and then a design agency brought their concepts to life with several rendered images.
Vision Board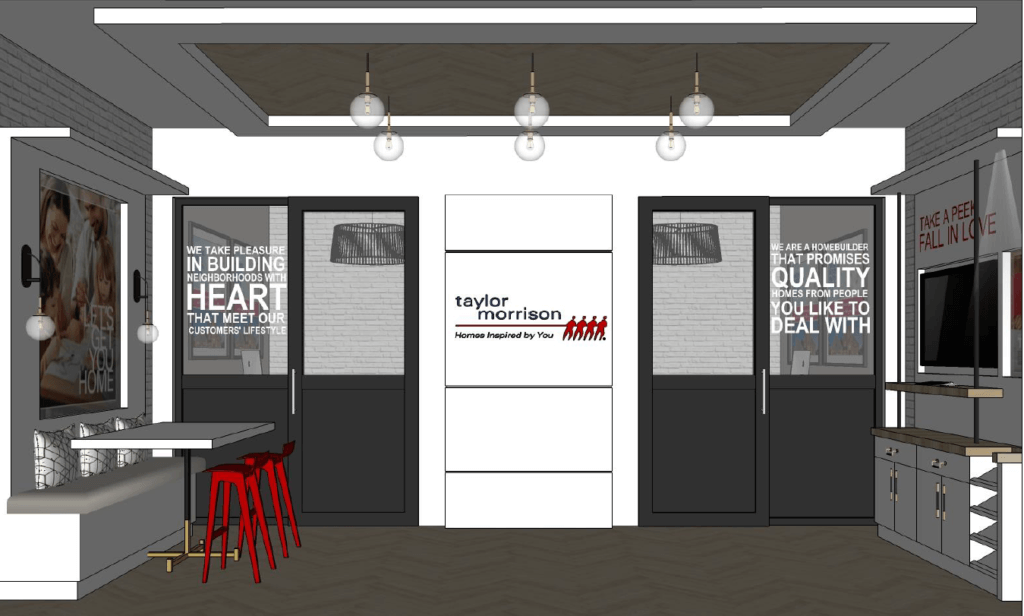 Mock-up Rendered Images
"With the sales office redesign, we really wanted to continue to allow regional flexibility with the design features as much as we could, while still keeping the overall look of the national brand consistent." Stormy shared. With this in mind, the team made sure to offer plenty of different options, configurations and features to ensure every sales office was set up for success based on their region's individual needs.
Seating Wall Options
All new communities are planning on rolling out these changes by around the end March and some divisions like SOCAL and Austin have already started the process. Each division's marketing team will be working with the design vendor in order to implement the redesign in their upcoming new communities based on a master plan. We love the new look of our sales offices and hope you're just as excited about the redesign as we are. Thanks to everyone who helped to make this project a huge success!
Sales Office New Look Conclusion 
If you can't wait any longer to see the new offices in person, you can take a virtual tour of a SOCAL sales office at Avery at the Grove!
Additional Helpful Information