Love dogs? We do, too! And that's why Taylor Morrison Sacramento is grateful to partner once again with the Sacramento SPCA to help find even more fur-ever homes for pets in need.
The 26th Annual Doggy Dash is back and this year's event promises to be furrier than ever. Leash up your pooch and join the walk to help raise money to care for our community's homeless animals.
What is the Doggy Dash?
The Doggy Dash is an annual 2k or 5k walk that serves as a fundraiser for the Sacramento Society for the Prevention of Cruelty to Animals. Animal lovers walk with their pets or alongside their community neighbors to show their support and enjoy a day of fun at William Land Park.
Following the walk, the woof-tastic 'Bark in the Park' festival offers hours of cuddly fun and the opportunity to adopt your new best friend at the Taylor Morrison sponsored Adoption Village. Be sure to visit the new Kids Zone with face painting, coloring, bowling, kettle corn and ice cream.
Doggy Dash FAQs
Date and Location: Saturday, April 27, 2019 at William Land Park – the corner of Sutterville Road & Freeport Boulevard
Doggy Dash 2k & 5k walks both start at 10am
'Bark in the Park' festival runs from 10am to 2pm
Parking is available at the Sacramento City College student and visitor parking garage
Register in advance and pick up your packet at REI Sacramento, 1790 Expo Parkway on the 25th or 26th from 10am to 7pm
Day of registration opens at 8:30am
Registration fee includes access to the 2k/5k Doggy Dash route, event t-shirt and entrance to the festival with beer garden, 100+ pet-friendly vendors, food trucks and more
Do I Need to Have a Dog to Participate?
Absolutely not! Come walk and show your support for the Sacramento SPCA with or without your dog.
Please Note: If you do plan on bringing your 4-legged walking partner to the event, be sure that your dog's vaccinations are up to date and that he or she is socialized with other animals and comfortable in a hectic setting with a lot of people and a lot of dogs.
While the Sacramento SPCA also helps other fuzzy friends like kitties and bunnies, the organizers have asked that only dogs attend the event.
Grow Your Family at the Adoption Village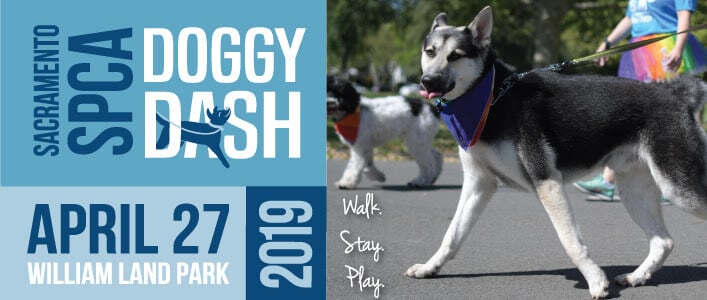 In the summer of 2017, Taylor Morrison crafted a beautiful 8' x 8' Giant Dog Bed to be featured at Sacramento SPCA adoption drive events such as National Mutt Day, monthly Yappy Hours, Wet Nose Wednesday at Raley Field and Home for the Holidays.
The concept has been hugely popular and a great way to help families find the perfect new pet or take a fun portrait with their current one.
The Giant Dog Bed will be on hand at the Adoption Village, along with a pack load of gorgeous adoptable animals looking for a family to love. Stop by to play, take photos and hang-out on the giant bed. Come prepared to open your heart and open your home.
Pet Adoption Success Story
Meet Bucky the Dachshund. This little guy's life had a rough start with a happy ending.
As a senior dog, sometimes it can be hard to find your forever home – but not for Bucky! At the 2017 Doggy Dash, he was bounding around the Adoption Village full of energy when he caught the eye of his adoptive mom.
He's now a full-fledged member of a rescue family, one that includes Chester, another lucky dog who found love last year in the Adoption Village. Bucky and Chester's mom had this to say about why she loves rescue animals: "Dogs seem to live in the present moment and whatever led to their surrender is long forgotten history. Each day they remind me of what is good in the world. When we have pets, we are lucky."
More About our Partnership
Every year, 6.5 million pets enter animal shelters across the country. Some were homeless but many were surrendered by their family for a variety of reasons. Moved by this tragedy, Taylor Morrison Sacramento decided to do our part to pitch in. We started by donating $10,000 in 2017 and have partnered with the Sacramento SPCA ever since.
From sponsoring adoption fees to funding promotions and activities, make no bones about it – we care about helping pets in need find their fur-ever homes.
Read: Community Is A 2-Way Street: Giving Back In Sacramento
A Commitment to Building Pet-Friendly Homes
In conjunction with our partnership with the SPCA, we also work hard to make sure our new homes for sale in Sacramento are designed with pet-friendly features so bringing your furry friend home is just a walk in the park. Sacramento real estate that's as much for your 4-legged family members as it is for you, it's all part of the Taylor Morrison Difference.
Here are a few examples of the pet-friendly features that you'll find on display:
Spacious fenced-in back yards
Plenty of storage for snacks and toys
Pet-friendly flooring options
In-home pet washing stations (available at select communities)
When you shop for a new build home with Taylor Morrison, you'll also discover that the home buying process is pet-friendly, too. From dog beds in our sales centers to cute dog houses at model homes along with pet-themed décor.
Welcome Home Nico
Discover the heartwarming story of Nico the shelter dog. Thanks to Taylor Morrison and a family in need of dog kisses, this 6-year old German Shepherd was adopted for good at a Save the Seniors event.
You too can change the life of a shelter animal forever. And with all this talk about pooches, don't forget that the Sacramento SPCA has cats and rabbits in need of a good home, too.
Hope to See You There
Taylor Morrison Sacramento is excited to be part of the Doggy Dash again this year. We'll have 30 team members, friends and family participating…please join our group and we hope to see you there!

Leslie Kilmer, Taylor Morrison