Are you beginning your home shopping journey? If so, you may be considering the pros and cons of buying a new home versus a resale home. As one of the nation's largest homebuilders (and America's Most Trusted® Home Builder), we believe there are many compelling reasons to buy a new home compared to an old one.
Today, we'll go over five key factors when it comes to buying a home: cost & maintenance, size, location, health, and personality. Let's get into it!
Cost & Maintenance

We understand that cost is by far one of the most important factors to consider when buying a new house. For your peace of mind and financial health, ensuring you can comfortably pay your mortgage is essential for every home shopper.
Pro of Buying a New Home: Cost & Maintenance
A common misconception is that buying a new home is astronomically more expensive than buying an older home. However, the numbers are pretty close. In fact, new homes have an array of cost benefits compared to old, including fewer repairs, less maintenance, better insulation, and improved energy efficiency.
Plus, our team of experts at Taylor Morrison Home Funding is constantly working to implement incentives, buydowns, rate locks, and more to help you get into a place you love.
Con of Buying a Resale Home: Cost & Maintenance
The cost of a new home compared to a resale one is not significantly more expensive, as seen in the graph by the National Association of Home Builders below.
While you may be able to find a resale home at a lower price point than a new build, maintaining the older one will most likely be more expensive in the long run. When you buy new, you get the best-of-the-best features, from countertops and flooring to insulation and energy efficient measures, plus a warranty to keep you covered.
Size
Deciding what size home you want depends largely on personal preference. If you're a first-time homebuyer, you may opt for less square footage; if you're a large family, you may need a spacious floor plan with extra space; and if you're somewhere in the middle, you may choose something in-between. The choice is up to you (and your budget)!
Pro of Buying a New Home: Size
New homes at Taylor Morrison have optimized floor plans to maximize space, which is a major benefit of buying a brand new home. Additionally, some resale homes have choppy or closed-off layouts while most new homes are all about open-concept and spacious living.
Plus, say hello to natural light! New homes are built to maximize natural sunlight with well-placed windows and thoughtful orientations.
Con of Buying a Resale Home: Size
When buying a new house versus old, resale homes often have smaller spaces than new homes, including closets, cabinets, garages, rooms, door height, and more. People used to be shorter, smaller, and owned fewer personal items than we have today. If you're in a pre-World War II house, smaller spaces could also be due to limited supplies and available materials at the time of construction.
When it comes to homes built in the early to mid 2000s, investing in a new-build home is still your best option (in our opinion). Homes built roughly eight to twenty years ago may have choppy floor plans, lower-quality wood framing, less insulation, framing cracks, and more problems that can lead to costly repairs and upkeep.
Location
Everyone's heard the famous phrases touting location as the be-all-end-all in real estate. While we do not believe that homebuying is all about location, we recognize its importance and build homes in places we know our homebuyers will love for years to come.
Pro of Buying a New Home: Location
New houses are often built in up-and-coming locations, perfect for living and growing. You'll enjoy the advantages of buying a new house, like avoiding the traffic and chaos of larger cities while being close enough to enjoy your area's natural beauty and conveniences.
Wherever you want to move, we have options for you. Check out our new homes in Arizona, California, Colorado, Florida, Georgia, Nevada, North Carolina, South Carolina, Oregon, Texas, and Washington!
Con of Buying a Resale Home: Location
Many older neighborhoods are built in central locations, and while this can be convenient, you'll also have to deal with heavy traffic and overcrowded stores and restaurants.
Health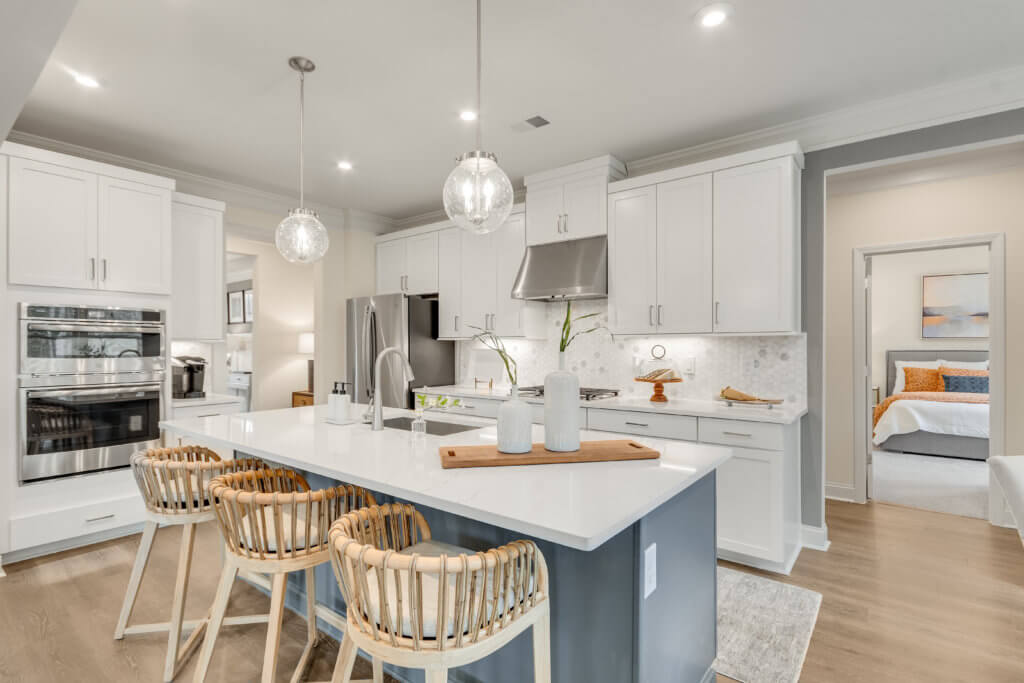 Home is where the heart is. But it's also where the rest of you lives, too. That's why at Taylor Morrison we're committed to building homes that take care of all of you, with plenty of benefits to keep you and your home as healthy as possible.

Pro of Buying a New Home: Health

According to The International Energy Agency, new homes "reduce symptoms of respiratory disease, reduce stress and infectious disease, and reduce risk of cancer, arthritis, depression, and symptoms of cardiovascular disease."
New homes are sounding better and better if you ask us!
Con of Buying an Old Home: Health
It's no secret that older homes can have negative health impacts. According to The Oregonian, "Older homes are notorious for harboring numerous hazards like lead, asbestos, radon, [mold], and Volatile Organic Compounds (VOC)."
Personality
While technical elements of homebuying can't be ignored, the importance of finding a place that suits your personality and aesthetic is paramount in loving where you live. New homes have an array of exterior and interior options to cater to every taste.
Pro of Buying a New Home: Personality
When you buy a new place, the world is your oyster when it comes to design choices. Plus, at Taylor Morrison, you'll get to work with our team of interior design experts at the Design Studio to select everything in your new home, from cabinets to flooring to tile and more.
Stressing about design options? Don't worry—our interior designers have hand-selected design elements that flow beautifully together in several collections called Canvas.
Con of Buying an Old Home: Personality
Yes—older homes can have a unique and inviting charm. However, this often comes with pricey repairs, choppy floor plans, smaller spaces, and outdated design elements that can be expensive to remedy.
Find Your New Home with Taylor Morrison
Thanks for reading! As a homebuilder, we truly believe the smartest move you can make is into a new home. If you're in the market, save big on a new home with our limited-time offers. You'll find your new spot on the block in no time!