Mother's Day is one of the most beautiful holidays. There's no one that lifts you up, holds you together, and gives you a warm hug quite like your mom. On this special day, why not whip up your mom an absolutely delectable brunch? It's a thoughtful, kind, and delicious endeavor. Keep reading and take some time to peruse our best Mother's Day brunch recipes. Delicious inspo, here you come! 
Sweet Mother's Day Brunch Ideas
There's just something irresistible about a decadent dessert menu. Here's some of our favorite ideas for Mother's Day Brunch, sweets and treats edition.
Coffee Cake
Coffee cake is full of cinnamon-goodness and surprisingly simple to make. Try it out this Mother's Day and pair it with your mom's favorite light, dark, or medium roast.
Servings
12
Prep Time
20 minutes
Cook Time
45 minutes
Cake Ingredients
1 stick butter, softened
¾ cup sugar
1 tsp vanilla
1 egg
2 cups flour
2 teaspoons baking powder
Pinch of salt
¾ cup milk
Filling Ingredients
3 tablespoons butter, softened
1 tablespoon cinnamon
½ cup flour
½ cup packed brown sugar
Topping Ingredients
5 tablespoons butter, softened
¾ cup flour
½ cup packed brown sugar
1 tablespoon cinnamon
Cake Instructions
Preheat the oven to 350°F and grease a 9×9 baking pan
Beat the butter and sugar until combined 
Mix in vanilla and egg
In a separate bowl, mix the flour, baking soda, and salt 
Add one half of the flour mixture to the egg mixture and combine. Add milk. Once the milk is incorporated, add the rest of the flour mixture
In a small bowl, pinch together the butter, flour, sugar, and cinnamon until crumbly
Pulse the butter, flour, brown sugar, and cinnamon in a food processor until crumbs form
Pour half of the batter into pan, sprinkle the filling over top, pour the other half of the batter over the filling, and lightly sprinkle the topping over the top
Bake 45-50 minutes and enjoy!
Strawberry French Toast
Are you brunching it up? Strawberry French toast is the scrumptious item you've been waiting for—this is sure to be a fan favorite among the Mother's Day gifts. 
Servings
4
Prep Time
25 minutes
Cook Time
20 minutes
French Toast Ingredients
½ cup butter
4 eggs & 4 egg yolks
½ teaspoon ground cinnamon
¼ teaspoon ground nutmeg
3 tablespoons granulated sugar
1 tablespoon brown sugar
½ cup milk
½ cup heavy cream
2 teaspoons vanilla extract
8 slices brioche bread
Strawberry Sauce Ingredients
3 tablespoons unsalted butter
¼ cup sugar
¼ cup orange juice
2 cups sliced strawberries
1 tablespoon water
1 tablespoon cornstarch


Whipped Cream Ingredients

1 cup heavy cream, cold
2 tablespoons powdered sugar
1 teaspoon vanilla extract
French Toast Instructions
Melt butter in a large skillet over medium heat
In a shallow bowl, whisk the egg and egg yolks until well combined
Whisk in the cinnamon, nutmeg, and sugars until well combined
Whisk in the milk, heavy cream, and vanilla
Dip each slice of brioche in the egg mixture. Coat each side fully
Place brioche slices into the skillet until golden brown, about 3 minutes
Flip the slices and cook until the other side is golden brown
Serve warm with strawberry sauce and whipped cream!
Strawberry Sauce Instructions

Melt butter in a small saucepan until golden brown
Stir in the orange juice, sugar, and 1 cup of strawberries
Cook over medium heat until strawberries have softened, and juice is thickened, about 10 minutes
In a separate bowl, whisk the water and cornstarch until smooth 
Add the water and cornstarch mixture into the strawberry sauce
Bring to a boil, stir constantly, and cook until thickened, about 2 minutes
Add the rest of the strawberries, stir frequently, and cook for 5 more minutes
Remove from heat and serve over French toast
Whipped Cream Instructions
Beat the heavy cream, powdered sugar, and vanilla extract 
Whip until stiff peaks form
Add a dollop on top of the French toast and strawberry sauce!
Find the perfect Mother's Day brunch theme. Keep reading, then click here for some fantastic ideas! 
Carrot Cake
Looking for the perfect balance of sweet but not too sweet? Carrot cake will never fail you when it comes to Mother's Day brunch ideas. 
Servings
10 – 12
Prep Time
25 minutes
Cook Time
30 minutes
Ingredients
2 cups chopped pecans (optional)
1 ½ cups packed dark brown sugar
½ cup granulated sugar
1 cup vegetable oil
4 eggs
¾ cup unsweetened applesauce
1 teaspoon vanilla extract
2 ½ cups all-purpose flour
2 teaspoons baking power
1 teaspoon baking soda
½ teaspoon salt
1 ½ teaspoons ground cinnamon
1 teaspoon ground ginger
¼ teaspoon ground nutmeg
¼ teaspoon ground cloves
2 cups grated carrots
Cream Cheese Frosting Ingredients

16 oz block cream cheese, softened
½ cup unsalted butter, softened
4 cups powdered sugar
1 ½ teaspoons vanilla extract
Pinch of salt

Directions
Preheat the oven to 300 °F and line a baking sheet with parchment paper
Spread chopped pecans on the sheet and toast for 7-8 minutes
Turn the oven to 350°F, grease 2 nine-inch cake pans, and line with parchment paper
Whisk the brown sugar, granulated sugar, eggs, apple sauce, and vanilla in a large bowl until combined
In another bowl, mix the flour, baking powder, baking soda, salt, cinnamon, ginger, nutmeg, and cloves 
Pour the wet ingredients into the bowl with the dry ingredients and fold the ingredients together with a wooden spoon until just combined
Fold in the carrots and 1 cup of the pecans
Pour the batter evenly into the two cake pans
Bake for 30-35 minutes
Let the cakes cool completely on a wire rack before frosting
Frosting Directions
Beat the cream cheese and butter on medium-high until smooth (about two minutes)
Add the confectioners' sugar, vanilla extract, and a pinch of salt and beat on low for about three minutes
Assembly
Once the cakes are completely cool, use a flat, serrated knife to layer off the top of the cakes
Evenly cover the top of each cake with frosting
Place one cake on top of the other and add frosting around the sides
Garnish with the remaining pecans
Refrigerate the cake for 20 minutes and then enjoy!
If you live in a warm state, consider hosting Mother's Day Brunch outside. Be sure to check out our article on outdoor home and design trends to get your creative juices flowing.
Savory Mother's Day Breakfast Ideas
It's time to venture from sweet to savory! Read on for our most delicious savory breakfast ideas sure to make mom smile. Or, invite her into the kitchen and spend the day cooking up culinary masterpieces together.
Bacon, Egg, and Cheese Pastry Cups
Bite into goodness with these bacon, egg, and cheese pastry cups. 
Servings
12 cups
Prep Time
15 minutes
Cook Time
30 minutes
Ingredients
12 strips uncooked bacon
All-purpose flour
1 17.03 oz package frozen puff pastry
1 cup cheddar cheese, shredded
8 eggs
¼ cup milk (or heavy cream)
2 tablespoons chives, minced
Instructions
Preheat the oven to 350°F
Cook the bacon in two large sauté pans over medium-low heat until almost fully cooked. Set aside
Lightly flour your work surface and roll out each puff pastry sheet
Cut each piece of puff pastry into 9 squares. Add a square into each muffin tin cup and press it firmly into the bottom and on the sides
Place a piece of cooked bacon into each cup
In a large bowl, whisk the eggs, milk, and pinch of salt and pepper 
Divide the cheese into the muffin cups
Pour the egg mixture over the cheese
Bake for 18-22 minutes, until pastry is golden brown
Once taken out, sprinkle each cup with chopped chives and serve immediately
Looking for activities to do after the food's been served? Check out some Mother's Day inspiration here!
Air Fryer Sausage Bacon Bites
Try out these sausage bacon bites for a delectable bite-sized treat on this special day. This is a super easy and incredibly delicious Mother's Day brunch recipe.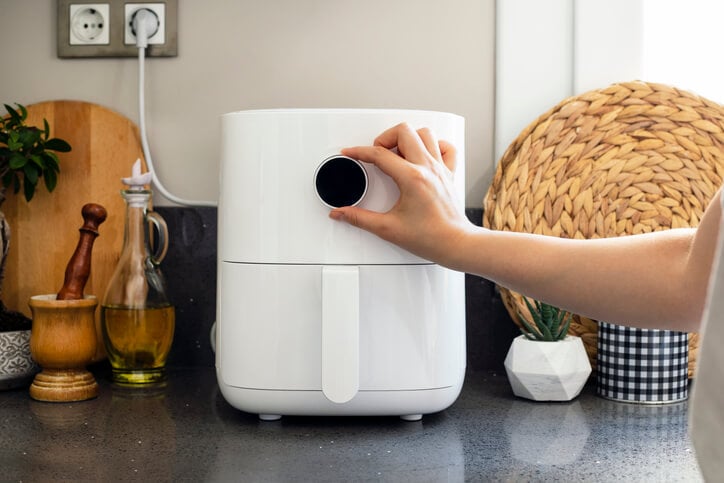 Servings
3 ½ dozen
Prep Time
20 minutes
Cook Time
15 minutes
Ingredients
¾ pound bacon strips (10-32 slices depending on thickness of slice) 
2 8 oz packages frozen, fully cooked sausage links, thawed 
½ cup + 2 tablespoons packed brown sugar, divided 
Instructions
Cut bacon strips in half, widthwise
Cut sausage links in half
Wrap a piece of bacon around each sausage
Place ½ cup brown sugar in a medium bowl and roll wrapped sausages in sugar
Secure each bite with a toothpick
Place in a large bowl and refrigerate overnight
Preheat air fryer to 325°F
Sprinkle wrapped sausages with 1 tablespoon brown sugar
Grease tray of air fryer and place wrapped sausages evenly in basket
Cook for 15-20 minutes, until bacon is crisp
Sprinkle with last tablespoon brown sugar
Serve warm!
Refreshing Mother's Day Drinks
The perfect complement to the delicious brunch recipes above is an ice-cold drink! From tart lemonades to bubbly Italian soda, you're sure to spend quality time with mom sipping on these sparkling drinks.
Blueberry Basil Lemonade
This unique and refreshing drink tastes just like spring in a cup. Sip on the sweet taste of lemon and blueberry cut with a zing of basil and sparkling water for the perfect kick. 
Ingredients
2 cups water
1 cup granulated sugar
1 cup fresh blueberries
20 fresh basil leaves
1 cup freshly squeezed lemon juice
2 cups cold sparkling water
Instructions
Place the water, sugar, and blueberries in a medium saucepan on medium-high heat
Bring to a boil and cook until the sugar has dissolved, and the blueberries burst, about 5 minutes
Remove the pan from the heat and stir in the basil
Cover with a lid and steep for 20 minutes
Strain the syrup mixture through a fine mesh seine
Add the blueberry syrup, lemon juice, and sparkling water to a pitcher and stir to combine
Pour lemonade over ice and garnish with extra blueberries and basil. Sip and enjoy!
Don't forget the flowers! This is one classic Mother's Day gift that will never go out of style. Discover how to brighten your home and lift your mood with flowers here.
Blood Orange Italian Soda
Blood orange is a zesty and unique flavor that's always sure to be a hit. Surprise your mom this May with a pitcher of sparkling blood orange Italian soda. 
Ingredients

5 blood oranges
½ cup granulated sugar
½ cup water
1 teaspoon blood orange bitters
1 teaspoon aromatic betters
8 cans La Croix sparkling water, plain
Instructions
Zest and juice 4 oranges
Combine orange zest, juice, sugar, and water in a small saucepan over medium heat and bring to a boil
Remove from heat and let cool for 10 minutes
Strain the orange mixture
Stir in both bitters to mixture
Cover and chill for 20 minutes
Combine ¾ cup La Croix with 2 tablespoons blood orange mixture. Add more of mixture for a stronger taste or less for a lighter feel
Garnish with orange slices and serve icy cold!
Thanks for Reading and Happy Mother's Day
We're wishing a lovely Mother's Day to all the wonderful moms out there! We hope this blog inspired you to bake, cook, and create a sweet (or savory) treat for the special women in your life this May.