Choose a Theme or Style for Your Backyard Decorations 
Today on the blog, we're bringing you easy backyard decoration ideas to level up your outdoor space. Just like the interior of your home may have a distinct style, your backyard can, too! If you plan on spending lots of time relaxing outdoors, choosing a theme can help bring your backyard to life. Some ideas are:
Boho Vibes 
Include pops of bright pinks and oranges with wicker poofs or opt for soft creams for a more refined look. Don't forget to include stunning greenery, especially vibrant palms!  
Rustic Charm 

Think vintage buckets as planters, a wagon for decoration, and lanterns filled with fairy lights. 
Nautical/Beachy 

If you live near a lake, play off your surroundings with subtle nods to boats, cranes, and the beach.  
Eclectic Beauty 

The sky's the limit with eclectic décor! Collect statues, fountains, and furniture in any style you like and combine. 

Chesapeake Model at Bridgeland 40s in Cypress, TX
Cottage 

Plant mountain flowers and consider thrifting white wicker furniture for a charming backyard setting. 
Southwestern 

Take inspiration from the Southwest with outdoor rugs in dynamic prints, an earth-toned palette, and potted cacti. 
Modern Contemporary  

Clean lines, dark furniture, and simplicity define the modern contemporary style. 
If you're ready for more home design ideas, check out our blog on 10 unique and creative ideas for your flex room.
Transform Your Outdoor Space by Creating a Cozy Seating Area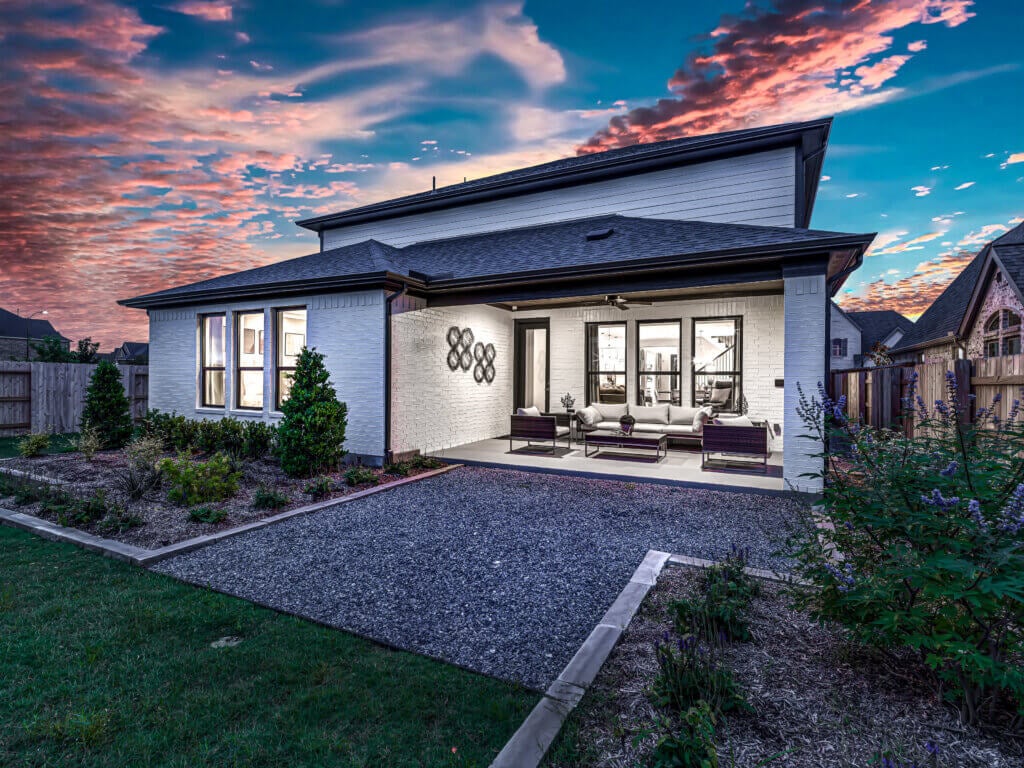 Bordeaux Model at Elyson in Katy, TX
When the weather is just right, nothing is better than sitting outside, making memories with good friends or family. Talk, laugh, and bond when you create an outdoor living space that's comfortable, functional, and of course, beautiful. 
How to Arrange Outdoor Furniture 
There are several proven ways to arrange outdoor furniture that can elevate your space and create the perfect flow for conversations. Here's a couple of our favorite furniture arranging ideas:
Keep it Simple and Classic with a Sofa and Two Chairs 
Just like in a gathering room, the simple combination of a sofa with two chairs is a timeless option. Place the chairs on either side of the couch, or across, for a look that never fails to impress.
Arrange 4 Chairs in a Circle for Increased Flexibility 
Who says you need to stick to a traditional couch? Opt for four matching chairs or mix it up with an eclectic selection to let your personality shine.
Use Weather-Resistant Cushions and Fabrics in Your Outdoor Living Space 
If you want your cushions and fabrics to last longer than one season, be sure to invest in weather-resistant materials. Fabrics made from synthetic fibers are designed to withstand elements such as rain, UV rays, and mildew. Plus, water, fade, and mold-resistant fabrics are easier to clean and maintain, allowing you to enjoy your outdoor space without worrying about constant upkeep.  
Try Out Colorful Rugs to Brighten Your Space 
Colorful rugs are an incredible addition to your backyard decorations! Instantly level up the ambiance of your backyard by using a rug as the focal point of your space. Rugs can help create a more inviting atmosphere, making your outdoor space feel like an extension of your home's interior. Be sure to choose rugs meant for the outdoors, as they are designed to be durable and withstand unpredictable weather. 
Enhance Your Space with Outdoor Lighting 
Adding lighting is one of our favorite backyard decoration ideas! Outdoor lighting can turn a nice space into a glimmering and ethereal haven once dusk arrives each evening. Plus, did you know lighting can actually have a profound effect on your mood?  
According to Illuminated Integration, "Lighting levels make us perceive heat and make us feel warmer, causing our emotions to become more intense…increasingly bright light can make us feel more strongly about our opinions and feelings." Whether you're throwing a backyard party or cozying up with a book and a glass of your favorite beverage, outdoor lighting can truly transform your space and improve your mood!
Types of Lights to Level Up Your Outdoor Living Space 
Spotlights shed light upward on trees, downward on flowers, or anywhere else you wish.

Step lights do just what they sound like—they provide a lit-up walking path for both function and beauty.

Garden lights are typically soft orbs or low-level cylinders that add a whimsical touch to your flowerbeds.

String lights hang above your space and create a star-like environment.

While fairy lights aren't necessarily weather-proof, they're a magical addition to any backyard party! Place them gently along a long table or in clear jars for a stunning backyard decoration idea.
Be sure to save this blog and come back this October to check out our outdoor fall home décor and design ideas. 
Bring Your Space to Life with Potted Plants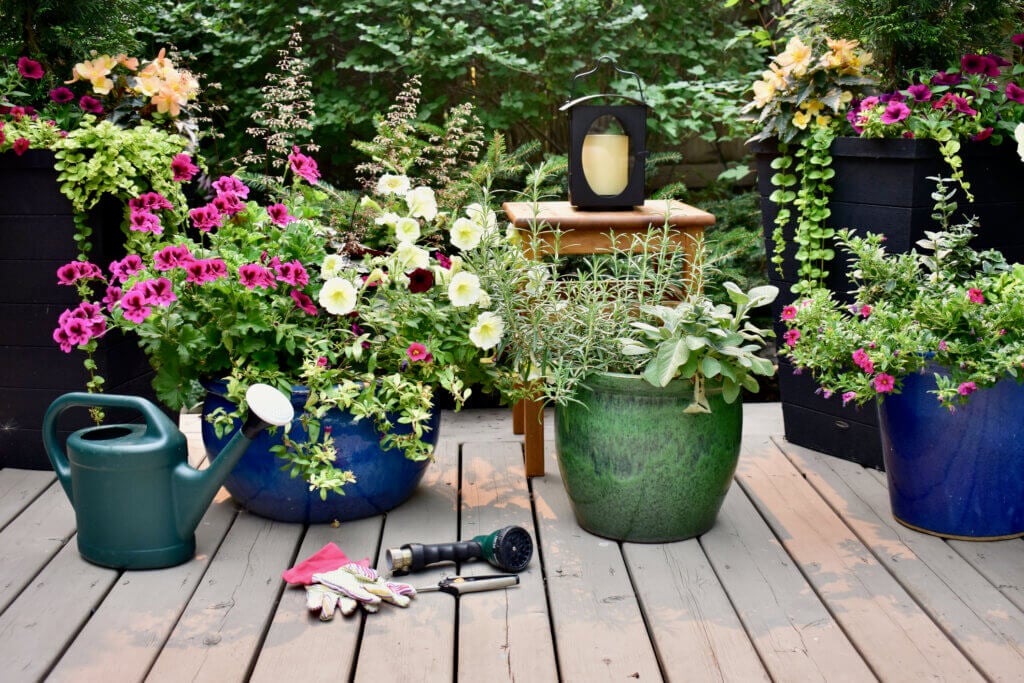 Whether you have a quaint balcony, a spacious patio, or a sprawling backyard, potted plants can add much-needed life and color to your outdoor space. Select an array of plants, from effervescent flowers to lush foliage, to create a captivating visual display for easy backyard decoration ideas.
Potted plants are not only aesthetically pleasing, but they also have several health benefits, such an improving air quality, improving your mood, reducing fatigue, and creating a soothing ambiance. With a little creativity and care, you can curate a harmonious blend of greenery, textures, and fragrances that bring tranquility and joy to your outdoor space!
Be sure to choose plants that can thrive in your area's environment. Check out this list from Native Backyards to discover which plants are native to your local area and start growing today.
Ways to Arrange Potted Plants 
Arranging potted plants is an art. While there are no hard-fast rules to follow, here's a few ways to place greenery if you're on the fence with these natural backyard decoration ideas.
Create a focal point by placing smaller pots in a circle around one larger potted plant.
Create clusters of potted plants in odd numbers. Per Apartment Therapy, decorating with odd numbers is more effective at capturing your gaze.
Utilize hanging baskets with vine-like plants to create a whimsical effect.
Create a Dining Area for the Ultimate Summer Backyard Decor 
Enjoy meals with friends and family while also taking in the beauty of nature when you create an outdoor dining space. Consider the space you have to work with—if you have an expansive backyard, try out a long table; if you're working with a smaller area, consider a round table and chairs that can fit easily. As always, focus on the ambiance with natural-colored furniture, potted plants, and outdoor lighting. Ensure your seating is comfortable with weather-proof cushions and incorporate shade options, like an umbrella.
Ready to throw the bash of the summer? Dig out the linens, bright candles, fairy lights, and outdoor dinnerware for an atmosphere your guests will fall in love with. For even more fun, invest in a firepit for s'mores under the stars!
Add Soothing Water Features to Your Outdoor Space 
No matter your budget or space, there's sure to be a water feature perfect for creating a soothing environment in your backyard! From fountains to ponds, small waterfalls, or even bird baths, water is a calming element you're sure to love. Outdoor water features have tons of benefits, too!
Enjoy the sounds of nature right in your backyard.
Cut down on noise pollution.
Encourage more wildlife to hang around your backyard.
Enjoy the low-maintenance nature of most outdoor water features.
Outdoor Oasis, Here You Come! 
Thanks for reading, and happy outdoor decorating! Hopefully, this blog on backyard decoration ideas inspires you to get outside and love your outdoor space this summer. If you're looking to find a new home, check out our summer finance savings today!