At Taylor Morrison, we understand that not every family member walks on two legs. Whether your household includes dogs, cats, ferrets or reptiles, pet-proofing your home is a vital part of loving where you live.
Let's dive deep down the rabbit hole (so to speak) to uncover an "animal" kingdom of home design tricks for pet owners.
Start with Pet Friendly Flooring
Wall-to-wall carpeting is comfy on your toes in the wintertime, but carpet collects dust and odors from dirty paws and wet fur. Consider going with hardwood, tile or laminate flooring to make cleanup a breeze.
Another option is to concentrate carpeted rooms on the second floor and to make upstairs a no-go zone for fuzzy friends. When you do lay carpet in rooms to be shared with animals, stick with a low-pile style and a lighter tone for easy stain spotting.
Pro Tip: Never mop hard floors with bleach as pets absorb cleaning products through their paws. Only use non-toxic solutions on surfaces to be used by your pets.
Make Bath Time a Breeze with a Dedicated Pet Washing Station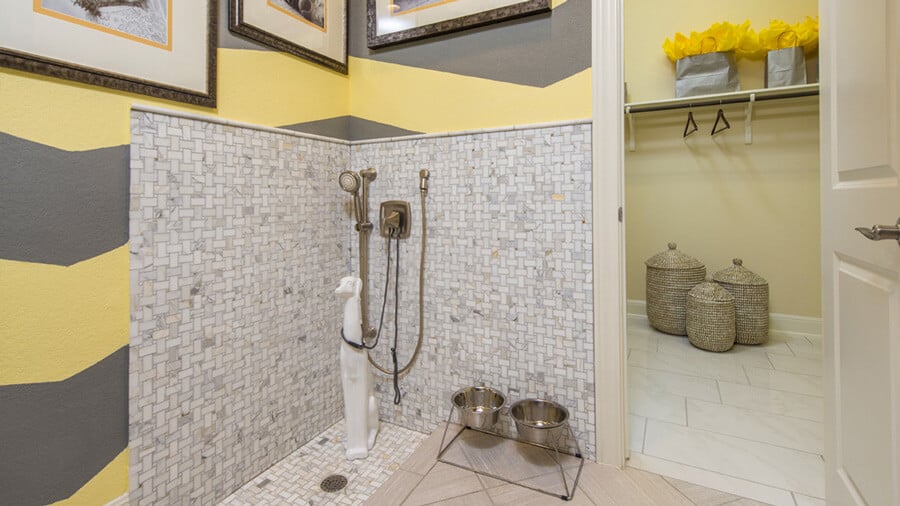 Fowler Floor Plan | Heritage at Vizcaya
A popular new feature available on some Taylor Morrison floor plans is a dedicated pet washing station. Here are 4 reasons why a private bath for Fido is a huge upgrade to your home:
Keeps your own bath tub clean – forget about scrubbing puppy grime and pulling gobs of dog hair out of the drain.
Ideally located – instead of traipsing filthy paws through the house, march dogs straight from outside into the tub.
Stay organized – store toys, leashes, shampoos, medications and more in one convenient place.
Dog's get clean easier – larger than a sink and smaller than a bath tub. Having the ideally sized basin at just the right height takes the stress out of bath time.
If you're in the market for a new luxury home in San Juan Capistrano or affordable Orlando real estate, see how a dedicated pet wash option integrates into these two popular floor plans:
Remember to Always Be Aware
Poison control is a major concern when you share your home with curious pets. Don't risk that your pets can't get in to floor level cabinets. Store all potentially hazardous cleaners, medicines and materials up high and out of reach.
It's also a good idea to keep a screen over the fireplace and to place barriers between your pets and dangerous falls or equipment/tools.
Always Be Ready for a Walk
A simple hat rack in the garage can easily be converted into your one-stop dog walking station. Hang your harnesses and leashes so that they're easy to find and pick up a few inexpensive hand towels to wipe down dirty feet before letting Spot loose in the house.
Shop New Home Communities Known for Pet-Friendly Amenities
From development location to community layout, floor plan design and even a dog house that's a miniature model of your new Taylor Morrison home – we take pet-friendly amenities seriously.
Tips for Home Décor
How you decorate your home is just as important as major layout decisions. Here are a few age-old tricks to keep your pets (and furniture) safe:
Leather upholstery is tops for being easy to clean and not collecting a mountain of fur balls.
Purchase a dedicated pet bed for dogs & cats to keep them off the furniture.
Scratch posts help prevent cat claws from doing a number on your sofa legs.
Double-check all house plants to make sure they are pet safe.
Find a basket or two for storing pet toys.
Taylor Morrison Puts Dogs in Sacramento Homes
While every one of our divisions loves animals, it's no secret that Taylor Morrison Sacramento goes the extra mile for California's tail wagging companions.
Their Holiday Dog House video with Buster and Bear is good for a smile or two. And when you're ready to shed a tear of joy, read about shelter dog Nico and how he found his fur-ever home through Taylor Morrison's partnership with the Sacramento SPCA.
Learn more about our relationship with the SPCA and discover pet-friendly events in Sacramento with the Live Your Trade Bark Campaign. Live Your Trade Bark aims to help pet owners design a lifestyle that suits every member of the family – even those who bark and meow.
How to Prepare for Your First Holiday Season with Pets in the House
From strings of electric lights that are tempting play things for kitties to festive treats that are harmful or potentially deadly to animals, the holiday season is filled with hazards for your pets.
Read "Make Your Home Merry & Safe for Pets" for fantastic ideas on getting the house ready to celebrate with your little buddies.
Make sure your 4-legged loved ones have something special to open from under the tree. Here are a few neat ideas.
Find More Pet-Friendly Inspiration
A great way to discover new home design trends as they relate to pets is by attending a home & garden show near you. Be sure to grab brochures & pamphlets and to take lots of photos of the things you would like to show your design studio consultant.
Inform your consultant that you've got pets so they can better assist you in personalizing your home with the right materials and upgrades. They'll know which flooring is the easiest to clean and which colors work best when your new home is a miniature zoo.
Adopt a Pet Near You
If it feels like your new home is missing the pitter-patter of little paws, use PetFinder to locate animal shelters and rescue operations near you. There's a special someone just waiting to be brought home and cuddled today!