Tampa is justifiably famous for its bay access to the beaches and turquoise waters of the Gulf of Mexico. Less known, except to locals, are the many rivers, streams and springs that flow in and around Tampa. If you're thinking about moving here, read on. Not only will we showcase a few of our new Tampa, Florida communities and move-in ready new Tampa homes, we're going to introduce you to a few fresh water finds well worth exploring.
A Cool Retreat Close to Lithia
Lithia Springs Regional Park
3932 Lithia Springs Rd, Lithia, FL 33547, 813.744.5572
Located on the Alafia River, this 160-acre conservation park is popular for swimming, camping, kayaking, fishing, hiking, birdwatching and picnics. Don't except an icy dip. The natural spring water is a pleasant 72 degrees year-round. The 44 campsites fill up quick, so plan to get here early if you're going to camp. RVs can be accommodated on the campsites and there are two shower houses. Other facilities include picnic tables, BBQ grills, playgrounds and restrooms. There is an entrance fee of $2 and a $2 per person swimming fee. Dogs are allowed, but take care that your pooch doesn't harass the local wildlife.
The Enclave at Channing Park is quite close to the Lithia Springs park. Located in the Fish Hawk Ranch area of Hillsborough County, The Enclave is a new neighborhood with homes. You'll have your choice of six one- and two-story single-family plans with three or four bedrooms. And you'll be able to enjoy the community pool as well as all the extensive recreational amenities at Channing Park. Preview floor plans offered or make an appointment to visit us at 17401 Chelsea Downs Circle in Lithia, FL 33547. Call 813.651.4259 for more information.
Additional reading: Life is Better in Lithia – Here's Why
Bubbling Springs Near Odessa
Werner-Boyce Salt Springs State Park
8737 US Highway 19 North, Port Richey, FL 34668, 727.816.1890
While this 3,296-acre park includes four miles of coastline, most of it is marshy or submerged ground, typical of an estuarine tidal marsh environment. The big attraction is the springs. While only 80 by 60 feet on the surface, it goes down 320 feet. The spring vent is near the surface and can be seen boiling at low tide. It runs into an estuary and onto the Gulf. The spring run is crossed by two natural limestone bridges and bordered by live oak, cypress and sabal palm. Two other springs, Cauldron and Gar, are nearby. Activities include kayaking, fishing, hiking, picnicking and wildlife viewing. Birdwatchers are likely to spot spoonbills, bald eagles and black rail. Boat rentals are available. There is an entrance fee.
Two Taylor Morrison communities are located just 30 minutes away in Odessa, Florida. Esplanade at Starkey Ranch has both to-be-built and move-in ready homes in three collections of single-family homes. Residents enjoy the incomparable Esplanade lifestyle with resort-inspired amenities that make every day seem like a vacation. Call 813.428.6995 or schedule a visit online. Or visit us at 11411 Juglans Drive Odessa, FL 33556, models are open daily.
Whitfield Preserve at Starkey Ranch is currently pre-selling by appointment only. Call 866.495.6006 to schedule yours. Join the interest list to get updates and an invitation to the grand opening. Four, five and six-bedroom single-family homes.
Keep reading: New Homes in Starkey Ranch
Day Trips & Weekend Getaways near Tampa or Orlando
Hillsborough River State Park
Leave downtown Tampa and take a pleasant 30-minute drive to this park, established in 1938 by the Civilian Conservation Corps. You'll be rewarded with one of the most scenic Floridas rivers. If you don't have a kayak or canoe, you can rent one, and follow the 31-mile canoe trail. Some outfitters include a drop-off and pick-up service (so you don't have to paddle upstream). Be advised, though, that the upper parts of this run are challenging and include a set of Class II rapids. Calmer parts of the river are great for fishing. You can also visit Fort Foster State Historic Site, a reconstruction of a fort from the Second Seminole War. Concessions are available. Contact 813.986.3322 (Hillsborough Park Poolside Café or Canoe Escape at 813.986.2067 for info on canoe rentals and tours.
Weeki Wachee Springs State Park
6131 Commercial Way, Weeki Wachee, FL 34606, 352.592.5656
An hour north of Tampa you'll discover a historic attraction that's been enchanting Floridians since 1947. Natural features include a first-magnitude spring with sandy bottom and a depth of 185 feet. Open-water scuba diving is available by reservation only. But you can enjoy the experience (complete with mermaids) from the 400-seat submerged theater. Canoe or kayak on the clear water run and you'll see lots of wildlife. Rentals and launches are available within the park. Other features include the season Buccaneer Bay water park, boat tours, snack bar, restaurant and picnic area. There is an entrance fee. Leave Fido home. No dogs are allowed.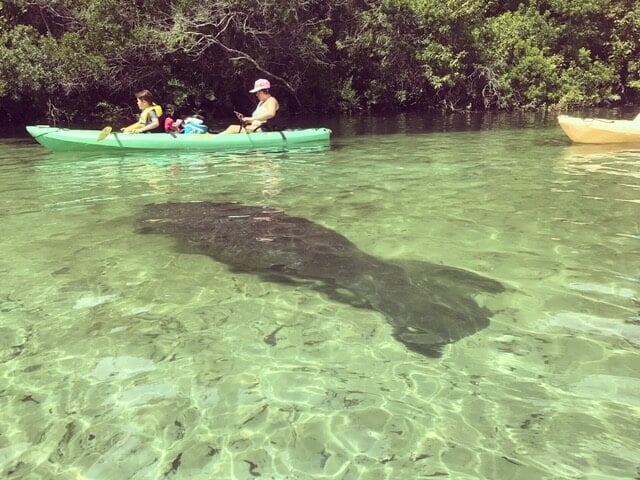 Ellie Schiller Homosassa Springs Wildlife State Park
4150 S. Suncoast Blvd. (US 19), Homosassa, FL 34446, 352.628.5343
Manatees, alligators, black bears, bobcats, river otters and white-tailed deer – Florida's famous fauna are showcased at Ellie Schiller Homosassa Springs Wildlife State Park. The park sprung up (pardon the pun) around the first-magnitude springs and now includes picnicking, nature study, a children's education center and bird-watching. The park also functions as a rehab center for injured manatee and provides a winter refuge for the wild manatee population. You can view these beautiful creatures and many other marine creatures from an underwater observatory, overlooks and boardwalks. There is an entrance fee. Snacks are available. No dogs, no camping and no scuba diving.
Crystal River National Wildlife Refuge
1502 SE Kings Bay Dr, Crystal River, FL 34429, 352.563.2088
Established in 1983, this is the only refuge created especially for the protection of the threatened Florida Manatee. The constant 72-degree spring waters within the bay provide a winter retreat for the about 600 manatees. Designated Manatee Sanctuaries, the areas around the springs are closed from November 15 through March 31. During the rest of the year, visitors can enjoy swimming, snorkeling, scuba diving, boating, fishing, wildlife viewing and picnicking with the refuge. There is no entrance fee. Camping and dogs are both prohibited. Private operators like Crystal River Watersports (352.795.7033) offer a variety of tour options.
Rainbow Springs State Park
19158 Southwest 81st Place Road, Dunnellon, FL 34432, 352.465.8555
There's a rainbow at the end of our river tour. Florida's fourth largest spring is also a National Natural Landmark. At its heart is a 250-foot wide, shallow spring of clear blue water surrounded by forest. Seven vents, five more springs and hundreds of sand boils create the 5.6-mile Rainbow River. It's a popular spot for kayaks and canoes, which can be rented within the park. Other activities include swimming, scuba diving, hiking, camping, formal gardens and wildlife viewing. There is a snack bar and an entrance fee. Dogs are allowed if you follow state park rules.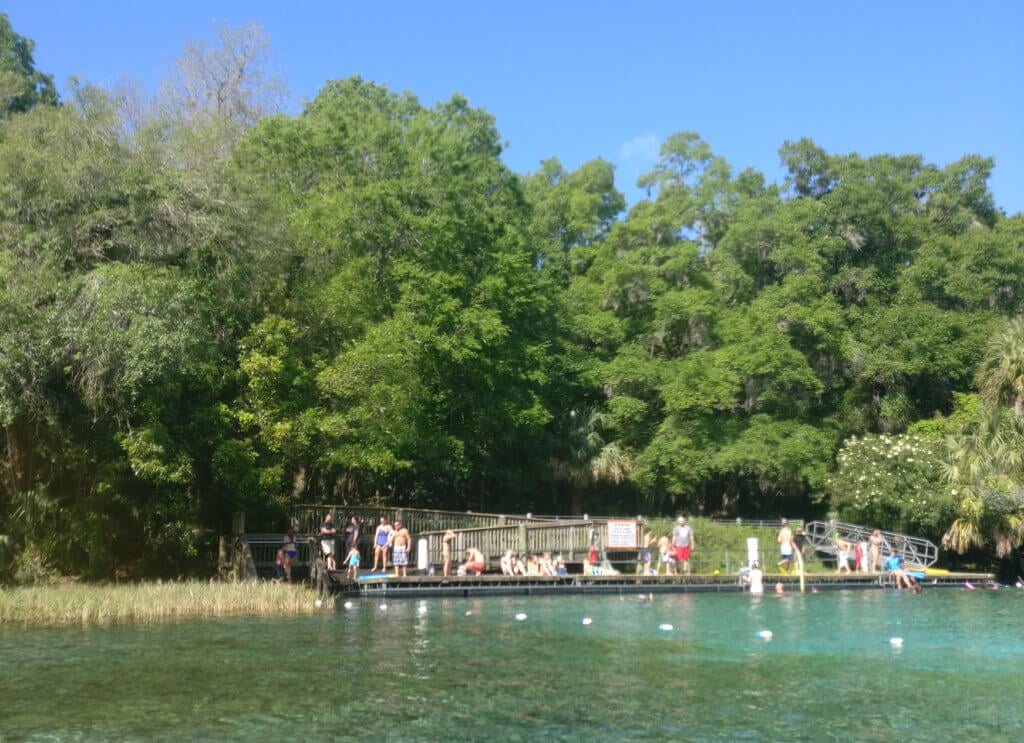 Follow Your River of Dreams
Florida maybe the right fit for you. We'll help you cruise into a new Taylor Morrison home that's just your style. Start the journey to home here.
Additional Helpful Information