A promise to provide a different kind of builder/customer relationship means Taylor Morrison's commitment to making your home a better place to live doesn't end when we hand over the keys!
Inspired living is more than just a quality-built house in a fantastic neighborhood. It's spending time with the people we love and decorating our home in a way that expresses our personality and is welcoming to visitors.
With the holiday season fast approaching, we wanted to share beautiful guest room designs from across the nation. Find inspiration from the wonderful spaces created by America's Most Trusted Home Builder!
For more tips on being "Host of the Year" for your friends and family, check out the following blog posts:
California
Bay Area | Apex | Residence 2
The guest room at this new home in Dublin, CA showcases the beauty of grayscale interior design. A big advantage of this muted color scheme is that it's so versatile. Bright and bold colors in a guest room can be a stark reminder to some visitors that they're at someone else's house – but this space gently whispers, "Make yourself at home."
Sacramento | Dakota | Plan 6 | Bedroom 4
A fun and easy concept to implement in your guest suite is to pick a theme and run with it. This Folsom, CA home celebrates the rugged beauty of the west with a cozy outdoors motif. See how just a few items really creates the feel. Classy framed photos, plants, thematic reading material and of course the bedside globe for dreams of exploration.
Meadowood at Park Place in Ontario | Residence Four | Bedroom 4
Tucked away on the first level off the great room is a beautiful bedroom bathed in natural light. See how an accent wall behind the bed provides a color basis to be pulled across the space. You don't need to go overboard, see how the blue in the painting, pillow and bedside candle are muted but present.
Arizona
Phoenix | Sonoran Gate Landmark Collection | Hillary
Another example of using a theme to guide your guest room décor. An accent pillow kicks off the visitor's imagination with an inspirational phrase while objects placed throughout the room reinforce the main idea of discovery. Notice how even the geometric shelving adds to the feeling that the room is something out of the ordinary.
Colorado
Denver | Terrain Ravenwood | Steamboat
Love animals? Sure, everyone does! And that's why the safari guest room at this new Denver home in Arvada, CO is such a big hit. Just a few key pieces and a couple of professionally framed photos and you'll instantly transport visitors off to the African savanna.
Texas Guest Room Ideas
Houston | Meridiana – 50' Homesites | Jasmine
Sometimes one large interesting piece of artwork is more than enough to set the tone for a room. Just like the first room we showed you up top, notice how the grayscale color palette makes the space welcoming for all your visitors, young and old.
Austin | Crystal Falls Grand View, Canyon Bend & Overlook | Cordoba
The location you choose for your guest room is almost as important as the décor. Bedroom 2 at this Austin area home is off the main-entry hallway and separate from the other bedrooms for privacy. Notice how the geometric shapes on the wall behind the bed create the illusion of a giant headboard.
Dallas | Waterford Point at the Tribute | Waycroft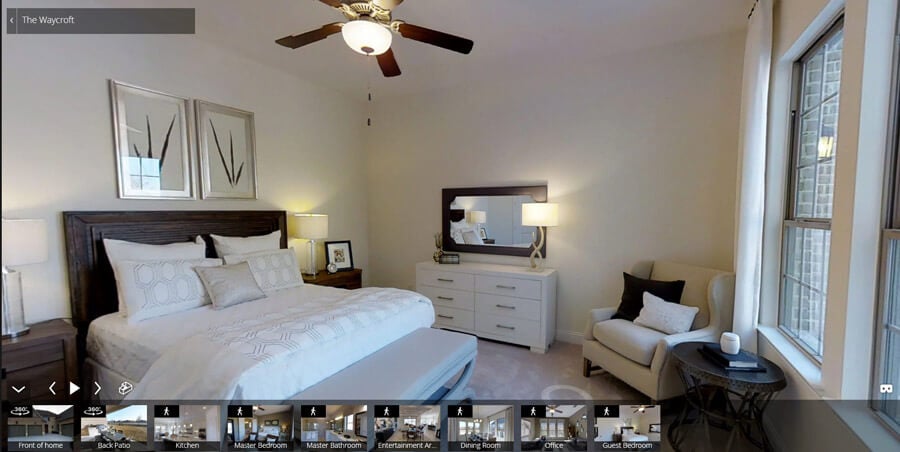 There's something really cool in this Dallas area home that's easy to do and a great way to be creative and unique. Take a Virtual Tour to see the fun shadow boxes on the wall opposite the mirror. They can be filled with literally anything. Pick a concept and run with it!
Illinois
Chicago | Ashwood Creek | Stockton
This beautiful design reminds us that the guest room should always offer a perfect balance between form and function. Provide an interesting space for visitors to be intrigued by but also make it a cozy & comfortable, too.
The Carolina's
Charlotte | Stafford at Langtree | Kendyll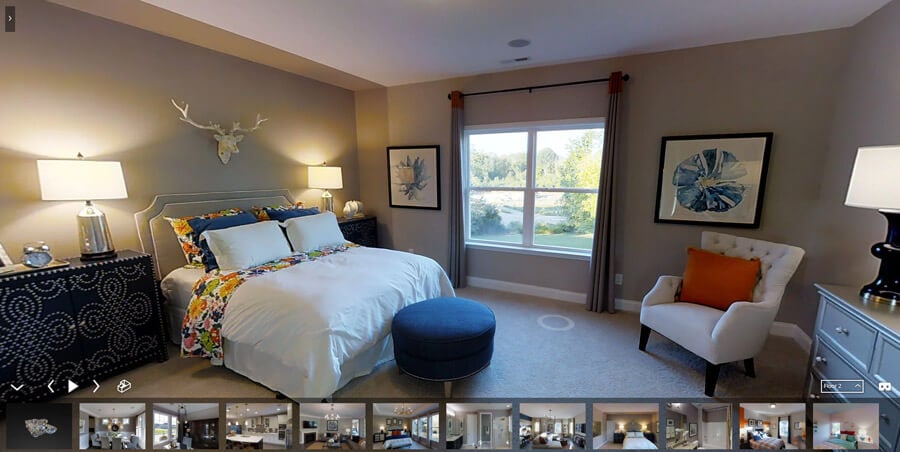 This inviting suite reminds us that the guest room doesn't have to be relegated to the smallest room in the house. Bedroom 4 in this Mooresville, NC new build home leaves plenty of space for a pair of comfy chairs and includes an en suite bath.
Raleigh | Reynolds Mill | Wade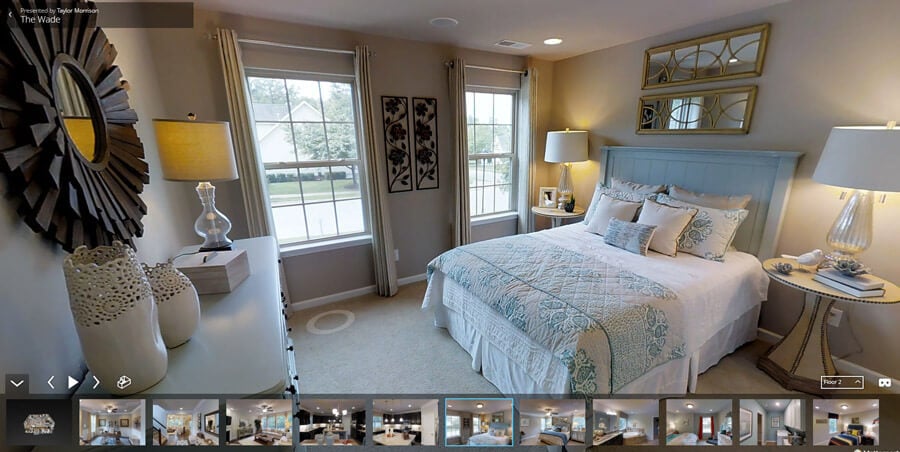 This second-floor bedroom offers a bright and cheery space to spend a night or two. Beautiful lamps and ornate mirrors create the feeling of a high-end hotel while the down-to-earth pillows and bedspread offer a welcoming ambiance to make you feel at home.
Georgia
Atlanta | Sterling on the Lake | Rabun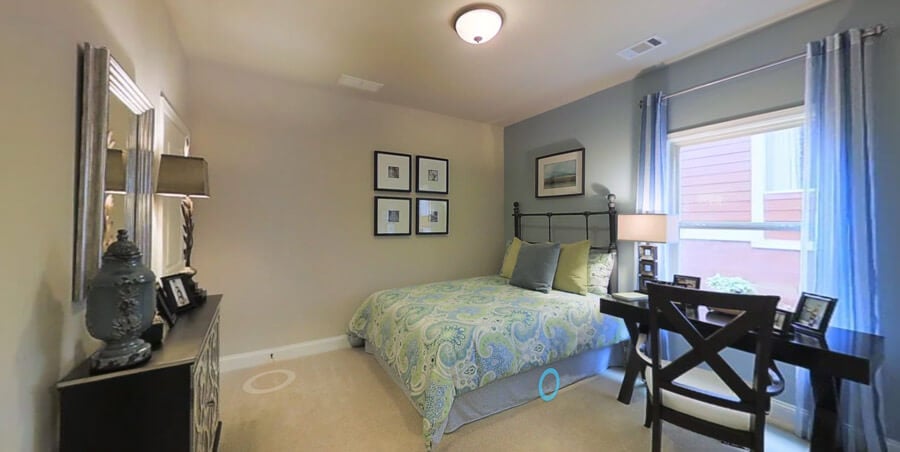 A cozy workspace is a great idea to give guests a private space to catch up on emails or get a little work done. This way they won't feel uncomfortable having to set up in the kitchen and ask everyone to be quiet.
Florida
Naples | Pebble Pointe at The Brooks | Trevi
Vibrant and cheerful, a yellow-themed room is always a big hit and makes you feel like you're on vacation. And face it, when you've got visitors at your beautiful new home in Naples, FL, your guests probably ARE on vacation!
Tampa | WaterGrass | Abaco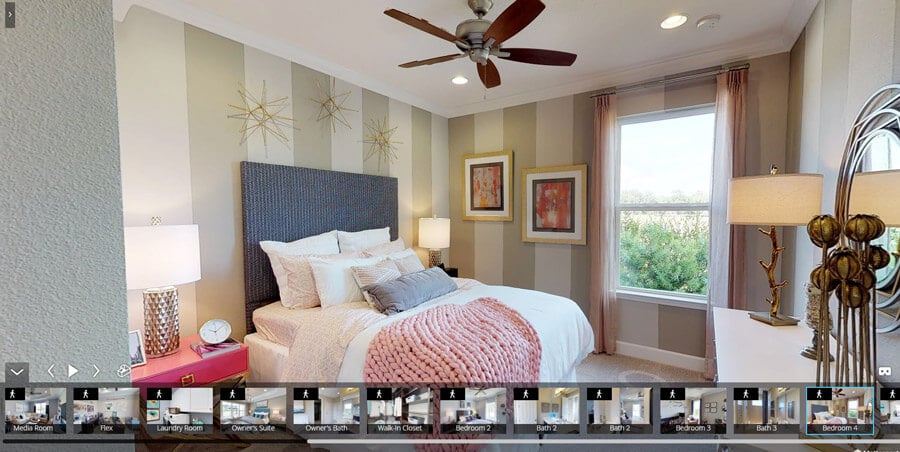 Vertical stripes with plenty of pink accents. This guest room will brighten up your visitor's stay while giving them plenty of fabulous accessories to admire.
Jacksonville | Stone Creek | Julington
Looking at your floor plan can sometimes make it easier to determine which spare bedroom is in the best position to be comfortable for guests. Remember that visitors don't want to be a nuisance so a guest room with a private location or easy access to the front door like Bedroom 3 are your best bets.
Orlando | Whitetail Run | Bimini
Florida reminds us of the beach and the ocean, so it only makes sense that this Orlando home would feature colors inspired by the sea. Lots of extra pillows also makes for a super comfy guest bed.
Still Looking for Your Dream Home?
Use our handy home finder to discover a new home community that's right for you and your family.