Guest Contributor Lee K. Crowder, Design Gallery and Model Home Branding Manager for Taylor Morrison
We're still spending a lot of time in the house these days which means your home should be a space designed to fit your lifestyle. Have you reinvented your current setup for working, educating and entertaining at home?
As the cooler months settle in, now is the time to give your interior layout a "stay at home" reboot today. With the help of the Gallery and Model Home Branding Manager for Taylor Morrison, your house can be the all-inclusive refuge you want it to be.
Welcome Guest Contributor Lee K. Crowder back to our Second House on the Right blog as she shares tips on updating your home's design to maximize space right now! Now, let's start redecorating.
Crafting the Ideal Workspace for Telecommuting
When creating your workspace at home be mindful of distractions, noise and having ample space and lighting. If the kitchen table is your best bet, clear out a drawer in the kitchen so you have a safe place to put away your work at the end of the day and enjoy a meal without having to look at your laptop.
Keep this in mind for children who are doing school online as well. Help kids arrange a place to store school supplies every day so they can create a routine without letting the school day drag into evening activities.
If you need more privacy, setting up in a bedroom allows you to close the door to help with distractions and provides a quiet space for a conference call. Don't worry if you do not have a proper desk, a typical workspace is 30" high so even sitting on the bed or a bench with a console table will work.
In order to be productive, having ample space and good lighting is key. Try opening shutters or blinds to let natural light in, borrow lamps from other rooms in your home and look into using a stronger LED bulb rated for daylight lighting to brighten up a space.
When available, a workspace that does not have to be transformed daily gives you more time for productivity as well as your personal life. Taking over a bonus room to be your new office allows you to customize your space with effects that make it feel special and bring a smile to your face while working.
---
Keep Reading: Work It: Must-Haves for A Great Home Office
---
At-Home Chefs Need a Functional Kitchen
Even if you cook at home often, you are probably cooking even more right now. Rearrange your kitchen to be more functional and store household items in a way that suits your new home chef lifestyle. Making cooking enjoyable means having a kitchen that works for you. Take note the next time you make a meal of how far you have to walk between tasks. Then, do some rearranging to make cooking easier for you.
Consider creating a coffee bar or smoothie station and keep all the numerous ingredients you need to make drinks right there. Saving extra trips to the pantry will buy you time during a busy part of the day.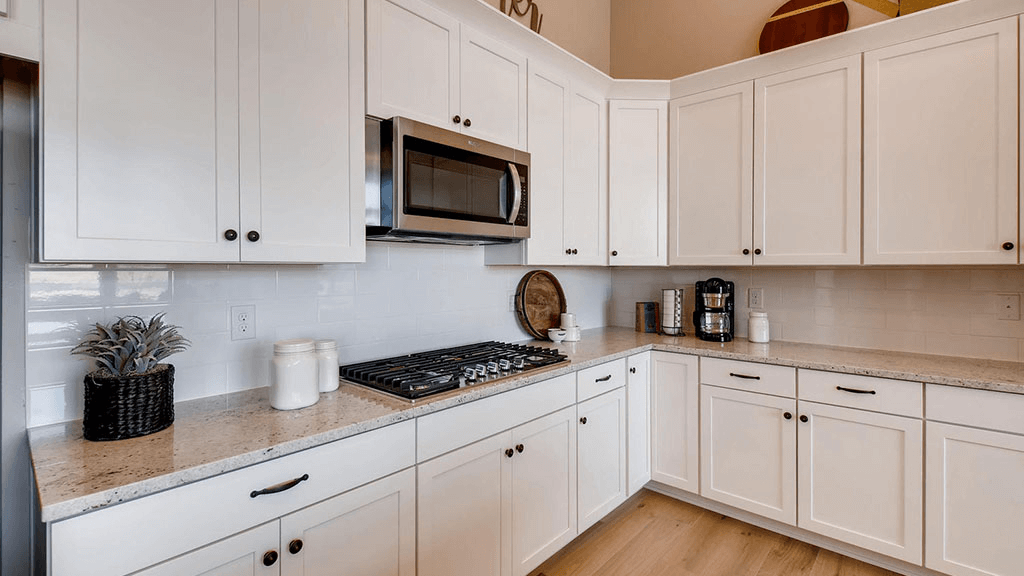 ---
Additional Helpful Information: Top Kitchen Design Tips & Trends from Lee Crowder
---
Stay Fit in Your Home Gym
Something that used to be more of a convenient luxury, home gyms will be more common in new home layouts. We already have the technology to get a great workout at home, but we feel dedicating a proper space will be an important element in home design. This will include adding wood or vinyl plank flooring to the room, installing a TV for streaming workouts as well as single room temperature control for that perfect hot yoga or spin class.
Don't feel like tasks need to be separated into different rooms. Keeping your workout gear in the bedroom closet near your workspace might mean that 20-minute ab workout happens between conference calls or maybe you can jump on your Peloton before your next meeting.
And hey, maybe you can even hop on the bike during your meeting – don't worry we won't tell anyone!
The point is…having the gear nearby might be the difference between getting the workout in or waiting until the end of the day and finding something else that needs to be done around the house.
Transform an empty bedroom closet with double doors into a mobile gym:
The double doors can open out, so your workout mat is easily accessible.
Add hooks to hang bands and shelves to store weights.
Outfit the back wall with a screen or TV so you can stream your favorite online workouts.
After your workout, you can easily close the doors and get back to homelife without having to completely transform an entire room.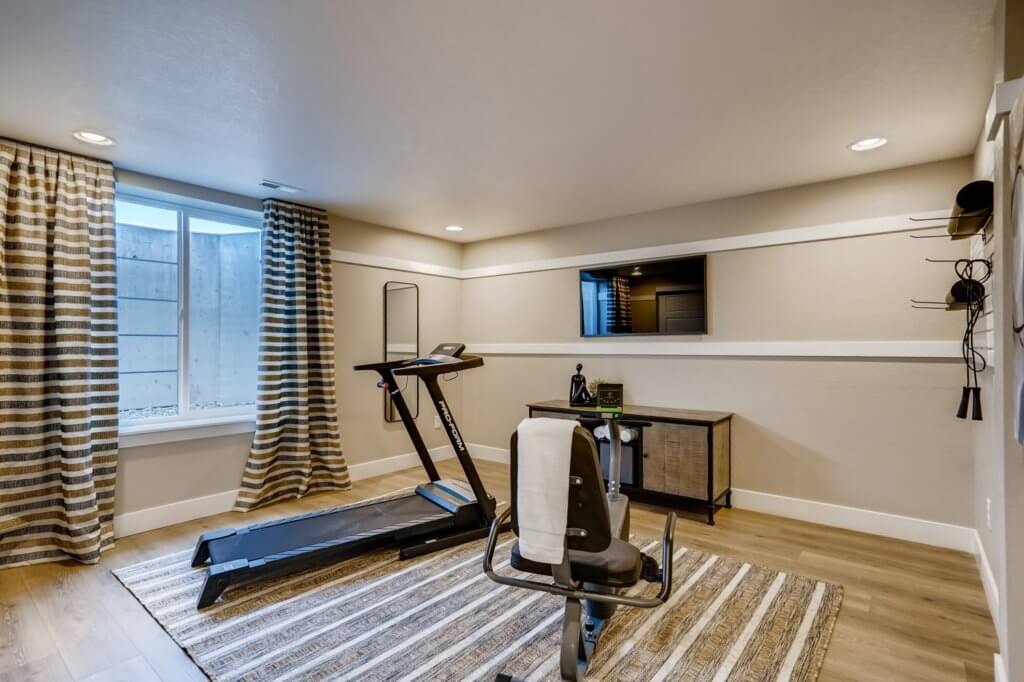 ---
Keep Reading: Planning A Home Gym Made Easy
---
Setting Up Your Home Theater
In the past, home theaters were often just the place where you watched the big game, but having movie night at home means you can control the environment where your family watches their favorite flicks. With the abundance of digital streaming options and the massive size of modern TVs, you can easily convert a game or playroom into an awesome movie theater. Hang black out screens or drapes for crisper views, but do not feel like you have to dedicate an entire room to watching your binge worthy favorites, it's OK for your home theater to cohabitate with another space.
---
More Info: Entertain This: Taylor Morrison's Inviting Home Theaters
---
Designing a Comfortable and Gracious Home
There really is "no place like home" during the winter months and feeling comfortable and happy in yours enhances every minute you spend there. To create your happy space at home does not mean that you have to buy all new furnishings – most of what you need is already there!
One of my favorite decorating tips that I use all the time is to go shopping in your own home. I take all my decorative accessories and put them on the dining table and start "shopping" for whatever room I am in the mood to give a mini facelift. If you are spending all your time upstairs in a secondary bedroom, bring those lamps you love from downstairs or those new pillows you bought for the living room.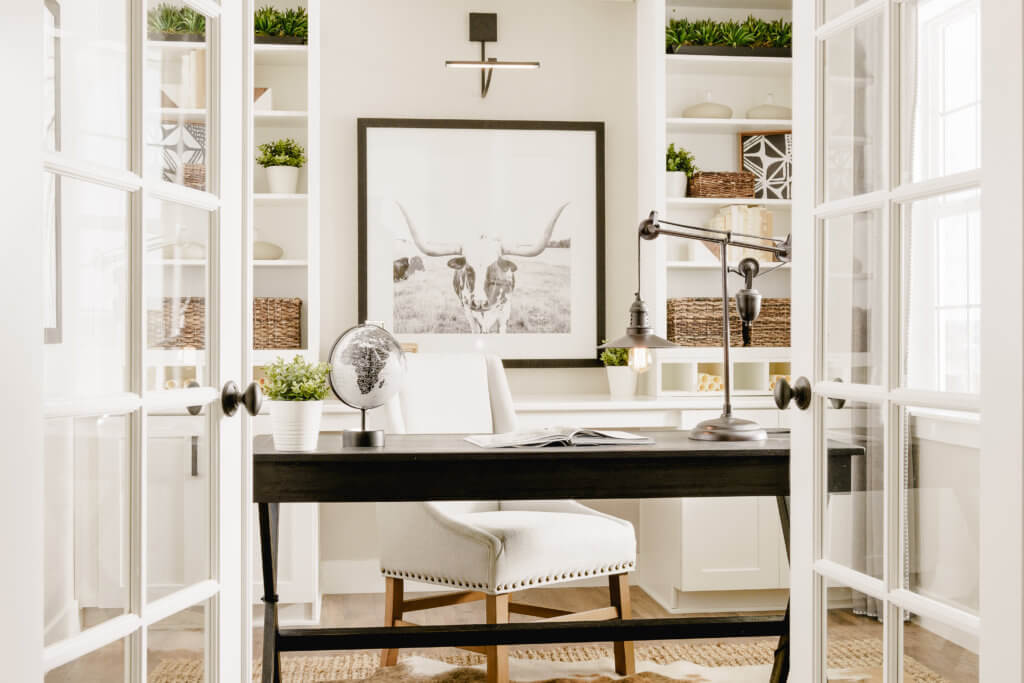 Forward-Thinking Trends
As our world slowly returns to normal, some changes from lockdown will stick long into the future. Here are some forward-thinking trends that will be popular in new homes and updates.
Easy to Clean Surfaces and Homes
We are already hearing that our Taylor Morrison buyers nationwide are asking for easy to clean countertop surfaces and flooring. The trend towards quartz countertops and hard surface house flooring (wood, LVP, RevWood and tile) allows buyers to enjoy a home they feel comfortable knowing is easy to clean on a daily basis. This trend will most likely extend to easier to clean cabinets which could mean resilient paint finishes and simple cabinet doors without lots of trim details where dirt and grime can hide. We will also see less carpet, even in bedrooms.
---
Additional Helpful Information: 7 Home Cleaning & Maintenance Tips to Simplify Your Life
---
Dedicated Study and Workspaces
Work from home is still common, so having a dedicated space in the home that allows for quiet time is key. A home office is not just a pretty space, but needs to allow for privacy for conference calls, the ability to add monitors for video calls, built-in standing desks and workspace for more than 1 user.
At-home work pods can be flexible, with the ability to close off a workspace when quiet is needed while being able to transform into an open space when the workday is done.
Intuitive Kitchens
If you're still perfecting your cooking skills do not worry! Modern appliances can now be programmed to the perfect setting with your phone. Baked salmon? Voila! You will not even need to touch the appliance and they offer automatic doors and sensors to save your dish when it might be close to overcooking.
Installing a pizza oven in your kitchen where you previously had a wall oven allows for another no-touch cooking option. Slide your meal in without ever touching the appliance. A pizza oven can cook vegetables and other protein options, too.
GE Appliances® also offers the Kitchen Hub that allows you to search and favorite recipes. You can control your oven with your voice as well and the video screen makes it easy to cook with friends and family while you are safe at home.
---
More Info: Gourmet Kitchens Inspired by You
---
Wine Bar
Why go out when you have your own curated wine collection at home? Transforming a closet into a wine cellar is as simple as adding temperature-controlled storage and lighting. Pair that with a beautiful patio and you have the perfect at-home wine bar.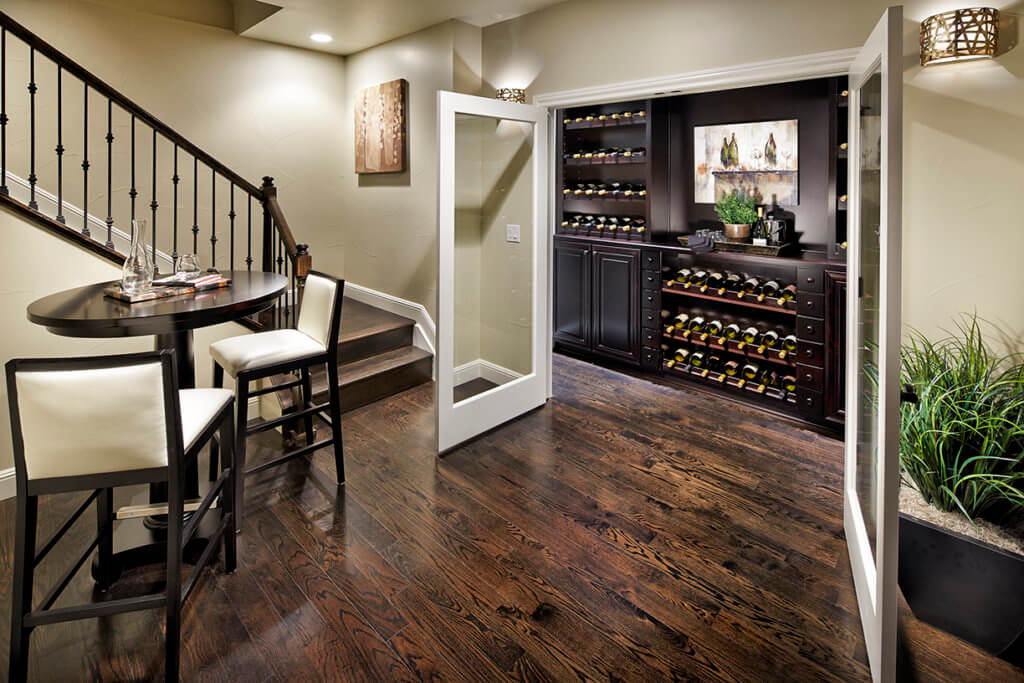 Healthy Homes
From the materials you use to build your home to how your home takes care of you, designing healthy spaces will be an important part of homebuilding in the future.
Filtration systems for water and air, exhaust fans with LED lighting that kills germs in your bathrooms, faucets that are no touch and automatic opening appliances are a few of the elements we'll see in new homes designed to create a healthy lifestyle. But going further, we will see water bottle refill stations and safe delivery spaces for package delivery.
Building diagnostic technology that can read the family's body temperature and trigger a notice to your doctor could be part of our future or maybe creating special spaces in the home for sick family members to recover, but also remain near loved ones.
Home Automation
Smart homes are here and here to stay. Homes will adjust to the time of day automatically not only through temperature settings but also with lighting, sound and automatic shades. Based on the time of day and the season, your home will be able to provide a comfortable and thoughtful environment all year long.
---
Keep Reading: Fun Smart Home Gifts
---
Stay Safe and Happy Designing
From all of us at Taylor Morrison, we wish you and yours a healthy winter season. Thank you for hanging in there with America's Most Trusted Home Builder as we continue to work through these challenging times together. Let us know in the comments how you have optimized your space for more comfortable stay-at-home living.