Colorado is revered for its abundance of outdoor adventure—from the great sand dunes to the unforgiving Rocky Mountains and beyond. What non-Colorado natives might not realize is that the Colorado lifestyle consists of much more than avid skiers and snowcapped mountains. 300 days of annual sunshine, bustling cityscapes, restaurants any foodie would swoon at, vintage boutiques, local coffee shops, and much more awaits here.  Read on to discover five reasons to move to Colorado! Rain, snow, or (most likely) sunshine—there's always an excursion to embark on.  
1. Outdoor Spring and Summer Activities in Colorado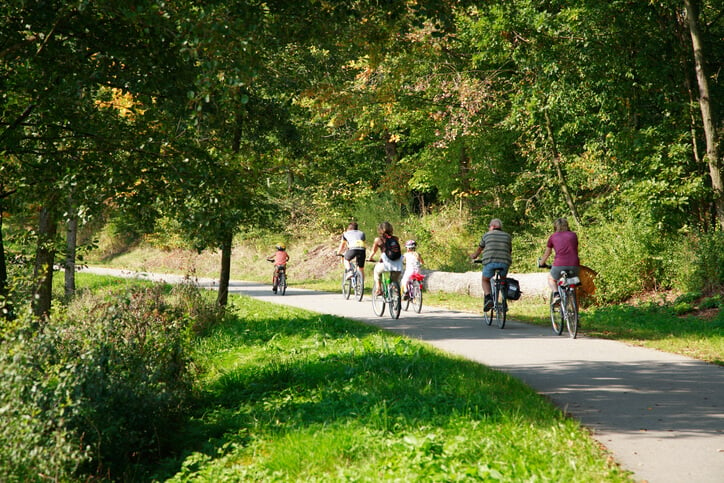 The Spring and Summer seasons are two of the best reasons to move to Colorado. The whole state is beyond stunning during the warmer months—lush green lawns prevail, tulips and irises sprout up everywhere, and outdoor activities are made even more pleasant thanks to the incomparable weather. 
Bear Creek Bike Trail
Easily go from the bustling city of Denver to cycling through the serene beauty of the Rockies foothills at Bear Creek Bike Trail. Woodlands, meadows, and the Denver skyline are just some of the sights you'll see here!
Cherry Creek Regional Trail
The Cherry Creek Regional Trail is an extensive 40 miles, venturing from downtown Denver to Parker, Centennial, and Franktown. An 8-foot-wide concrete path makes this trail perfect for groups and beginning hikers.
Washington Park Loop
Looking for a quick jaunt to start your day? Washington Park Loop is one of the top places to go in Colorado for just that. Gorgeous lake views and a hike you can complete in 45 minutes make this trail the perfect place to spend a warm afternoon. Run, bike, rollerblade, walk your dog, and more!
Sloan's Lake
There's truly something for everyone at Sloan's Lake. On top of stunning multi-use trails, there's playgrounds, tennis and basketball courts, boating spots, and picnic areas with picturesque views of the Rocky Mountains and Denver skyline.
Ready to make a move? Find your new home with America's Most Trusted® Home Builder—for 8 years and counting! 
2. Farmer's Markets
Boulder County Farmer's Market

Boulder, CO, is the ultimate nature-lovers destination. An abundance of bike trails, healthy dining options, and local hot spots are part of what makes the city one of the coolest places to visit in Colorado. Be sure to check out the Boulder County Farmer's Market, boasting fresh, local foods since 1987 and over 150 vendors! 
When and Where

Saturdays, April 1-November 15, 2023; 4 PM–8 PM 
Wednesdays, May 3-October 4, 2023, 4 PM–8 PM 
13th Street between Arapahoe Ave. & Canyon Blvd., Boulder 
Union Station Farmer's Market
The Union Station Farmer's Market is a hub of excitement, hosting chef demos, live music, and an array of local vendors selling fresh produce, meat, dairy, coffee and more. Check it out on Saturday mornings in vibrant and action-packed Denver, CO.
When and Where
Saturdays, June 3–Sept. 17, 2023; 9 AM-1 PM
Denver Union Station Plaza
Real Farmer's Market
Our very own Taylor Morrison community, Rex Ranch, is located in the ever-growing town of Erie, CO! Check out our homes, then head to the Real Farmer's Market for local fruits, vegetables, honey, coffee, baked goods, pastas, and more.
When and Where
Thursdays, May 11–Sept. 14, 2023; 5 PM-8 PM
Briggs Street between Wells and Moffatt, Erie
Denver Arts Festival
Grab a coffee and a few friends and head to the Denver Arts Festival at Central Park to experience some of the best artists in Colorado and the entire nation. Whether you're shopping or just browsing, you're sure to have a lovely time (and find even more great reasons to move to Colorado)!
When and Where
Saturday, May 27 – 10AM-6PM and Sunday, May 28 – 10AM-5PM
Conservatory Green, Central Park, 8304 E. 49th Pl. Denver 80216
If you're feeling ready to make a move, but need to save money to make it happen, check out our blog on how to save for a home while renting here.  
3. Hidden Gems of Colorado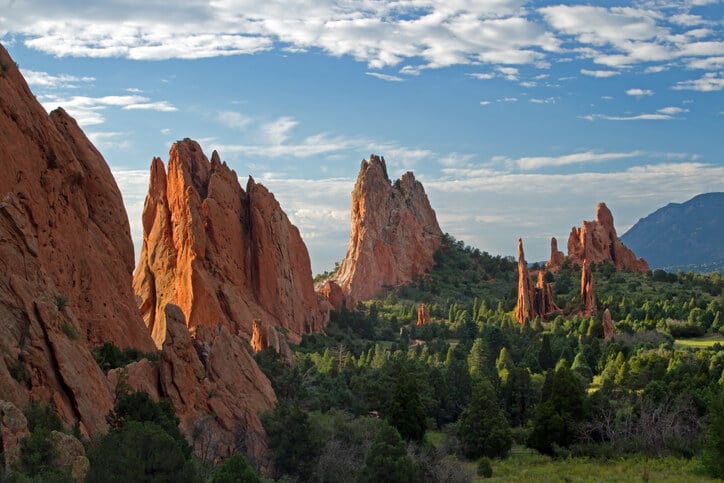 Colorado is filled to the brim with spectacular hidden gems. Explore the San Juan Mountains, the Garden of the Gods, and other natural wonders across the state and you'll see exactly why this is one of our top reasons to move to Colorado. 
San Juan Mountains
The San Juan Mountains Association sums up the wonder of this place perfectly,
"From wildflower meadows to majestic peaks, the San Juan Mountains are home to some of the most awe inspiring natural beauty in the United States. Whether you want to discover waterfalls or see wildlife in their natural environment, SJMA can help you responsibly explore our most beautiful and unique places."
Ready to get lost in nature? Get directions here!
Sand Dunes National Park
The Sand Dunes National Park has no shortage of ways to explore the area. Hike, backpack, sand sled, sandboard, splash in Medano Creek, and experience a sky full of the brightest stars you've ever seen at night.
Embrace your inner surfer and get directions here.
Canyon of the Gunnison
This is one adventure not for the faint of heart! Traverse through steep cliffs, old rocks, and rugged spires at Canyon of the Gunnison. From family-friendly trails to uber-difficult rock climbing, hiking, kayaking, and fishing, there's something for everyone here.
Brave the canyon! Get directions here.
Garden of the Gods  
The Garden of the Gods is kept forever free to the public, with endless opportunities for outdoor adventure. Take in the history at the state-of-the-art visitor center, attend events, enjoy films at the Geo-Trekker Theatre, browse the gift shop, embark on a jeep, trolley, segway, bike, or e-bike tour, rock climb, take a guided nature walk, and much more!
Get exploring—directions are here. 
4. Fun Things to do in Colorado During Fall & Winter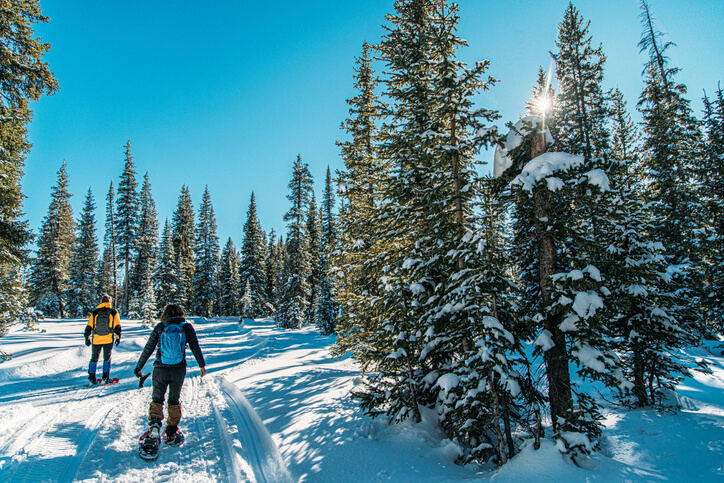 When it comes to vacation spots in Colorado, few places rival the quaint charm of mountain towns. Ski, sled, shop, and more.
Beautiful Colorado Ski Vacation Resorts
There's nothing quite like a Colorado ski vacation to lift your spirits. Try out cross-country skiing or the bunny hills all the way up to black diamonds. Not into sports? That's okay— spend your days perusing the charming mountain towns.
There's a wide range of lovely ski towns in the Colorado mountains. Get exploring at one of these on your next trip:
Try Delicious Treats at Union Station

Union Station is a historic landmark in the heart of Denver, known for its vibrant dining, shopping, and luxurious Crawford Hotel.  
 Sounds like the perfect Saturday! Get directions. 
MilkBox Ice Creamery
Little Man Ice Cream is a famed spot among Denver locals. Luckily, they also sell their creamy and delectable ice cream inside Union Station at MilkBox Ice Creamery.
Mercantile Dining & Provisions
Mercantile Dining & Provisions is one of the best restaurants in Denver, serving up fresh ingredients from their farm just south of Denver. Be sure to grab some sheep milk cheese and a baguette for a quick snack!
Ultreia
Trust us on this one—you won't want to miss the freshly made cinnamon churros and semi-sweet, tempered chocolate at Ulteria. 
5. Top Bucket List Attractions and Entertainment in Denver, CO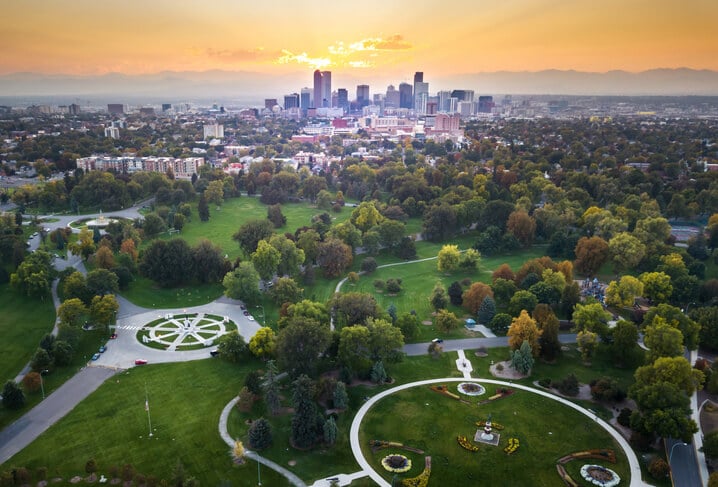 Denver Museum of Nature and Science
Take a step back in time and immerse yourself in the wonder of the Denver Museum of Nature and Science's many fascinating exhibits. Up next is their display on the genius of bugs!
Downtown Aquarium
Take in the beauty of the deep sea at the Downtown Aquarium, from overnight events to low sensory mornings, animal meet and greets, and more.
Coors Field  
Root for the Colorado Rockies at Coors Field. Get some good eats at Union Station before or after, just two blocks from the field.
Red Rocks Ampitheatre
Catch a concert at arguably one of the best venues in the whole United Sates, Red Rocks Amphitheater. Your favorite artists will be surrounded by the unreal backdrop of the natural environment, making for a truly unforgettable experience.
Rocky Mountain National Park
Experience the land of extremes, rock formations, and hiking trails at Rocky Mountain National Park. If you're lucky, you'll see stunning wildlife in their natural habitats!
Downtown Denver Food Tour  
There's plenty of reasons to move to Colorado, and the food is an often overlooked one. Taste the goodness for yourself on a downtown Denver food tour! Try out Local Table Tours for a unique and hyper-local experience.
Find Your New Taylor Morrison Home in Denver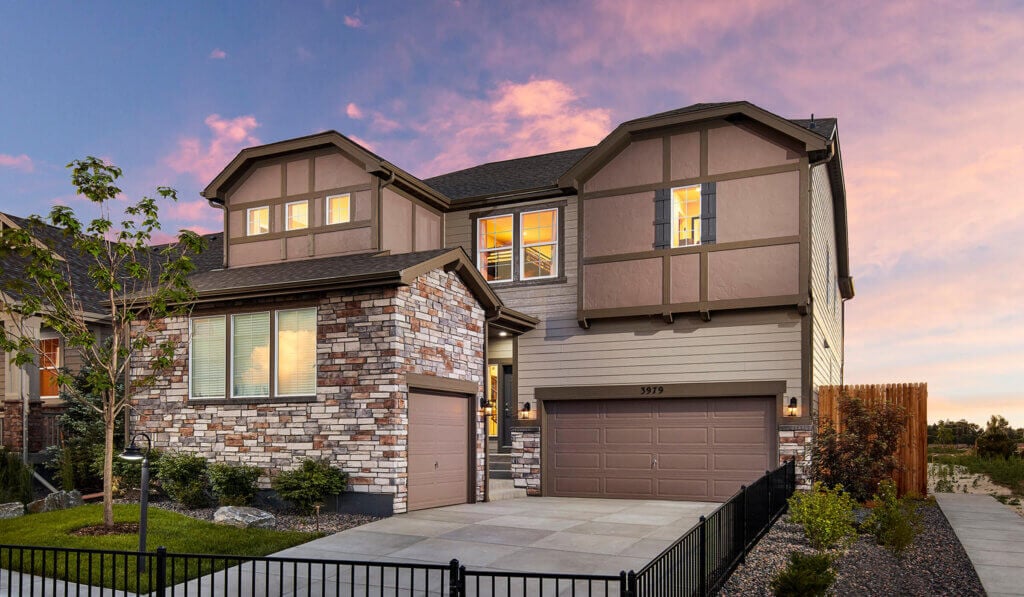 Ready to make a move to the Denver area? Take advantage of our limited-time offers to save BIG on a new Denver-area home today! As always, thanks for reading! We hope this blog inspires you to head to the beautiful state of Colorado, whether it's to visit or find your next place.