Sunday, April 1 is Easter – and from bright marshmallow chicks to creamy chocolate eggs, Taylor Morrison wants to wish you and yours a happy visit from the Easter Bunny in 2018.
To help you celebrate, we've put together an Easter basket full of exciting craft and home décor ideas from Stephanie at Somewhat Simple. Thanks to Stephanie and her family, we've all had a great time following along with her new home journey. It's been exciting to track the progress of her new Phoenix home's incredible transformation.
If you missed her story, it's easy to catch up with these hashtags across social media:  #SomewhatSimpleHome and #SSBuildsWithTM. Thanks again, Stephanie, both for opening your home to our followers and for all the incredible holiday tips!
Facebook | Instagram | Twitter | Google+ | Pinterest | YouTube
Inspired by Stephanie's new-build home experience? Find your new Taylor Morrison home today and you'll be hunting eggs in a new community come Easter 2019!
Begin your home search by checking out three of our featured communities:
Elevate Your Easter Egg Game to the Next Level
Flex your artistic talents to the max with a fantastic collection of Easter egg decorating ideas. From sparkles to squiggles to polka dots and Disney, it's easy to create showroom ready eggs this holiday season. Be sure to scroll down to the bottom to learn how to make cute and imaginative Easter egg flower pots.
While you've got the kitchen table covered with crafty goodies, get the kids to put together their own personal chick birdhouse. It's fun to build. Fun to design. And fun to eat.
Just be sure to get a photo or two before the birdhouse becomes snack food!
How to Decorate for the Big Day
Easter-themed home décor is so much fun to create. The pastel colors and seasonal flowers work together to brighten your home for the arrival of spring. These five holiday projects will get your family into the Easter spirit in no time.
Bonus: These colorful ribbon wands are a fantastic afternoon craft for a burst of springtime magic. It's also a great way to get your kids burn off some of that Easter candy energy. What good is a magic wand if you don't run around the yard and play with it?
Plan an Epic Easter Egg Hunt to Remember
Looking for a way to reinvent the time-honored tradition of hosting an Easter egg hunt?
Add clues and prizes and make it a scavenger hunt! Your kids will have so much fun with Easter Egg Hunting Version 2.0 that they'll beg you to do the same next year.
As always, Stephanie makes it look so simple. With a little creativity you can even put together a more challenging scavenger hunt for early teens too old to look for eggs.
Making Your Sweet Tooth Happy: Cakes, Candies & Cookies
At Taylor Morrison, we're not ashamed to admit that one of our favorite aspects of holiday planning is turning the kitchen into a full-time sweets factory.
We'll begin our journey down Easter Treats Lane with these striking holiday cupcakes. They're easy to make but look like something you bought at an expensive bakery! Place one cupcake at each seating if you're planning a party or an event. Another fantastic welcome surprise is a delightful bag of bunny tails.
For those who are more candy driven than cake, get creative with easy chocolate Easter bark or these super cute candy kebabs.
Fire up the oven and get your baking boots on! Here are three yummy cookie recipes that are as tasty as they are beautiful:
The Gift of Giving is an Easter Tradition
Teachers, neighbors or grandma and grandpa, no matter who's on your Easter gift list, they'll be sure to love these darling milk carton gift boxes.
They're fun to make and easy to customize. Simply fill each box with the candies best suited for the recipient.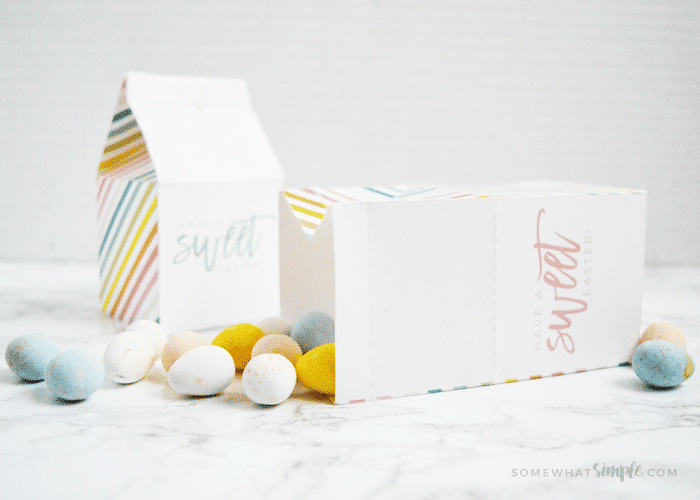 Turn to the Blender for Day After Easter Fun
Here's a delicious recipe for using up all that leftover Easter candy. Blend up these tasty milkshakes and serve them in fun decorative glasses.
Then lace up your shoes for a long walk around the neighborhood. Gotta work off all those Easter treats!
Additional Helpful Information