If you've ever regretted living in modern times, just consider that not that long ago whole families shared a bedroom and often the same bed. Lucky you! Today you can have an owner's suite that rivals the experience at a 5-Star hotel complete with luxurious spa-style bath. Heck, in some new Taylor Morrison homes, you'll probably have a walk-in closet that's bigger than your great grandma's entire house.  We're featuring 16 such sumptuous spa-inspired spaces in this post. Or you're invited to find your ideal owner's suite (and the house that goes with it) in one of our communities near you.
North & South Carolina
Pikewood floor plan model home owner's suite | Hunton Forest, Concord, NC
Florida
Antigua floor plan model home owner's suite | The Enclave at Channing Park, Lithia, Florida
Georgia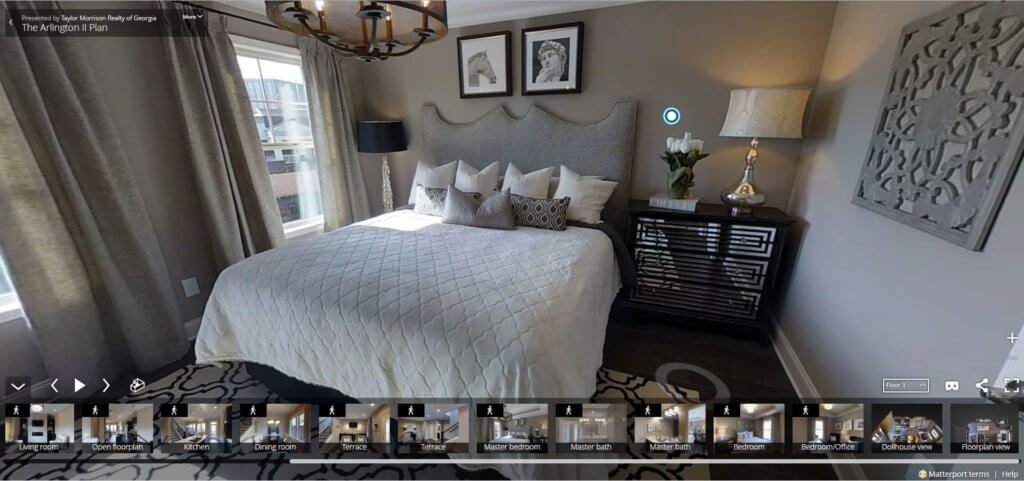 Arlington II floor plan model home owner's suite | Townsend at Toco Hills in Atlanta, GA
A World Apart at Townsend at Toco Hills in Atlanta, GA
Arlington II | 2,213 SF | 3 BR/3.5 BA | 3 Stories |From $434,900
Everyone needs time and space to get away from it all. Revel in the owner's suite of this new Atlanta home.  It occupies over half of the second floor. There's a room-size (seriously) walk-in closet. Your master bath is the perfect place to forget there's a world out there. Add the optional soaking tub and light a few scented candles and you may never want to leave.
Illinois
Tavistock floor plan owner's retreat | Tallgrass in Lake Barrignton, IL
Your Private Oasis in metro Chicago at Tallgrass in Lake Barrington, IL
Tavistock | 3,678 SF | 4 BR/3.5 BA | 2 Stories | From $638,990
Close the door, kick off your shoes and say "Goodnight" to your cares. This new Chicago-area home owner's suite feels like checking into a boutique hotel. You have a private foyer entrance just off the family room, so breakfast in bed is easily achieved. Watch the moonlight through the picturesque bay window. The master bath is the ideal setting for an at-home spa experience.
Texas
Benito floor plan model home | Traditions at Vizcaya, Round Rock, Texas
Denver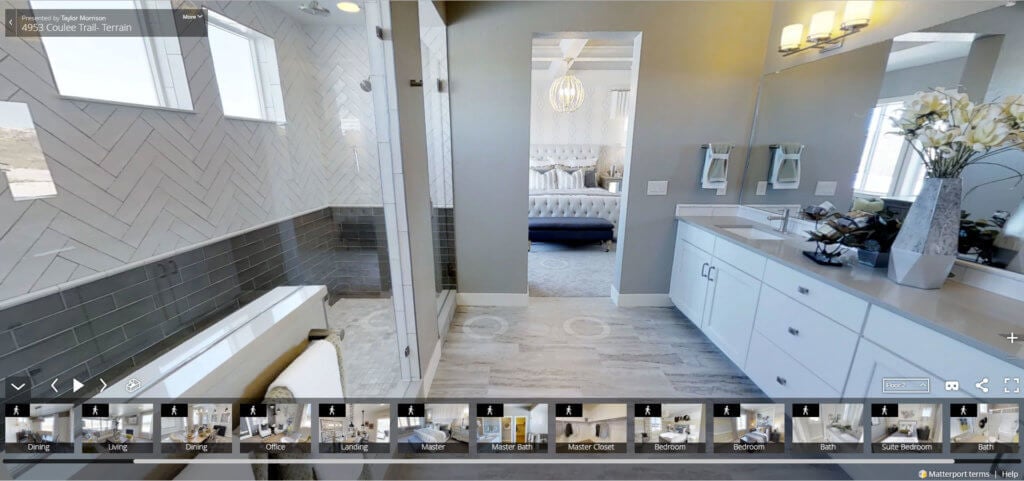 Crested Butte floor plan model home owner's suite | Terrain Ravenwood, Castle Rock, CO
Slumber in Style in Denver regions at Terrain at Ravenwood in Castle Rock, CO
Crested Butte | 3,202 SF | 4 BR/3.5 BA | 2 Stories | From $499,990
Elegance and ease with a large helping of wow factor–that's what this owner's suite serves up. Enjoy a private wing on the second floor with windows that welcome the morning sun. Take relaxation to a new level in your master bath. You've got your choice of soaking tub or walk-in shower with spa-inspired seat. Dual sinks and an enclosed commode make busy mornings a bit more manageable for couples.
Arizona
Telluride floor plan model home owner's suite | Trovita Norte Capstone Collection, Mesa, AZ
Posh & Plush Phoenix Metro Retreat at Trovita Norte Capstone Collection in Mesa, AZ
Telluride | 3,901 SF | 5 BR/4.5 BA | 1 Story | From $564,990
The spacious, sumptuous and absolutely fabulous owner's suite in this Mesa, AZ new home will have you wishing there were more than 24 hours in the day. It is truly a place apart from the hectic workplace. You enter off the family room via a private hallway, and you also have direct access to the covered patio. Luxe options include a fireplace, expanded walk-in closet and spa-inspired extended walk-in shower.
California
Plan 5 model home owner's suite | Muir Pointe, Hercules, CA
Ready for Bed?
After you've checked out the floor plans of our featured suites (and before you nod off), take a minute to read about all the ways Taylor Morrison lets you "Try Before You Buy." Learn about 3D tours, see how to personalize your favorite floor plan online, even try arranging furniture in your sensational owner's suite.
Additional Helpful Information