Guest Contributor: Lee K. Crowder | Design Gallery and Model Home Branding Manager, Darling Homes and Taylor Morrison 
******
Now that summertime is fast approaching, many Taylor Morrison homeowners are ready to upgrade their backyard furniture and accessories. And it's no surprise.
With today's new home design trend of blurring the line between indoor and outdoor living, creating chic & sophisticated outdoor spaces is just as important as perfecting the living room, kitchen or parlor.
To help you find the right furniture for your place, I'd like to walk you through the process we use when designing and furnishing the outdoor living areas at our stunning model homes.
Function before Form
Style matters. A lot. And the furniture a homeowner chooses says a lot about their personality.
But how you plan to use your backyard furniture matters more.
To create an outdoor space that will be used on a consistent basis you must make the space feel like a room from the inside of your home.
The trend of large sectional to be used outside is one of my favorite pieces. Try to buy your sofa from a brick & mortar furniture store so that you can test it out and make sure it's comfy.
Consider an extra-large dining table. Remember that it's common to invite guests when throwing a backyard cookout. You'll want to have a seat for everybody.
Include plenty of fun extra seating that can be rearranged for gatherings. If you're cramped for space, look for chairs that can usually be used in the gathering room, but pulled out onto the patio for parties.
One must have piece is a cushion storage bench. It doubles as additional seating and helps to store additional pillows.
Backyard Furniture Buying Tips
Quality outdoor furniture isn't cheap – but it's still more economic to purchase long-lasting durable products than to replace your setup every season.
Upholstered pieces should be reserved for covered patios. If you do go with an upholstery try to find one that is slipcovered so you can wash it often. Stick to outdoor rated fabrics or Sunbrella fabrics.
Hardwoods like teak or mahogany are known for longevity.
Quality metal framework is always a great long-lasting choice.
Do your research! Outdoor furniture is an investment. Don't try to find everything you need in a single afternoon. Take your time and know what you're buying.
How to Accessorize an Outdoor Room
Details matter and it's the little things that truly allow us to personalize our space. But one thing that sets interior decorating apart from sprucing up the lanai is the need for dual purpose items.
Here are a few examples of what I mean:
A large lantern can serve as a centerpiece for a table while also being fitted with a citronella candle at nighttime to keep away bugs.
Large containers are stylish and can be used for drinks, but also beach towels by the pool or just keeping outdoor odds and ends organized.
Outdoor pillows are the easiest way to add panache to your outdoor space with an item people will actually use.
Getting it Right from the Get Go
While a fresh set of outdoor furniture is a fabulous way to add comfort and style to your outdoor living space, the best time to make major improvements to your terrace is during the construction phase.
Three of our most popular outdoor upgrades are:
Extended outdoor living space.
Multi-sliding doors to outdoor patios.
Outdoor kitchens.
While an extension and/or full outdoor kitchen may not be in the budget for everyone, I highly recommend that everyone purchasing a to-be-built new home takes advantage of the multi-slider doors to the patio. This will give you the ability to open up your family room to your patio and create the ultimate entertaining space.
Here's an excellent example of how this technique was used with the Fairfax plan at the Waterford Point at the Tribute new home community in The Colony, TX.
This new construction Dallas home was also outfitted with a cozy outdoor fireplace and full outdoor kitchen.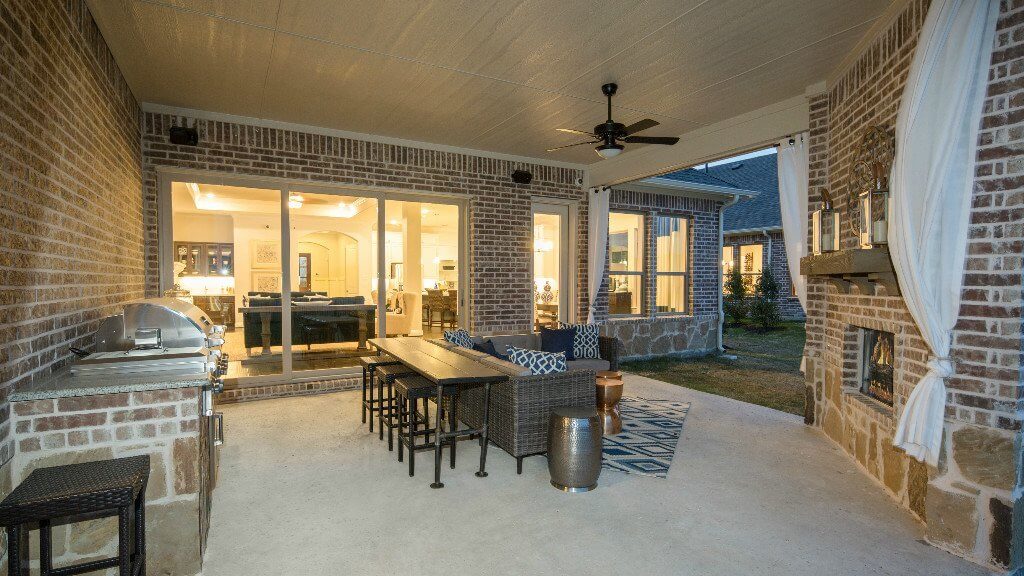 Find Your Patio Design Inspiration
The internet offers a wealth of resources for seeing what professional design teams are coming up with around the country. There's nothing wrong with playing copycat when you find something you like.
Start your search by checking out the model homes at your favorite Taylor Morrison communities. It's easy to find photos and cool 3D virtual tours online.
From the community page, click on "Floor Plans" to see which collections are offered at that community.
Here's an example of the Floor Plans page for Waterford Point at the Tribute.
Notice that 4 of the plans show a small video camera icon to the right. This means that a virtual tour is available. In this case, you can choose Harrison, Fairfax, Waycroft or Coventry.
Plans that feature virtual tours will also showcase interior/exterior images on the photos page. Click on the name of the floor plan and then click again on the photos tab. You'll then see a slideshow like this.
Scroll through the photos to find the backyard, patio or lanai.
Additional Reading
Happy Shopping & Happy Summer
I hope this article has been helpful and that you're able to piece together the outdoor living space of your dreams. Remember that Taylor Morrison model homes are open to the public 7 days a week. If you'd like to see what a particular patio style looks like in person, simply head to the community sales center for a personal tour.
Have a great summer!