Finding your ideal new construction Florida home is just the start of building the sub-tropical lifestyle of your dreams. Embracing the good life in the Sunshine State means adding your signature touches and crafting an outdoor living area that reigns supreme!
Leave it to the talented design team at Taylor Morrison to pave the way to backyard bliss. Find inspiration at four of our  luxurious new home communities in Sarasota, Naples, and Lakewood Ranch. If you like what you see, stop by for a visit to get a better look in person.
Key Elements to Outdoor Living
Thoughtful floor plan options are available on every new Florida home we build. It's important to consider the outdoor amenities upgrade options available on most plans before you make a final decision:
Legacy Estates at Esplanade on Palmer Ranch
12052 Legacy Estates Blvd, Sarasota, FL 34238 | 941-313-8138 | Learn More >>
Francesco IV
Not every backyard swimming pool is created equal. Water features can make all the difference when looking to up your Wow factor. As a bonus, the solarium-style roof creates a welcoming environment to soak up the sun.
Cozy up by the fireplace day or night. Watch the flames and relax to the tranquil fountain sounds.
Man the grill in style. Outdoor kitchen area is perfect for quiet nights at home, or for socializing with good friends.
Mercede IV
Take advantage of a stunning water view with a curved archway and covered lanai. What's great about this arrangement is the perfect balance of indoor/outdoor living. See how the countertop bar doubles as an excellent destination to set up for the big game. Watch your steaks without missing a single pitch!
More water features as the spa connects to the main pool with a short waterfall. Notice how this outdoor living arrangement is divided into separate areas. Perfect for all gatherings, guests can eat by the outdoor kitchen and play in the pool, while the others enjoy time on the sofas chatting.
Esplanade Golf & Country Club at Lakewood Ranch
13015 Malachite Drive, Lakewood Ranch, FL 34211 | 941-799-5496 | Visit Community >>
Farnese
The stone tile work adds a lot of extra character to this outdoor kitchen and pool area. The materials tie in well with the natural hued spa and wicker furniture.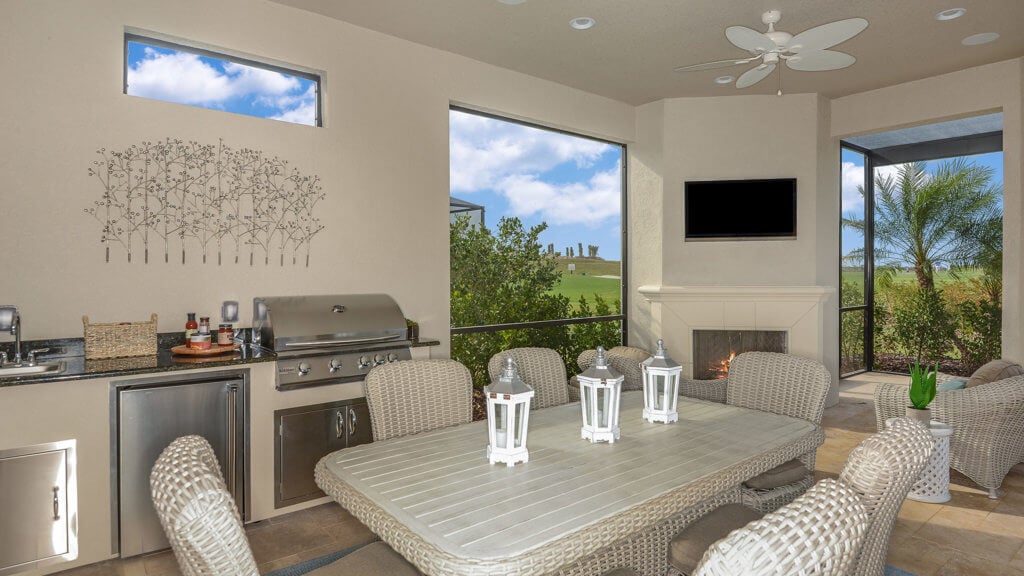 This bubbling waterfall-inspired spa design is a show stopper. Notice how the screen enclosure lets the view in while keeping the bugs out.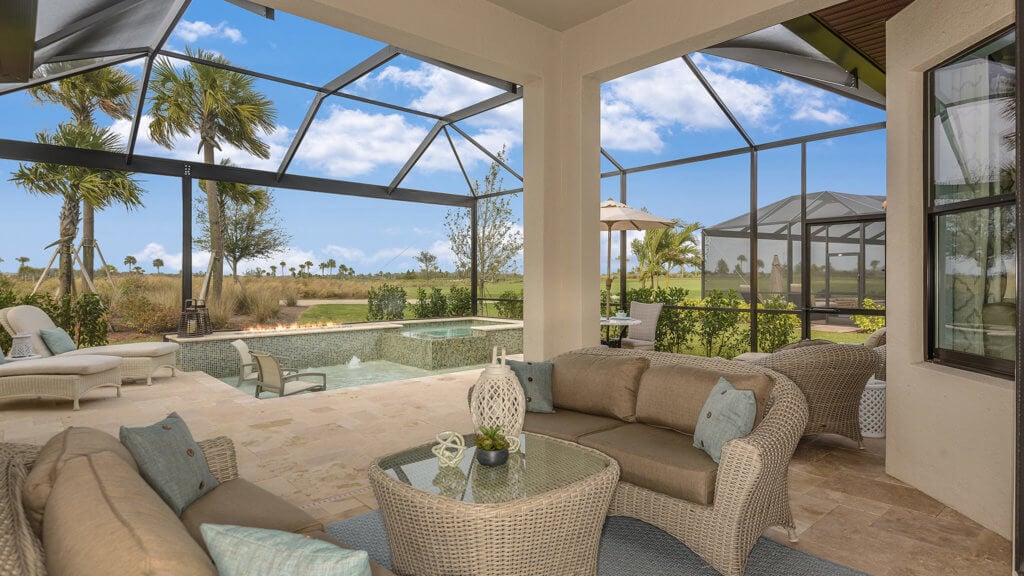 Feeling the heat, but don't want to throw on your swimsuit? Not a problem! Take off your shoes and give your toes a dip in this creative pool design that's ideal for setting your beach chair up in the shallow sea.
Pallazio
This covered lanai arrangement is best when the sun goes down. Fire up the blender at the outdoor bar and mosey on over for a fireside chat – beverage in hand.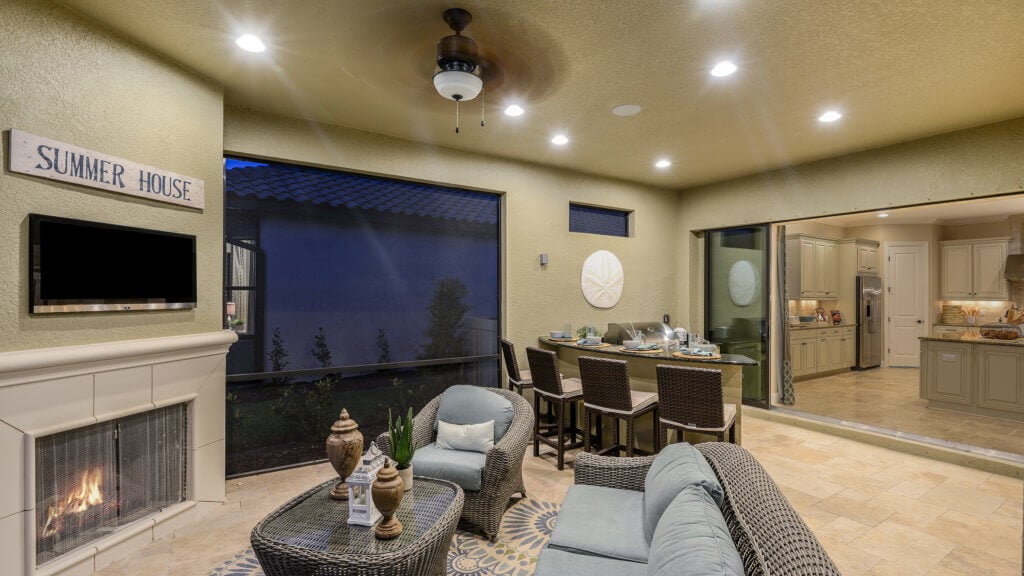 Installing a pool between your home and natural lake is a great way to tie the exterior environment in with your living spaces. It's hard to tell where the pool ends and the lake begins. Be sure to set up enough chaise lounges for everyone!
Bella Casa
It's incredible the difference you can make by upgrading your pool design to include creative features and non-traditional lines. Built-in planters for mini palm trees are as unique as they are spectacular.
Esplanade Golf & Country Club of Naples
8705 Cavano Street, Naples, FL 34119 | 239-249-5843 | Explore the Community >>
Lazio
Why limit yourself to just one outdoor upgrade? The fireplace and pool fit together, like two peas in a pod.
Your options are endless! You can even divide your outdoor seating into three distinct arenas: eating, relaxing, and socializing. Imagine the possibilities!
Add pool umbrellas under the solarium to use the space in the middle of the day when the sun's rays are at their peak.
Santini
Modern lines and angles are complemented perfectly with the natural stone slab. See how the designer carried this effect up the wall of the outdoor kitchen, and how the grain of the stone contrasts with the wood ceiling and faux plank tiles.
Want to see more? Take a fun 3-dimensional Virtual Tour of the Santini plan.
Mercede
Connect indoors to outdoors with expansive sliding glass doors. Perfect for when you need extra space for a large gathering.
The thick-beamed patio pergola creates the illusion of a large open space while providing protection from the elements with the screened in lanai area.
Arbor Lakes on Palmer Ranch
5811 Palmer Ranch Parkway, Sarasota, FL 34238 | 941-882-5421 |  Visit Arbor Lakes >>
Antigua
Make it easy to connect with nature. A properly landscaped back yard will blur the line that separates your indoor and outdoor living spaces.
Hanging a flat screen television on the lanai is a fantastic way to take advantage of the sunshine without missing the big game. Stream your favorite team and jump in for a quick dip during the commercial breaks, or enjoy movie night paired with floating in the pool.
Bonaire
Adding a ceiling fan under your covered lanai keeps you extra cool and recreates the sensation of a sea breeze when you've opted for a closed in pool area. Shade umbrellas work great for completing a resort-style feel on the deck.
Barbados
If you plan on alfresco dining often, the outdoor kitchen should shoot right to the top of your upgrades want list. Set the grill on for a slow roast and hop into the pool while you wait and smell the spoils of your efforts.
Fiji
Fire and water go great together stylistically. A firepit on one side and a fountain on the other is a perfect backdrop to create before arranging your outdoor furnishings.
Expand the utility of your covered lanai with a simple retaining wall and pavers. This creates a space that can be used at all hours of the day and night and one that facilitates large groups.
Additional Helpful Information
For more ideas on planning the backyard of your dreams, check out these 5 posts from our Second House on the Right blog: