A Homeowner Perk and How to Make the Most of It
Guest Contributor: Lisa Perlman, Taylor Morrison Bay Area Design Studio Manager
What does the perfect home look like to you? Perhaps you have flashes of it as you day-dream. Maybe you have an interior design wish list board on Pinterest or magazine pages from Dwell stashed in a file folder. These ideas are a great starting point to personalizing your Taylor Morrison home.
Your design inspiration will assist our Design Studio experts when they guide you through the material selection process and help you stay focused. In preparation of your visit, Bay Area Design Studio Manager Lisa Perlman shares how to make the most of your home personalization experience with Taylor Morrison.
TM: Can you describe the Design Studio for our readers?
Lisa: Our Bay Area Design Studio has an open-concept layout with a bright, homey feel. You're among friends here and we want you to be at ease. There's a small sitting area where you can relax and get your bearings. But you're also welcome to go exploring!
Bay Area Design Studio – 4473 Willow Road, Suite 108, Pleasanton, CA 94588 We are open five days a week by appointment only
TM: What are some of the popular features?
Lisa: The kitchen vignette is very popular with our Bay Area homebuyers. It's a 3D replica of an actual kitchen so the visitor has a sense of scale and proportion. We also offer lots of visual examples in a photo collage of different model home kitchens. Homebuyers like them because they show different cabinetry, countertops and flooring combinations.
We also present materials in a user-friendly way. Tiles, for example. Instead of arranging them by price or in a series of styles, we organize them by color, which is much more visually appealing and inspiring. People don't always have a style in mind, but they often know what color or color family they like and gravitate towards that.
Another feature our homebuyers appreciate is the fact that we're almost totally paperless! We have all of our options binders in digital form that can be accessed on an iPad. Instead of loading a homebuyer down with piles of brochures, we can easily email the files. That lets the buyer get familiar with the options before their visit. Choices and decision-making can be overwhelming. So, this simple feature really puts homebuyers at ease.
TM: What are some of the most popular upgrades at your Design Studio?
Lisa: Countertops and flooring. These upgrades are focal points and can totally define a style. I know that buyers of our new homes in San Jose are attracted to quartz countertops. Quartz is beautiful, durable and easy to maintain. Hardwood flooring has similar qualities and never goes out of style. Both of these are popular options. Laminate is a great choice because of durability and low maintenance, two qualities that appeal to people with busy lifestyles.
TM: Which upgrades do you wish more people took advantage of?
Lisa: Cabinets. They make such a big statement and it is much easier to make a house beautiful with nice cabinetry. The standard cabinets are serviceable, but the upgrades can transform a room. They also add value down the road if the homebuyer puts the home up for sale.
TM: Which upgrades are new homebuyers most surprised by?
Lisa: Believe it or not, it's the small details like grout, tile layout and quartz or granite edge finish! It's amazing the difference that a simple little detail can make, especially when you want to emphasize the tile pattern or make a tight space appear larger with the direction of wood or tile.
TM: What's a question that everybody asks?
Lisa: Two things come to mind. First of all, everybody wants to know if the cost of the options gets added to the cost of their home. Yes, it does. But your Taylor Morrison Design Studio consultant will help you work within your home loan allowance.
Every single buyer also asks about the availability of a visualizer/computer program that gives buyers a model of their home. We don't offer it now, but we hope to soon. In the meantime, buyers can use a DIY approach with programs like Room Sketcher® or a free program like SketchUp. I know that many paint companies allow you to upload photos to see how different colors can transform a room.
TM: What home automation or smart home technologies are available?
Lisa: Our Bay Area Design Studio currently offer Schlage® electronic entry, Nest® thermostats, Hunter Douglas PowerView® motorized interior window shades and smart garage door openers.
TM: Any advice for homebuyers visiting your Design Studio for the first time?
Lisa: First of all, give yourself time to make the most of the opportunity. These are big decisions and you don't want to rush into them. Plan to devote a the whole morning or afternoon with your professional design consultant. Please bring all the decision-makers to the appointment.
The other thing you can do is to create your personal vision board on Pinterest. That app is loaded on our studio iPad and already has many examples of combinations saved to provide some direction. Having a starting point to build upon your style really makes the process easier and faster.
TM: Thanks, Lisa. Before we let you, go, can you tell us a little bit about your background?
Lisa: Glad to. I've been with Taylor Morrison since March of 2006. I was hired as a designer, and at the time we were building our own design studio from the ground up in a centralized location just for Taylor Morrison homebuyers. It was a wonderful opportunity for me to bring my experience to the functionality of how a design studio flows. We still use some of those original workplace items in our current studio, for example the table height workspace so you can look at materials without sitting on the floor or sitting at the bar-height counter. It's just more comfortable and that's what we want the entire experience to be!
Ready to Begin the Experience?
Start by exploring the Taylor Morrison website. You can find home for sale near you, discover the Taylor Morrison difference and learn why we've been name America's Most Trusted® Home Builder four years in a row.
What's Your Style?
Urban Loft: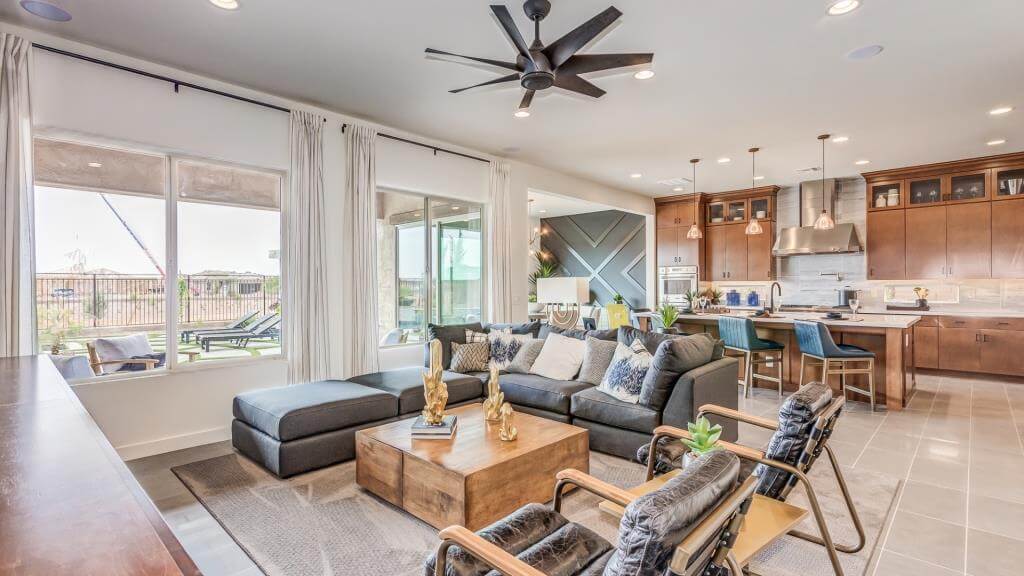 Farm House: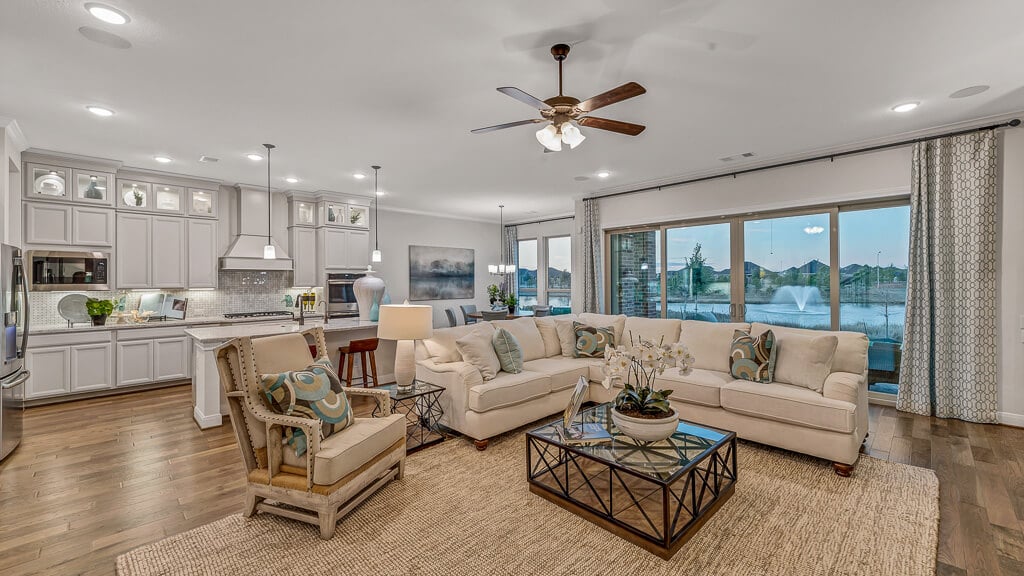 Rustic | Shaker-Style: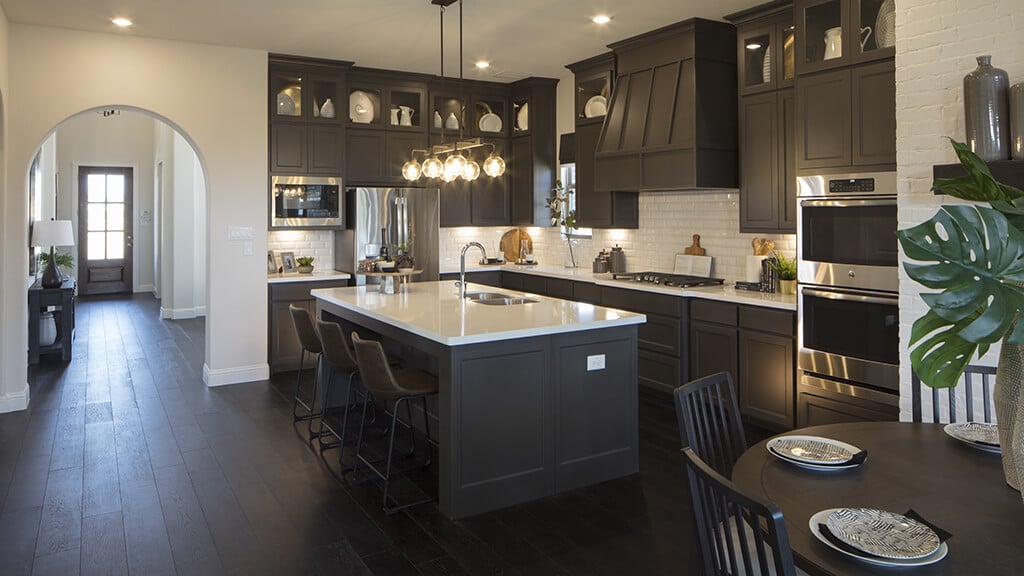 Additional Helpful Information
Add your Signature Touches
Home Personalization Tips
Details Matter: How to Bring Light to Every Room in Your Home
Details Matter: All About Countertop Edge Options
Design Your Owner's Suite Like A Pro
Smart Home Design Tips
Design Tips for A Dog-Friendly Home
How to Decorate Your New House Like A Pro
How to Help Your Teen Create A Bedroom They'll Love
Backyard Furniture Tips from A Design Pro
Creating A Book Lover's Paradise at Home